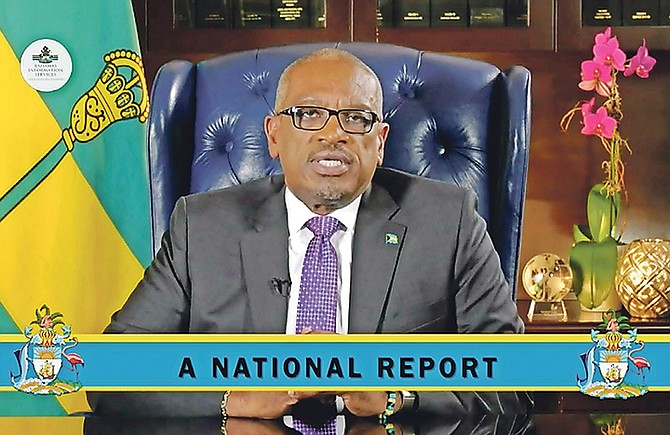 By NEIL HARTNELL
Tribune Business Editor
nhartnell@tribunemedia.net
The prime minister last night called on The Bahamas to fulfill its "considerable untapped potential" in tourism after stopover visitor arrivals rose 10.4 percent for the first ten months of 2018.
Dr Hubert Minnis, in what was billed as a national address detailing how the government plans to increase economic growth and job creation, said tourism diversification across the entire Bahamian island chain - and the development of multiple different experiences and enterprises - represented both "great challenge and even greater opportunity".
"Preliminary stopover numbers for the year through October 2018 stood at 1.33m, a 10.4 percent increase over the same period in the previous year, with an average length of stay of 6.7 nights," the prime minister said, giving an upbeat assessment of The Bahamas' tourism prospects.
"The outlook remains favourable for continued growth in air arrivals, with bookings for the first quarter of 2019 forecast to be ahead by 10.3 percent for international arrivals. International airlift capacity increased by almost 9.8 percent in December, with air seat capacity from the US and Canada scheduled to increase by 21 percent and 19.9 percent respectively in the first quarter of this year."
Dr Minnis added that the Ministry of Tourism "will launch a new branding campaign this year, the first in six years", as he encouraged greater Bahamian ownership in the tourism sector and better promotion of this nation's culture and heritage - especially in islands beyond New Providence.
He pointed to New Providence-based, Bahamian-owned projects such as the Paradise Island Lighthouse and Beach Club; Athol Island Entertainment Facility; and the Heritage Tourism Project. The latter was billed as a group of Bahamian businessmen seeking to upgrade and take over management of key historical sites, transforming them into historic attractions.
"Eighty percent of our tourism activity, and 70 percent of our population, is found on the two percent of our land, that of New Providence and Paradise Island," Dr Minnis said, hinting at the need for economic diversification beyond Nassau and the need to reverse the island's overcrowding. New Providence has received 55 percent of foreign direct investment (FDI) inflows since 2017.
Those looking for an "economic game changer" from the Prime Minister last night will likely have been left disappointed, as his address focused largely on what the Government perceives as its accomplishments to-date and an agenda that was pretty much known to many Bahamians.
Like his predecessors, Dr Minnis also touted projects in the FDI and Bahamian investment pipeline, while "pressing" his ministers, the Central Bank, Ministry of Finance and commercial banks to reduce the time required to open a bank account in The Bahamas.
"Yes, the Know Your Customer rules are important. But just as important is that Bahamians should be able to go to a bank and open up a bank account with little hassle once they have proper identification to prove who they are," Dr Minnis said.
"Instead of finding excuses as to why it cannot happen, I want the Central Bank, the Ministry of Finance, the commercial banks and the private sector to tell me how it will happen."
Revealing that private sector support will, when combined with the Government's $5.5m, take the amount of capital being made available this year to Bahamian start-ups and entrepreneurs to $7m, Dr Minnis did unveil several Bahamian-led developments.
He said the Bahamas Striping Group of Companies "will develop poultry farms and processing plants on North Andros and Eleuthera, and through a distribution centre on New Providence", while 30 Bahamians will be hired to construct the $5m, 28-bungalow Pinder's Bay project in Long Island.
Turning to Abaco, Dr Minnis also disclosed "the proposed Tyrsoz Family $580m investment in South Abaco for the development of a five-star residential resort and marina, which will involve the upgrade and expansion of the Sandy Point airstrip; the development of Sandy Point ferry dock as a cargo transshipment port and construction area; and the extension of Queen's Highway in South Abaco".