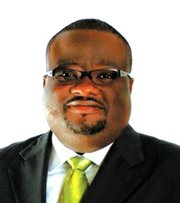 By NEIL HARTNELL
Tribune Business Editor
nhartnell@tribunemedia.net
The government's efforts to cap the redevelopment cost for Long Island's Deadman's Cay airport at $10m have raised concerns over whether it will comply with international standards.
Tender documents, seeking architectural and engineering contractors for the project, reveal that the redeveloped terminal and crash/fire rescue (CFR) buildings must not exceed $3m while "airside costs" involving runway upgrades and extensions have to be limited to a $7m price tag.
The request for proposal (RFP), which has been seen by Tribune Business, reveals: "The overall terminal and CFR buildings are not to collectively exceed $3m total costs, and a class D estimate for the airside costs, including land excavation, is to not exceed $7m."
Dionisio D'Aguilar, minister of tourism and aviation, could not be contacted for comment yesterday. Algernon Cargill, the former National Insurance Board (NIB) director who is now the newly-appointed director of aviation, and who is the principal RFP contact, did not return several messages left by Tribune Business before press time.
However, several sources speaking to Tribune Business on condition of anonymity have questioned whether the imposition of a $10m cost "cap" will prevent the revamped Deadman's Cay airport from meeting International Civil Aviation Organisation (ICAO) standards - as the RFP says it wants to.
One contact said bluntly: "That won't happen. They cannot meet the ICAO standards with that." They added that a $25m investment was required to achieve this goal, especially since the new airport is to be constructed at the same location as the present facility.
"The new Deadman's Cay airport will be constructed at the existing terminal and runway locations, and must include a comprehensive plan that allows for the continued uninterrupted operations of the airport," the RFP said.
"The scope is to provide Deadman's Cay International Airport with a new airport terminal design, redeveloped and extended runway and apron design, and a Crash Fire Rescue building (CFR) that can provide limited but comprehensive services to the Long Island community.
"The Ministry of Tourism and Aviation is not eliminating the expansion of the existing terminal building from the scope, and the design should include the most cost effective and efficient use of space and capital."
The RFP then added: "The design process must achieve a balance between the needs of the operational activities of the airport and must also fit the local environment, space constraints and estimated budgets that will likely be invested in this project.
"The design should include standardised Airport Rescue Fire Fighter (ARFF) facilities that must, as a minimum, meet all Bahamas Schedule 21 and ICAO guidelines."
The tender documents suggested that the Deadman's Cay airport design could serve as a model for other Family Island airport upgrades, with the winning designer potentially in line to receive a maximum 50 percent of their fees should their work be used at other locations.
Long Island has demanded an upgraded airport, fit to receive international commercial flights, and associated infrastructure for years amid a widely-held belief that tourism and wider commerce were slowly being strangled by a lack of aviation access.
The Deadman's Cay upgrade attempts to address this ahead of the purported Port St George project's revival under Star Resort Group, which is pledging to create a 640-slip marina - the largest of its kind in The Bahamas. It also fits into the Government's wider overhaul of Family Island airports, which is projected to cost a total of around $200m.
However, Captain Randy Butler, Sky Bahamas president and chief executive, also queried the Government's strategy for Deadman's Cay and whether it was part of a wider national aviation plan.
He argued that flooding meant the airport needed to be moved, not redeveloped at its current location as required by the RFP, and also challenged the need for Family Islands to have multiple airports - especially ones that served an international market.
The Sky Bahamas chief suggested that The Bahamas could adopt a "hub and spoke" model for aviation/tourism access to the Family Islands, with locations such as Exuma receiving international flights and passengers subsequently ferried on by local carriers to destinations such as Long Island.
He added that this would save the Government substantial investment and maintenance costs associated with keeping some 28 Family Island airports at sufficient standards to receive international flights.
"Based on where it's located now the Government needs to move it," Captain Butler told Tribune Business of Deadman's Cay airport. "It gets flooded and is not the best location for it. I don't understand why the Government does not buy the land next door.
"We've been doing this thing of putting three airports on the same island and it doesn't make sense any more. When you look at Long Island, it doesn't make sense to let Stella Maris and Deadman's Cay continue.
"We need to take a look at this seriously, and develop a national aviation plan for The Bahamas as a whole. We need to see how these airports fit into it. There is no sense in building airports for the sake of it. They must be purposeful," the Sky chief continued.
"Where's the development going to happen? Where's the centre of the island? How does this come together to get the best product for the island and meet international standards? Let's not do this in isolation. Let's find the best fit for these islands."
Captain Butler, though, backed the idea of a single "model" for Family Island airport terminal and layout design, adding that there was no need to "reinvent the wheel" once it met Bahamian and international regulatory standards.