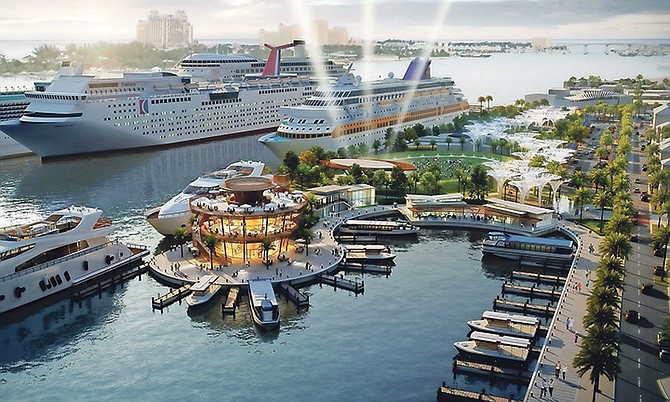 By NATARIO McKENZIE
Tribune Business Reporter
nmckenzie@tribunemedia.net
Taxi drivers yesterday warned they will not be "disenfranchised" by the cruise port's redevelopment, their union president pledging the sector will be "at the forefront of negotiations".
Wesley Ferguson, the Bahamas Taxicab Union's (BTU) president, told Tribune Business: "I was very adamant in my address to the prime minister that, whoever they choose, we fully intend to be at the forefront of negotiations.
"One thing we would have to make sure of is that we are in an advantageous position to be in the forefront of the new system at the dock. We want to secure our future instead of someone else determining what's good for us. We're looking for a good deal so we aren't disenfranchised."
Mr Ferguson said his group had not yet met with Global Ports Holding, the preferred bidder selected by the government, but added: "We want to know what their intentions are and what their plans are for taxi divers going forward."
He said the BTU recently had an "intense" meeting with tourism officials over the roll-out of a new call-up system at Prince George Wharf. "In two weeks we will roll-out a brand new call-up system for taxi drivers at the dock," Mr Ferguson said.
"It's an alphabetical system designed to reduce the occurrences of persons sleeping on the dock. The way it will work is, if your last name begins with B, for instance, you would be the first one out for for the day. When B is exhausted we then go to C and D Drivers will have foreknowledge of who is first out."
"This system will be the catalyst to prove to government and local officials downtown that we are capable of doing professional business, which will change the image of the taxi drivers."
Global Ports Holding, the UK-listed, Turkish-headquartered operator of 16 cruise ports spread throughout the Mediterranean, Asia-Pacific and Atlantic regions, was unveiled this week as the preferred bidder to take over Prince George Wharf's management and operations, and oversee its redevelopment.
Bids for the Nassau Cruise Port were submitted to the Government on December 7 last year, and opened on December 11. The three contenders were the $250m offer from Global Ports Holding and its Bahamian advisors, Arawak Port Development Company (APD) and CFAL; the $225m proposal by Nassau Port Partners, headed by Bahamian investment house, Providence Advisors; and the $125m submission by Cruise Ports International. The latter, a Bahamian group, was headed by former Family Guardian president, Gerald Strachan, in alliance with four major cruise lines - Carnival, Disney, Norwegian and Royal Caribbean.
Global Ports Holding has pledged to provide a $10m interest free loan to small Bahamian retail investors to enable them to acquire shares in an investment fund that will have 49 percent equity ownership in the cruise port project. Those Bahamians will hold shares in The Bahamas Investment Fund set up by CFAL (the former Colina Financial Advisors).
Company officials have also promised to work "in harmony" with the Downtown Nassau Partnership (DNP) to help finance improvements to Bay Street and surrounding roads, and upgrade lighting and benches to make the area "a more attractive place where people want to linger" and spend money.