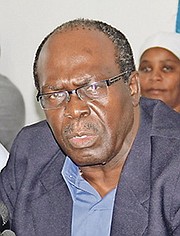 By NATARIO McKENZIE
Tribune Business Reporter
nmckenzie@tribunemedia.net
Grand Lucayan managers were yesterday said to have "unanimously" accepted the government's improved $4.4m payout deal, with a trade union leader expressing delight at the outcome.
Obie Ferguson, the Bahamas Hotel Managerial Association's (BHMA) president and chief negotiator, told Tribune Business yesterday that a meeting with Dionisio D'Aguilar, minister of tourism and aviation, is set for this Sunday to finalise details of the agreement.
"I am very pleased, as president of the Bahamas Hotel Managerial Association, for the support I received from my vice-president, Kirk Russell, in Grand Bahama and the property representatives there in Grand Bahama, and obviously the support of the 145 managerial and supervisory workers," Mr Ferguson, the Trades Union Congress (TUC) president, said.
"I want to thank them for the collaborative effort they displayed, and the support and confidence they had in the association, which resulted in us reaching a compromise agreement to the tune of some $4m-plus which I hope will be paid as soon as possible.
"We have a meeting scheduled with the minister of tourism on Sunday, at which time at we will finalise the documentation and proper execution. Hopefully a date will be set for when the actual payout will take effect. I would be remiss if I did not mention the support and forthrightness of the minister of tourism. He did what he had to do, and he is a numbers man."
The voluntary payout fro Grand Lucayan managers has dragged on for more seven months, becoming contentious at several stages. The Grand Lucayan's Board and Minnis administration originally took the position that they had committed an extra $500,000 of taxpayer monies over and above what BHMA members were due under the law in a bid to settle, and were not prepared to go beyond a $3.1m-$3.2m offer.
"There are some 46 workers left, and accommodations are also being made for them if and when they decide to sever their relationship with the hotel. We are very passed with the outcome of these negotiations," said Mr Ferguson.
Mr D'Aguilar explained yesterday that 91 managers were included in the payout deal. "We have agreed to pay them $3.7m. They have other funds that are in an annuity with Family Guardian, which they will be entitled to tap into as well. That will take the total payout to $4.4 million," Mr D'Aguilar said.
"This is a good day for Grand Bahama. It allows the employees to go home with a lump sum and prepare for the upcoming employment opportunities that are going to present themselves with the Carnival port and Royal Caribbean acquisition of the Grand Lucayan."