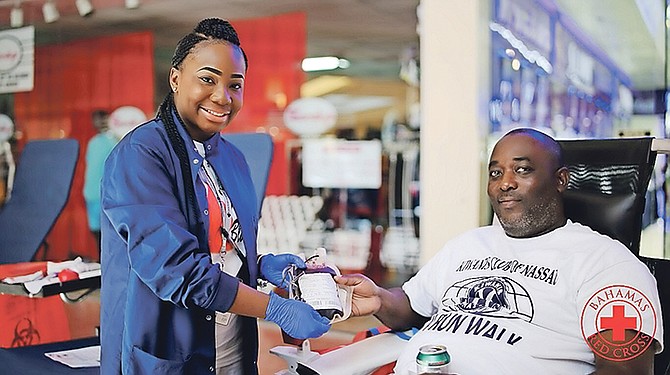 By JEFFARAH GIBSON
Tribune Features Writer
jgibson@tribunemedia.net
The ambitious amount of 60 pints of blood is what organisers of this weekend's blood drive are hoping to receive from donors this weekend.
Everyone who has the capacity to donate is being called on to "Save a Life" through an initiative presented by Friends of the Blood Bank in collaboration with the College of Saint Benedict (CSB) and Saint John's University (SJU). It will be held on Saturday at the Mall at Marathon from 10am to 5pm.
The urgent plea for blood from the Blood Bank and the many lives that depend on donations for survival was the driving force behind the initiative.
"We would always hear the urgent appeal for blood over the radio, television and social media from the Blood Bank," said Denard Cleare of the SJU Alumni Association. "Most of us have experienced a time when a family member or friend would call to say that their loved ones are in the hospital and need blood or else they are unable to have the much need surgery or blood transfusion. So this is a wonderful opportunity to give the gift of blood to assist the Blood Bank and those persons in our community in their time of need."
Approximately two years ago, the local alumni associations were approached by colleges in Minnesota, inviting them to join other CSB/SJU alumni associations around the world on the third Saturday in May to host in the Bahamas an event called the Benedictine Day of Service.
The Benedictine Day of Service is a one-day event for alumni to participate in a service activity of their choice.
"The idea of the blood drive was automatically chosen as the service activity when the Friends of the Blood Bank founder and chairman, Basil Christie, who is a proud alumni of Saint John's University, a past president of the SJU Alumni Association and still remains on the board, pitched the idea to the association boards. Last year's blood drive was held at the Emmaus Centre, so this year it was decided to host it at the Mall at Marathon in order to garner more public support," said Mr Cleare.
This year will be the second time the blood drive is hosted by the associations. However, the Friends of the Blood Bank organisation host numerous drives throughout the year on New Providence and the Family Islands.
"This year we would like to receive about 60 pints of blood. We were only able to collect six pints at last year's blood drive so our target is to tremendously beat this amount this year," said Basil Christie.
And according to Mr Christie, giving blood has many benefits for the donor, including reducing viscosity, risk of heart attacks and strokes.
He said those who donate blood regularly also replenish their blood, reduce their risk of cancer and burn calories.
But the major benefit is having the chance to save a life; maybe even their own.
"It is a wonderful feeling being able to help doctors save lives. You save a life or potentially three lives with every pint that you donate. For example, each surgery requires four to six pints of blood. Last year's request for blood was 6,500 pints. We were only able to collect 4,200 points," he said.
It also Mr Christie's hope that people become regular donors.
"After a person has donated blood, they can donate again after eight weeks," he said.
Tips for a good blood donation
· Get a good night's sleep before donating
· Drink plenty of fluid 24 hours before donating
· You must have eaten at least once for the day
· You need at least 30 minutes between your last meal and donating blood.
· You will need at least 10 minutes rest after donating blood
· Prior to donation, the Blood Bank will check your temperature, along with your blood pressure, pulse and haemoglobin
· Tattoos and piercings must be older than one year
· Upon donation, you are tested for syphilis, HIV, hepatitis, and other diseases
· You get to lay back in a chair and relax while giving back to your community