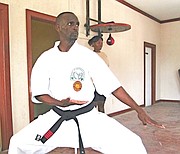 THE Bahamas Karate Association (BKA) in collaboration with the USA Karate International (USAKI) and Pan American United Karate Organisation (PUKO) are scheduled to host the PUKO/USAKI 4th Continental Karate Championships in Nassau, Bahamas, June 14-15.
Teams are expected from the USA, Dominican Republic, Haiti, Panama and as far as the Philippines. Sensei Joseph Boca (Kyokushin), Sensei Adrian Ellis (Shotokan) and Sensei Darryl Williams (Shito-Ryu) are among the international instructors expected to attend.
National instructor, Sensei Julian Rolle, and PUKO Vice President, is the tournament director.
For more information, e-mail julianrolle41@gmail.com or call 242-467-5590 or 242-326-1164.
All Bahamas karate clubs are invited to participate.