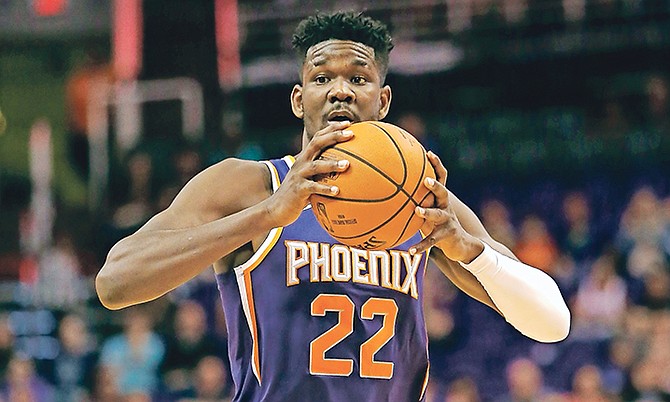 By RENALDO DORSETT
Tribune Sports Reporter
rdorsett@tribunemedia.net


The Phoenix Suns are still awaiting a decision on Deandre Ayton's appeal process on his suspension, but no announcement has been made on talks between the league and the Players Association.
Suns general manager James Jones was asked by 98.7 FM Arizona's Sports Station's Burns & Gambo if he had any update on Ayton's process but just was unable to provide any further insight. "I don't," Jones said. "That's in the Players Association's hands. We're supporting Deandre. We're focused on the team continuing to focus on the next game. That'll take care of itself."
The second year Suns centre was suspended without pay on October 24 for 25 games for violating the terms of the NBA/National Basketball Players Association Anti-Drug Programme by testing positive for a diuretic.
Ayton is allowed to be around the team and work out at team facilities, but is required to leave the arena within two hours to tipoff.
"I know he misses being out there with his teammates and whenever he comes back, we'll be ready to re-integrate him and continue with this forward movement and momentum," Jones said, "He's a big part of what we do. We feel the loss of his presence daily. It hurts us both equally. It's an opportunity for us to grow and see what we're made of."
Ayton had an impressive season debut on October 23 when he finished with 18 points (9-14 FG), 11 rebounds, four blocks and a steal in 33 minutes in a 124-95 win over the Sacramento Kings.
The Suns are off to a surprising 3-2 beginning to the season, with wins over the Kings, Los Angeles Clippers and Golden State Warriors along with one-point losses to the Denver Nuggets and Utah Jazz.
"On behalf of the Phoenix Suns organisation, (coach) Monty Williams and I are disappointed in the actions by Deandre Ayton that led to his testing positive for a banned diuretic and subsequent suspension by the NBA.
"This does not uphold the standards and principles we have set for the team," Jones said in a statement. "Deandre has expressed his deepest remorse. While he is suspended we remain committed to his growth and development on and off the court. His actions are not taken lightly, and we are committed to ensuring that Deandre understands the profound impact it has had on the team, organisation, and Suns community."
According to ESPN's Adrian Wojnarowski, the NBPA (National Basketball Players Association) planned to file arbitration papers on Ayton's behalf seeking the suspension to be reduced or completely rescinded due to "a collective bargaining agreement provision of 'unintentional ingestion.'"
Ayton immediately issued a statement following the announcement by the NBA. "I want to apologise to my family, the entire Suns organisation, my teammates, partners, our fans and the Phoenix community. This was an unintentional mistake and unfortunately I put something in my body that I was completely unaware of," he said. "I do understand the unfortunate impact that this has on so many others, and for that I am deeply sorry. I'm extremely disappointed that I've let my team down. I will continue to work with the NBPA to go through arbitration and am hopeful of a positive resolution."
If the suspension is upheld, Ayton is set to lose $2.17 million over the course of the 25-game penalty.