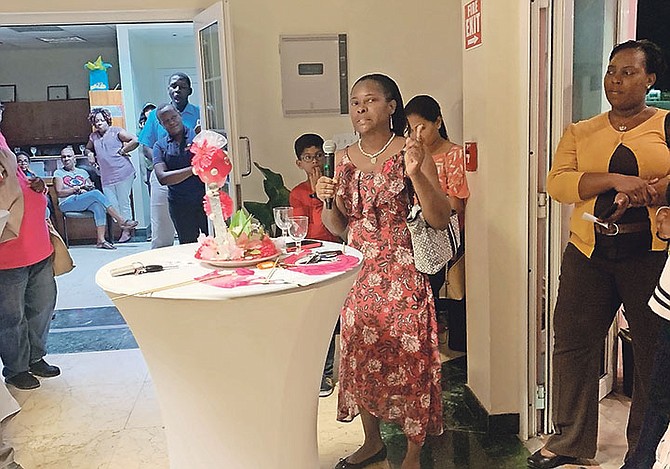 By JEFFARAH GIBSON
Tribune Features Writer
jgibson@tribunemedia.net
The Cancer Centre of the Bahamas closed out its Breast Cancer Awareness Month activities by paying homage to survivors and patients during a special cocktail reception last Thursday.
It has become a tradition at the Centre to host this event every year. Under the theme "Celebration of Life", the event this year raised not only awareness of breast cancer, but also of the state-of-the-art treatments available locally.
Survivors were on hand to share testimonies of their journeys in hopes of providing encouragement and motivation to those who are still struggling with their breast cancer diagnosis.
Anette Albury Charlton, who had cancer in both breasts that eventually spread to other parts of her body, said she is determined to keep on fighting in spite of what her body endures on a daily basis.
"In 2011 I was diagnosed with cancer in my left breast. In 2012 I got it in my right breast. Then in 2014 I had a hysterectomy, all due to breast cancer. In 2017 it came back in the chest, lungs, spine and liver. This year I found out that there are tumours on my spine," she said.
The tumours on her spine grew and Ms Charlton heard words from her doctor that no patient wants to hear: "There is nothing else that can be done."
"That was what the doctor told me," said Ms Charlton.
And now, although she faces one of the most trying battles of her life, she still has hope that she will be cured.
"I am grateful to God that I am still alive today. In spite of what the doctor said, I do not look like what I have been going through. I get up every day; I still drive. The doctor said if I have an accident or I fall down my spine will break in pieces. But I am determined not to live my life in bondage.
Julia Saunders, another survivor, shared similar sentiments. She said God is responsible for her keeping going.
"I was diagnosed in 2012 with cancer in the left breast and then later in my right breast. I then had a double mastectomy. But do not look at the package because it does not look like what it is. It is the grace of God, my Sister Sister Support group, and the love of my family that has been keeping me alive," she said.
During the cocktail reception, attendees were also given a tour of the Cancer Centre and learned of the future of cancer treatment in the Bahamas.
"I am not of the view that because we are in a Third World country we have to have Third World care," said Dr Conville Brown, president of the Cancer Centre.
"I am also not of the view that state-of-the-art care is for the rich and famous. We have always had a programme that allowed for any patient who is not ensured to afford care."
He added: "The whole idea was really to make sure we recognise and fully aware and cognizant of the fact that we see cancer as a major problem in our country, not only in the Bahamas, but in the Caribbean, and to a fair extent within North America and definitely in South America.
"We are happy to have led the way with that and also to offer state-of-the-art radiation therapy in the Bahamas. As of May 2019 we would of had out fourth accreditation by the American College of Radiation Oncology. This Cancer Centre is the only one in the world outside of the US that has American College of Radiation Oncology Accreditation."