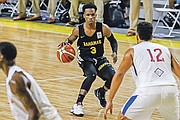 By RENALDO DORSETT
Tribune Sports Reporter
rdorsett@tribunemedia.net
IT has been a seamless transition to the professional level for Dominick Bridgewater in France and, with a promising start to his second season in the under-21 ranks, appears ready for the call up to the A roster.
Bridgewater has been dominating the NM3 league thus far and ranks second in scoring at 23.7 points and leads the league in assists at 7.5 per game.
Bridgewater was briefly called up to the Byers' A roster for the LNB Pro B Leaders Cup. The team was eliminated in the semi-finals to Nancy.
Bridgewater became the first Bahamian player to make the jump straight from high school to the professional basketball ranks when he signed a junior pro fessional contract with the Byers.
He spent last season as a member of the club's Epoirs (Junior League – U21).
In 28 games, Bridgewater averaged 15.7 points, 4.1 assists and 4.2 rebounds per game.
"My first intention was to go DI because that's where I saw Buddy Hield and so many other guys play and after the US Embassy denied me, I thought it was hopeless, but this opportunity has been life-changing," Bridgewater said.
"The best part about living here is getting in the gym four times a day, working on my game, getting better, getting stronger and off the court meeting new people. Living in a different country, different atmosphere, eating different food, just being a part of the culture it's changed me as a person off the court as well."
The Epoirs team also competes in the league consisting of all of the junior divisions of each team in the LNB French Pro A League.