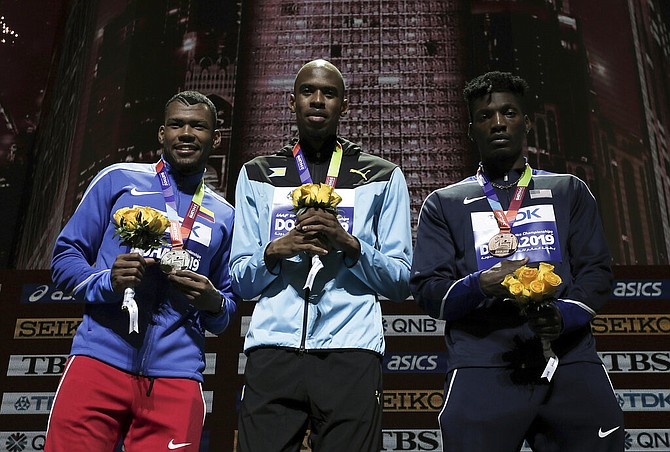 By BRENT STUBBS
Senior Sports Reporter
bstubbs@tribunemedia.net
DOHA, Qatar — It was a sleepless Friday night for Steven Gardiner, the newest Bahamian world track and field champion at the International Amateur Athletic Federation's 17th World Championships.
That night, Gardiner noted that he only got about one hour sleep after he went to bed around 2pm and got up about 3pm, responding to as many messages on social media that he could.
Saturday, he was back at the Khalifa Stadium where he got to sing the Bahamas national anthem on the top of the dais as he collected his gold medal.
It came from his exhilarating run in the men's 400 metre final 24 hours earlier on Friday when he powered past a talented field to post a new national record of 43.48 seconds for the sixth fastest time in the history of the event.
"It's unbelievable," said Gardiner, who climbed up the podium from silver behind world record holder Wadye van Niekerk from South Africa two years ago at the last championships in London, England to defeat Pan American champion Anthony Zambrano from Colombia (44.15) and American Fred Kerley (44.17), the number two ranked competitor this year.
Also included in the field was former Olympic and world champion Kirani James from Grenada, who made an impression in his comeback to the global stage with fifth place in 44.54.
"It feels unnormal and unreal," said Gardiner of his accomplishment. "I didn't race too much this year, so I'm pretty good. I'm a bit sore."
On getting the national anthem played for the first time since Donald Thomas did it with his winning performance in the men's high jump in Osaka, Japan in 2007, Gardiner said he wanted to "cry," but he "sucked it up."
On his race strategy, Gardiner said he and coach Gary Evans went through the plan with a fine comb and he executed it to perfection. "I feel pretty good about it. I didn't want to go out there and just blast it and didn't have anything left for the fight to the finish," Gardiner recalled. "I stayed with the pack up to the 200m and with 120m left, I just let it all go."
In accepting the path that has been planned for him, Gardiner thanked God for granting him the ability to accomplish his feat.
"Me and my family prayed about it," said the native of Murphy Town, but made his first appearance as an athlete competing out of Moore's Island, Abaco under coach Rev Anthony Williams.
He dedicated his performance to the Bahamian people, especially those that were affected by Hurricane Dorian in Abaco and Grand Bahama.
Having achieved his share of history, Gardiner is expected to be the "hunted" as he prepares for the 2020 Olympic Games in Tokyo, Japan in 2020.
But he acknowledged that it's something that he's become accustomed to. "I don't count anybody out," he said in giving the respect to his rivals. "I don't put any pressure on myself. I know what I am capable of doing. I just have to go out there and focus on myself and the outcome will be the outcome."
After spending the past month on the road competing and training for this moment, Gardiner said he just wants to go home and celebrate with his family and the Bahamian people, especially those who have been ravished by Hurricane Dorian.
"They're waiting for me to get back," said Gardiner, who is expected home on Tuesday after leaving Doha today for the two-day trip. "They calling me asking me when I leaving. I will enjoy myself when I get there."
Many people doubted that after he was injured when he suffered tendinitis, but when he went to Shanghai, China, Gardiner got the necessary treatment and he continued to train and stay focused on the goal that was ahead of him.
"We did it once again," said Gardiner about joining his close friend Miller-Uibo, the winner of the women's 400m silver in a NACAC Area and Bahamian national record the night before his accomplishment.
"I can't wait to see you guys so we can celebrate."
As the newest Bahamian world champion.