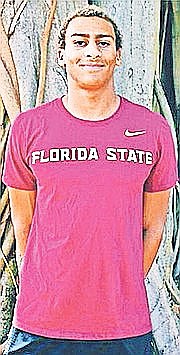 By RENALDO DORSETT
Tribune Sports Reporter
rdorsett@tribunemedia.net
ALTHOUGH their seasons were cut short just before their final meets of the year, several Bahamian student-athletes received postseason awards and were named All-Americans in their respective divisions.
The College Swimming and Diving Coaches Association of America announced its All-America award winners last week, and due to the cancellation of the NCAA Swimming and Diving Championships, the CSCAA Board adjusted the selection criteria for each division.
Florida State Seminoles sophomore Izaak Bastian was named an All American in the 100 Breast, and 400 Medley Relay.
Within the Seminoles programme he was also given the Coaches' Award.
At ACC Championships, Bastian highlighted his performance with a pair of medals, including a bronze medal in the 100 breast.
He reached the medal podium in a personal best time of 52.36 seconds. He now stands at second all-time in Seminoles history, several tenths off the record of 52.11 set in 2015.
It was the first individual ACC Championship medal of Bastian's two-year collegiate career. Bastian also swam the 50 free and finished 25th overall in 20.02. He was also 14th overall in the 200 breast in 1:57.42. He was also a member of the silver medal winning 200 medley team that finished in an NCAA provisional time of 1:24.51. Bastian split 22.93 on his leg of the relay.
With the swimming calendar and the sports world on hold during the pandemic, Bastian said athletes are forced to make the most out of a situation beyond their control. "It gives you a little more time to fine tune your skills. If you weren't confident in one part of your race or one part of your training it gives you another year to get back at that. It's not always a bad thing to have more time to prepare," Bastian said in a video posted to the Bahamas Aquatics Facebook page.
"My plans are to focus on what I can focus on, control what I can control, dry land training until I can get back in a pool. I have a great support system behind me, everything's been rolling, just focus on my aerobic work, hunker down and hope for the best."
South Carolina senior Albury Higgs was also named an All-American in the 100 Breast and 200 Breast. At the SEC Championships, Higgs' performance was highlighted by a seventh place finish in the 200 breast.
In other individual events, Higgs finished fifth overall in the 100 breast in a time of 59.82 and 19th overall in the 200 Individual Medley in 1:58.18. She was also a member of two record-setting relay times that set new Gamecocks records. Her relay team broke the school record in both the 200 medley relay and the 400 medley relay. The 200 medley team finished in 1:37.44 and Higgs swam a 27.34 seconds split. She swam a 59.50 secs split in the 400 medley as her team finished first in 3:33.75.
Her sister, Lilly Higgs, was also named an All-American in the 100 Breast. At the ACC Championships, Lilly concluded her season with a pair of top 10 finishes in both the 100 and 200 breast.
In the 100, Higgs finished eighth overall in a time of 1:00.15 in the final. She recorded a time of 59.92 in the prelims. In the 200, she finished 10th overall in a time of 2:10.66.
Davante Carey had an historic freshman season for McKendree in NCAA Division II and was named an All-American in the 100 Back, 200 Medley Relay and 400 Medley Relay.
The Division II Championships were cut short after day one as the outbreak hit the sports world but not before Carey and his teammates made history with the school's first ever medal in the 200 Medley Relay when they finished first in 1:26.84.
"My future plans don't really change. Just keep doing what I'm doing and stay on the road to success," Carey said. "Hopefully I can better myself as a person and athlete during this time and hopefully we can overcome this COVID-19 situation."
Tampa junior Jared Fitzgerald had a season where he was named to the Sunshine State Conference First team and was highlighted by All-American honours in the 100 Free, 400 Free Relay, 800 Free Relay and Honourable Mention in the 400 Medley Relay. Tyler Russell, a sophomore at Emory University, was named an All-American in the 100 Breast and Medley Relay.