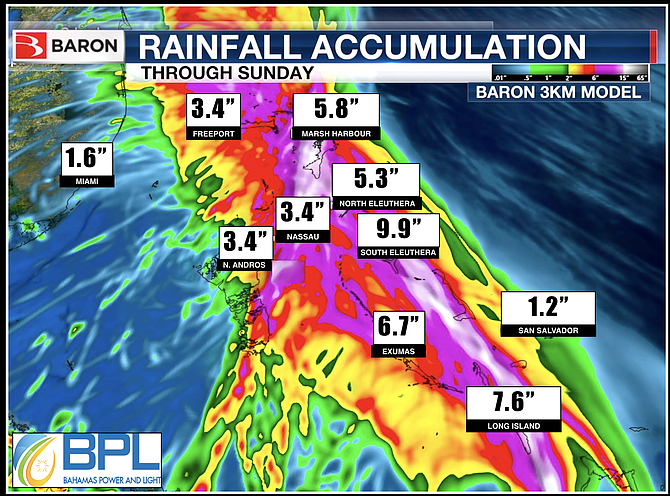 SUNDAY 9.15am: NEMA has given the all clear for the entire Bahamas after the passing of Isaias – but advises caution due to possible severe weather conditions – click HERE
10pm: A statement from BPL on power restoration efforts –
Bahamas Power and Light Company Ltd (BPL) wishes to confirm for customers that we have begun restoration efforts and have returned service to some of the feeders, but BPL continues to prioritize safety of our customers and staff as we recover from Hurricane Isaias.
Once the storm passed New Providence, our Advance teams had to patrol the primary substations. They examined the wires, transformers and switchgear. Only once it was determined that it was safe to do were the primary substations restored.
Once those primary substations have been examined, made or declared safe and prepared to receive power, then we moved to inspect other lines before we begin energizing any of them.
We are working to ensure that the overhead lines, transformers, substations and other infrastructure is free from damage and safe to operate. After a storm like Hurricane Isaias, that is often not the case. For instance, our line between UB and Boyd Road will required significant repair before it can be energized.
The length of time between when the storm passes and the power is restored is entirely a matter of the safe restoration of power to our customers. We will not rush and risk life and limb, or damage to customer property.
Meanwhile, the following feeders and areas since our 4PM update.
Village Rd and side streets.
Wulff Rd. and side streets
Orange Hill
West Bay Teed
Blair and portions of Village Rd.
Caves Point
Sunset Park Addition
Portions of Seabreeze
Vista Marina
We will continue to update our customers as we recover from Hurricane Isaias.
8.50pm: The Bahamas Department of Meteorology has announced the all clear for the islands of New Providence, Andros, Abaco and Eleuthera. A Hurricane Warning remains in effect for Grand Bahama, Bimini and the Berry Islands including the neighbouring cays.
7.20pm: Statement of WSC Executive Chairman Mr. Adrian Gibson, MP
Update on Hurricane Isaias – 5.30 p.m./1st August, 2020
• New Providence:
Our water supply system has continued, without interruption, throughout the storm. Both of our major water pumping stations remain on BPL power and we have full standby power in place.
Our systems control team has reported a few isolated customer complaints and those will be addressed as weather conditions allow. Our sewerage systems were pumped down prior to the storm and WSC teams are currently assessing our sewer stations (as permitted by weather conditions). We have activated stations where BPL power has been lost using on site standby power or portable generators.
At present, generators are running at the Windsor Field Pumping Station (water plant), LPIA sewer lift station, Buildings 8-9 (offices, control room), Flamingo C (lift station), Flamingo Main (lift station), Malcolm Park (lift station) and Millennium Gardens (lift station).
• Family Islands:
WSC locations in the Central and Southern Bahamas are reporting no major damage and water supply is on in all locations, except for a handful of isolated locations. Generally, locations in the northern Bahamas are operating as normal.
A short while ago, a Waste & Leaks team was dispatched to investigate customer complaints. They will attend to and seek to address complaints throughout the evening.
Further assessments will be carried out as weather conditions permit.
Customers experiencing any challenges should contact our Systems Control Unit at 302-5599 or 325-0505.
6.50pm: From the Bahamas Department of Meteorology –
6.45pm: Food Stores will be allowed to open on Sunday –
The Office of the Prime Minister wishes to advise that food stores will be permitted to operate for the general public on Sunday 2 August 2020 from 7am to 5pm.
This applies to all islands of The Bahamas, including Grand Bahama.
The public is reminded to practice the following COVID-19 prevention guidelines:
• wear a face mask when you leave home;
• keep your distance, at least 6 ft from others;
• wash your hands often with soap and water for at least 20 seconds, and if soap and water are not available, use an alcohol-based hand sanitizer with at least 70% alcohol;
• cover your cough or sneeze in your inner elbow or with a tissue; and
• clean and disinfect frequently touched surfaces such as phones, remote controls,
counters, doorknobs, and keyboards.
Do your part to prevent the spread of COVID-19.
5.30pm: From the Associated Press – Isaias snapped trees and knocked out power as it blew through the Bahamas on Saturday and weakened to a tropical storm as it churned toward the Florida coast, where it still threatened to complicate efforts to contain the coronavirus in a hot spot.
The storm, which is expected to regain hurricane strength as it nears Florida, is piling another burden on communities already hard-hit by other storms and sickness.
Authorities in North Carolina ordered the evacuation of Ocracoke Island, which was slammed by last year's Hurricane Dorian. Meanwhile, officials in the Bahamas opened shelters for people in Abaco island to help those who have been living in temporary structures since Dorian devastated the area, killing at least 70 people.
Isaias — pronounced ees-ah-EE-ahs — had maximum sustained winds of near 70 miles per hour (110 kilometres per hour) around 5 p.m. Saturday, a decline from earlier in the day, the U.S. National Hurricane Center said. It is expected to regain strength as it heads over warm water toward Florida.
"The centre of COVID-19 now is in Grand Bahama," the island's minister, Sen. Kwasi Thompson, told ZNS Bahamas. "No one wanted to see a situation where we are now facing a hurricane."
5.30pm: From The National Hurricane Centre: Tropical Storm Isaias Advisory 19: Isaias Weakens to a Tropical Storm. Expected to Re-Strengthen to a Hurricane Overnight While It Approaches the Southeast Coast of Florida.
5.20pm: Sandilands Rehabilitation Centre and Princess Margaret Hospital staff asked to report for duty
Sandilands Rehabilitation Centre advised all staff scheduled to work after the storm to report for duty at 5:00pm this afternoon, Saturday, 1st August 2020.
Shift workers are asked to contact their department head for the post storm roster.
• Princess Margaret Hospital also advised all staff scheduled to work AFTER the storm to report for duty at 5:00pm this afternoon.
Shift workers are asked to contact their department head for the post storm roster.
4.50pm: Long Island MP Adrian Gibson posted these videos of flooding in Long Island.
3.30pm: A statement from BPL on the power situation in New Providence: Bahamas Power and Light Company Ltd (BPL) wishes to confirm for customers that advance teams have been mobilized to check primary substations in New Providence at this hour.
BPL has 21 substations in New Providence. During the passage of Hurricane Isaias, total service interruptions were experienced at four of those 21 substations: Bonita Bay (Yamacraw, Treasure Cove, Port New Providence, portions of Fox Hill Rd. etc.) and Skyline (West Bay Street to Delaport) which are back online now, and Ernest St. (Twynam Sub and residences off Rosetta St., together with Bay St.) and Gladstone Road (Carmichael, Golden Isles, Bacardi, Firetrail and Milo Butler West) where we have teams working diligently to restore service.
At this point in our initial patrols, we are not offering a timeframe for restoration since we are tasked at this stage to ascertain the health of the network and get the primary substations back on. Once that is completed, we will start looking at feeders out of those substations and move into the next phase of restoration.
We will continue to update our customers as Hurricane Isaias continues to impact The Bahamas. We encourage our customers to stay safe.
2.40pm: Long Island MP Adrian Gibson posted an another update on his Facebook page about conditions there as well as some photos of flooding:
"In the wake of the passage of the storm, we are experiencing flooding in several areas due to heavy rainfall.
"At present, there are reports of flooding in Millers, Wemyss, the Crossing, Pinders, the Bight, Grays, Lower Deadman's Cay and Hamiltons (in the area of the Aliv store). The road is nearly impassable in these areas - unless transport is by truck.
"The tarmac at the Deadman's Cay airport is under water.
"Thus far, we have received no complaints of flooding in homes though part of the roadway and several yards are flooded.
"Notably, farmers have suffered severe crop damage.
"Thus far, no substantial wind damage has been reported/observed.
"The power remains off for areas south of Millers. This is due to a snapped power line in Pinders and downed lines in Grays, Mangrove Bush, etc.
"Upon hearing from the local BPL representative today, I spoke to the local manager of BHM who, via use of their heavy equipment, has agreed to lend assistance with the restoration efforts in Pinders. BHM is currently in Long Island carrying out a major water project.
"Yesterday evening, the number of evacuees who took shelter at the Community Center (Clarence Town) grew from 6 to 10 persons. They remain at the Center.
"As indicated yesterday, 3 persons took shelter at the Seymours Gospel Chapel (Seymours). Last evening, 2 people took shelter at the Highway Church of God (Doctors Creek). These persons all left those 2 shelters this morning.
"Besides the Community Center, all other hurricane shelters have been closed. That said, depending upon the extent of the flooding and the continuation of heavy rainfall, there is a possibility of persons having to be evacuated from their homes and shelters being re-opened.
1.55pm: A statement from BPL on the power situation in New Providence: Advance teams are out in New Providence beginning assessment of known problem areas in preparation for returning power to the system in a safe and orderly manner. Once again, we are prioritizing safety of both our teams and customers as we go about this exercise. We will update as we continue monitoring the storm prior to moving to restoration efforts.
1.50pm: ST JOHN'S BAPTIST CHURCH SHELTER CLOSES: The Department of Social Services has announced that the roof of St John's Native Baptist Church, which has been used as a shelter has been damaged due to adverse weather conditions caused by Hurricane Isaias, and as a result is now closed. The lone male adult, who occupied the shelter on Meeting Street, has been transported by Social Services personnel to the Salvation Army shelter on Mackey Street. This brings the number of individuals housed there to 3 adult males.
12.25pm: Disaster Preparedness and Management Minister Iram Lewis said the Bahamas is faring well as Hurricane Isaias makes its way through the chain of islands. 
He said in a statement: "…NEMA will be the coordinating agency for immediate relief and restoration as we do not foresee a disaster occurring. In some islands, initial damage assessment is already being conducted by NEMA representatives and island administrators." 
He said 28 people are in shelter in the central district of Abaco. 
On Andros, three people are sheltering in a Nicholl's Town shelter and some 50 residents have sought refuge at the BAMSI shelter there, he said. 
Andros is reportedly experiencing strong winds and heavy rain. Mr Lewis said residents there should prepare to face the brunt of the storm. 
He said on New Providence, EMS services were suspended at 5am because of increased wind speeds. Forty-nine persons have been accommodated on the ten shelters. Five people are sheltering at a church on the Berry Islands. 
"Cat Island, Exuma, Long Island, Inagua and Acklins have seen an improvement in conditions, and there is no significant reported damage. However, residents are still urged to remain indoors as the all-clear has not been given," he said. 
12.10pm: The latest updates from The Bahamas Department of Meteorology informing that a hurricane warning remains in effect for the northwestern Bahamas, including Andros, New Providence, Eleuthera, Abaco, Grand Bahama, Bimini and the Berry Islands including the neighbouring cays.
10.55am: FROM BPL – Bahamas Power and Light Company Ltd (BPL) wishes to advise customers that around the Islands of The Bahamas this morning as of 9AM, Bimini, Great Harbour Cay, Rum Cay and Inagua remain online.
The situation elsewhere is as follows:
On Long Island, customers from the station in Millers through Stella Maris remained online through the weather. Customers in the north were impacted by minor line damage. Our team reports that 95% of the North Feeder's 718 consumers from Millers to Seymours has supply as of 8:25AM this morning. Currently, a severe thunder & lightning storm in the area hampering efforts to restore supply to the remainder.
Repairs are being concluded now and restoration is expected within the hour. All areas south of the station in Millers are offline with a few line damages reported. Repairs are underway.
On Mayaguana, Pirates Wells had to be taken back offline last night as as a result of a line problem. That problem was repaired and the area was restored to power this morning.
In South Andros the South Feeder was opened at 1:30AM and the north feeder was opened at 1:45AM. The island remains offline with heavy winds and limited rain.
North Andros reports that the station went offline at about 7 am. Supplies will remain off until weather improves.
Cat Island reports that the south feeder is on from the station through Old Bight (Dean Wood). The north circuit is on through Arthurs Town airport. The island reports limited damage with 2 poles reported damaged so far. 1 of these has been replaced.
Eleuthera reports windy conditions resulting in lines clashing in the south. Rock Sound Station is offline and all areas south of the station are off. From Hatchet Bay station to Governor's Harbor airport is on and everything Hatchet Bay to Oleander Gardens is on. Harbor Island is on. From Whale's Point to the Bluff is off and everything South of Rock Sound station is off. A crew from north is out now assessing and will turn on everything from Governor's Harbor airport to Tarpum Bay. The crew in the south are preparing now to start getting the South on.
Exuma reports all.areas were shut off at 3:21PM yesterday. The team mobilized this morning to commence initial patrols and will begin energizing.
Ragged Island went offline at 5:30PM yesterday. The station was brought online this morning at 7:45AM. Most areas are already online. Full restoration is expected shortly.
San Salvador indicates that supply was interrupted at 2:05PM yesterday to the North of Station. Shortly therafter at 2:31PM the south circuit tripped offline. Power was restored to the north and club med at 4:20PM. The south was restored at 6:20PM after some minor line repair.
In Central Andros the South feeder from the power station went offline around 2AM and the north at 430AM. Central Andros is completely shut down. Light rain with heavy winds about 40/50 miles per hour windgust. Awaiting conditions to improve.
On Crooked Island, an inspection of distribution network was carried out at 6PM last night Everything was normal.
Power restored to 101 consumers from power station thru Gun Bluff and power station south to Fairfield at 6.45PM. Power was restored from Fairfield through Winding Bay at 9PM. There was a delay in complete restoration of power supply Island-wide due to faulty transformers forcing five customers to remain without supply at this time.
We will continue to update our customers as the storm passes, and encourage our customers to stay safe and hunker down as Isaias, now a Category One hurricane, affects the Islands of The Bahamas.
10.50am: From The National Hurricane Centre – Hurricane Isaias Advisory 18: Isaias Making Landfall On Northern Andros Island. Expected to Approach the Southeast Coast of Florida Later Today And Sunday.
9.30am: The Bahamas Department of Meteorology says the hurricane warning has been discontinued for the Central Bahamas – however the hurricane warning remains in effect for the Northwest Bahamas.
8.20am: This tweet from WSVN7 News shows the current position of Isaias and its projected path.
7.35am: A recent post from Bahamas Meteorology with information about Hurricane Isaias.
• A Facebook post from Long Island MP Adrian Gibson with videos showing the effects of Isaias: