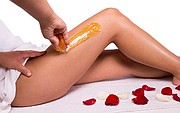 By ALESHA CADET
Tribune Features Reporter
acadet@tribunemedia.net
SUGARING, or sugar waxing, may sound a bit intimidating, but with the right tools and an expert guide to follow, women can use home kits for this type of hair removal without worries, said Shiann Smith, a pre-med student.
Sugaring, she told Tribune Woman, is a 100 percent natural process that uses biodegradable materials. And it can remove the shorter hairs that waxing sometimes fails to get.
"The hair from the root is completely removed by sugaring. While traditional waxing tends to only break the hair, resulting is hair growth occurring faster. Hair removal by sugaring lasts longer than traditional waxing. Sugaring also only adheres to the hairs, while waxing attaches to both the skin and hair. The direction in which the sugaring paste is applied also differs from traditional waxing. During sugaring, the paste is applied against the hair growth," said the 26-year-old.
Shiann is confident that hair removal through sugaring is something women can do at home with if they have the right equipment.
With schools and universities closed due the COVID-19 pandemic, she found herself unexpectedly back at home here in the Bahamas earlier this year. The idea to create home sugaring kits came to her during the first few weeks of lockdown, she said.
She began by making the sugar paste and trying it out on herself and on family members. Others quickly expressed interest and Shiann realised this may be something she could offer to the public.
Since then she has established her own business venture called "The Sugar Pot", offering pastes and kits that she said are beginner friendly.
"We try our best to make our kits eco-friendly, including the glass jar, washable cloth strips that are very durable, a reusable exfoliating glove and application sticks that the sugar can easily dissolve off of after use," she said.
"The sugaring paste is completely homemade, with no added preservatives. We use sugar, citrus and water to create the paste. We try to offer a very affordable product."
Starting her own sugaring kit business was unexpected, and it's been a unique experience for the university student.
"Just being able to offer this product during this pandemic is very fulfilling to me; I'm eager to see how it expands. This time allows me to brainstorm new ideas to expand my small business," she said.
Shiann is also very mindful of the current sanitation guidelines when it comes to her products and services.
"Even when coming in contact with my customers I ensure I have on a mask and sanitise each and every product before distributing, and also limiting my interaction during in person meet-ups. We have no choice but to adapt in order to overcome this pandemic. Actually, due to the lockdowns I think business picked up. Everyone is at home and looking for ways to stay hygienic and healthy," she said.
She believes at-home sugaring kits make pampering and self-care more accessible, as not everyone can afford to visit spas and boutique salons. Also, due to the pandemic and its resultant restrictions, it can be extremely difficult to even get an appointment at this time.
Shiann said this is a time when people are realising, "Hey, I can do these things for myself!"