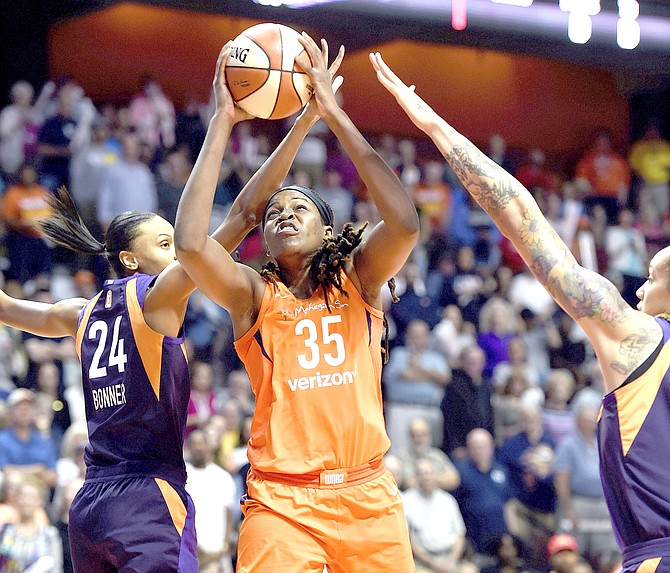 By RENALDO DORSETT
Tribune Sports Reporter
rdorsett@tribunemedia.net
JONQUEL Jones was the first member of this current star-studded WNBA free agent class to sign and will remain with the Connecticut Sun for the foreseeable future.
Jones signed a multi-year contract with the Sun yesterday as the league's free agency period commenced. As per team policy, terms of the deal were not disclosed.
The free agency period began on January 28 but players could not officially sign until February 10.
"We are pumped to have JJ sign a multi-year contract to stay in Connecticut," said head coach and general manager Curt Miller. "She has proven to be one of the most dominant and versatile players in the world. She continues to be one of the elite rebounders in the game and took a huge step on the defensive side of the ball in 2019. She is just scratching the surface and we look forward to her continued growth and leadership in 2020."
It has been an eventful offseason for the league as it made headlines when it reached an agreement on a new eight-year collective bargaining agreement set to bring pay increases along with a myriad of familial, maternal and medical benefits to players.
According to the Associated Press, the agreement also includes "a 31 per cent increase to the salary cap, making it $1.3 million, and an increased maximum salary of $215,000, up from $117,500, which puts the average league salary at $130,000.
Players could also now earn up to $250,000 in league marketing agreements, allowing some top players to earn as much as $500,000 a year.
Rookies who are selected in the top-four of the draft will get a $15,000 bump in pay from previous years ($68,000 max), and will be able to enter unrestricted free agency one season sooner than before (from six years to five)."
Led by Jones, the Sun fell one game short in their historic run toward a WNBA Championship last season, but the fourth year forward has established herself as one of the premier players in the league with her standout season.
Jones averaged 19.2 points and 11 rebounds per game in the series and posted doubles doubles in both wins for the Sun, but ultimately lost in the fifth and deciding game on the road to the Washington Mystics.
It was a season of accolades for the Sun star and Grand Bahama native. Jones led the league in rebounds with 9.7 boards and blocked shots at a career high 2.0 per game. She also finished fourth in defensive rebounds with 6.4 per game.
She grabbed 10 or more rebounds 16 times, including a season high 22 rebounds on May 31.
She finished the regular season with starts in all 34 appearances and averaged 14.6 points and posted career highs in steals (1.5 per game) and minutes played (28.8 per game). She also won her second rebounding title in four seasons.
Jones was named to the All-WNBA Second Team, the WNBA All-Defensive Team for the first time, finished third in Defensive Player of the Year voting, was a WNBA All-Star and was named Eastern Conference Player of the Week four times.
In her Sun career thus far, she has scored 1827 points, grabbed 1152 rebounds and blocked 198 shots.
In 2017, She set an WNBA single season record with 403 rebounds, followed by a Sixth Woman of the Year award in 2018.
At the national team level, Jones continues to be a major asset to the Bosnia and Herzegovina women's national basketball team and led the side to their second consecutive win in the current window of FIBA EuroBasket 2021 qualification.
She recorded 26 points and 16 rebounds in Bosnia's 80-61 win over Switzerland. Bosnia moved to the top of Group C in this window behind Jones' 27.5 points and 17.5 rebounds per game.
Jones finished with 29 points and 16 rebounds to lead Bosnia and Herzegovina to a 70-69 win over Russia in the first round of qualification.
At the club level, Jones is a member of Russian Premier League powerhouse UMMC Ekaterinburg this offseason as the team looks to repeat as EuroLeague champions.
The Connecticut Sun 2020 WNBA campaign tips off on May 16 against the New York Liberty.