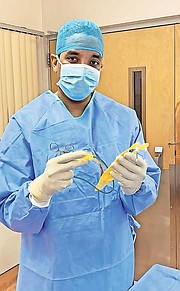 By JEFFARAH GIBSON
Tribune Features Writer
jgibson@tribunemedia.net
PHILLIP*, a member of the local clergy, spent thousand of dollars and years trying to achieve an erection, all to no avail. Impotence drugs, a penile pump and injections did nothing to help his deflated manhood to rise again.
But after a lot of research, Phillip came across Dr Greggory Pinto at the Urology Care Bahamas here in Nassau. It was Dr Pinto who was finally able to solve Phillip's problem through the first bionic penile implant surgery to be performed in the country.
The surgery took place on December 28 and marked the commencement of a new partnership between Boston Scientific and Urology Care Bahamas to offer a new facet of world-class medical tourism at Doctors Hospital: cutting edge penile implant procedures.
"I think a lot of people have the misconception that this is for old men who have lived their lives and I am just trying to give them a second life. But this is for men who are married and have despair in their lives because a medical illness has been robbing them of their erections," Dr Pinto told Tribune Health.
Phillip considers the penile implant an answer to his prayers.
"The experience of ED (erectile dysfunction) leaves a man emotionally debilitated. This physical/emotional impairment robs a man of his self worth and manhood that can lead to a life of depression. My erectile dysfunction was as a result of radical prostatectomy surgery," the pastor explained.
A penile prosthesis surgery is an option in severe cases of erectile dysfunction when all other options of treatment have been exhausted.
Men who suffer from diabetes, hypertension and cardiovascular disease, as well as those with sickle cell disease, often have high incidences of erectile dysfunction.
The advanced penile prosthesis is a highly effective device with a very high rate of satisfaction for both the patient and the patient's partner. The implantable device consists of two inflatable cylinders placed within the shaft of the penis, and these cylinders are connected to a fluid reservoir implanted in the groin with a small, easily palpable activating device within the scrotal sac.
Having studied the nature of the surgery and its success rate, Phillip came to believe this route would finally offer a remedy to his long-standing complaint.
"I am married, and based on numerous conversations with my wife, I guess you can say she had mixed emotions (about the surgery). She was a little apprehensive, but at the same time a little excited, because while the fear was real, the surgery could return a significant part of the intimacy in our love life," he said.
With hope in his heart, Phillip left his manhood in the hands of Dr Pinto, who handled it with care and caution.
"There is no such thing as a simple surgery in my mind, especially one that involves general anaesthesia. However, I had the utmost confidence in the medical abilities and experience of Dr Pinto; that provided a level of comfort that the procedure would be successful," he said.
"It is essential to note that my faith in Jesus Christ, the Almighty God, has provided the greatest level of comfort for the success of the surgery. A positive outcome was placed in His care that the hands of the surgeons would be guided by Him and the healing process would also be guided by the same."
Following the successful procedure, Phillip has experienced some slight pain, but he said he feels blessed to once again be able to experience erections.
"From all indications and the reports from the surgeons, the surgery was a success. Now we wait for the healing process to be completed and for the bionic penis to be deployed (for active duty)," said Phillip.
Dr Pinto added: "The device works immediately. Even for the first 24 hours we leave the patient with a full erection, so these are men who have not had an erection for many years, it improves their self-esteem."
Penile implants were first developed in 1973. Today, Boston Scientific's AMS 700 inflatable penile prosthesis is the most technically advanced penile implant available worldwide.
The AMS 700 penile implant – or bionic penis – is also the most popular in Boston Scientific's extensive line of inflatable devices, as it perfectly mimics a natural erection and provides full rigidity when inflated, and a natural, flaccid feel and appearance when deflated. The AMS 700 bionic penis is currently the only penile implant on the market that can increase both the girth and length of the patient's penis by up to 25 percent.
Urology Care Bahamas was recently named the regional referral centre by Boston Scientific for AMS 700 penile prosthesis placement procedures.
Boston Scientific is considered a world-renowned medical innovator. Their current bionic penile implant is seen as a revolutionary advancement in the treatment of severe erectile dysfunction and Peyronie's disease – extreme curvature of the erect penis. The use of the bionic penile implant in men with Peyronie's disease can ensure the development of a healthy, happy, fully satisfying sexual life by correcting the penile curvature and by providing the necessary full rigidity for penetration.
"I would conservatively estimate that about 50,000 Bahamian men have erectile dysfunction. It may not be as severe to require a penile prosthesis, but it is a common occurrence," said Dr Pinto.
"Bahamian men tie their self-esteem and self-worth based on their erectile power, and when they don't have any, it affects their social life They basically live their lives dead inside. But this procedure will take their lives from darkness to light and make them rise again...better than they have ever have."
The name was changed to protect the patient's privacy