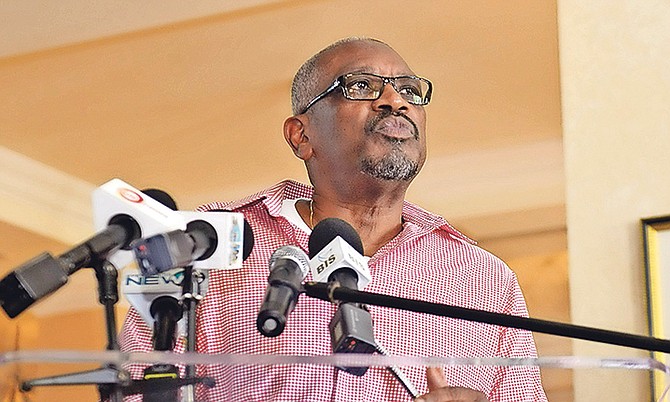 By Rashad Rolle
rrolle@tribunemedia.net
DONORS pledged $1.5bn in funding and in-kind services for Hurricane Dorian recovery during a conference at Baha Mar yesterday. The event attracted more than 300 local and international delegates.
Pledges included initiatives for homebuilding and repair, educational assistance, renewable energy partnerships, relief aid, grants, direct assistance to storm victims, parks restoration and loans and financing, according to the Office of the Prime Minister.
Stephanie Bowers, the US charge d'affaires, announced an initial commitment from the US of $2.1m to restore law enforcement capabilities.
Baha Mar, which has already donated $500,000, announced a $300,000 donation and promised to ship eight 40-foot containers of new furniture to Grand Bahama for people displaced by the storm.
Mike Maura, the regional director for Global Ports Holding, pledged more than $500,000 for infrastructure needs, restoration of coral reefs, mangroves, small home rebuilding and small business projects.
A representative of NEXUS Luxury Collection, the parent company of Albany, announced that its partnership with celebrities Justin Timberlake and Tiger Woods has yielded about $8 million so far which will be directly invested in education projects, home rebuilding and business restarts.
Prime Minister Dr Hubert Minnis expressed gratitude for the pledges. "These pledges are an important step in the ongoing reconstruction and rebuilding of areas affected by Hurricane Dorian, so that we may rebuild stronger and with more resilience," he said in a statement. "We are grateful to domestic and international partners, including foreign governments. We look forward to other possible contributions to help in our recovery efforts."
Deputy Prime Minister Peter Turnquest, who hosted the pledging session, announced that the German government has reserved 1m Euros for the restoration of protected areas damaged by Hurricane Dorian while the British Virgin Islands has pledged $100,000 to the disaster recovery fund.
Ian Bishop, Vice President of growth for Homebound, a company that helps homeowners rebuild homes after natural disasters, announced an initial commitment of $500,000 in technical services that will take the form of comprehensive rebuild finance packages for up to 500 homeowners impacted by the storm. The package will include the equivalent of over $1000 essential professional services, including consultation with Homebound's legal and construction teams.
Dee Brown, president and CEO of The P3 Group Inc, announced $975 million in available financing.
Mr Brown's company helped sponsor the event.
"Our pledge can be delivered quickly and efficiently with an emphasis on resiliency and sustainability," he said, adding that some of the resources could be immediately deployed, including funds for community engagement, architecture, engineer and design services, master cleaning, technology infrastructure and assessments, local capacity building and education, training and access to working capital for small and medium sized businesses.
Six hundred and seventy million could be set aside for healthcare funding to rebuild hospitals and medical facilities, he said.
In an interview with The Tribune, he said his company is motivated by helping under-served communities with substantial needs.
"We look for more social infrastructure projects," he said, "and those are projects that really have more of an impact on the fabric of a community. Knowing that the government would have no way of raising all this capital at one time, to try and put everything back together, we thought just from a corporate social perspective this is a good opportunity to branch out internationally and offer our services outside of the United States. It would also open up for small island development states to know there are resources out there and models that exist that could allow them to improve infrastructure and facilities and bring them up to modern standards without going out and putting a lot of debt on the books."
The P3 Group, he said, would provide the money upfront but would expect repayment as revenue is reaped from projects created. "The government doesn't have to do anything but give us direction about what they want done, how they want it done," he said. "We would provide all the manpower, the capital…"
He added: "We would have to enter into some sort of development agreement where we, number one, understand the priorities and what projects we would be designing and delivering and financing for the government and make sure the economics work for the government because our projects, a lot of them are revenue based, so what we look at is, for example, revenues that can be generated by these facilities that we are creating because that's what we would rely on for repayment versus the government budgeting funds."