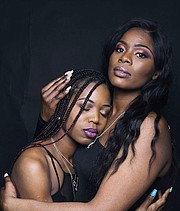 By ALESHA CADET
Tribune Features Reporter
acadet@tribunemedia.net
Inspired by Maya Angelou and with the goal to define womanhood in the 21st century in mind, Tamara Bethel returns with the second edition of her "Woman Thou Art" poetry showcase.
This year's event, she said, will be held under the theme "My Art is Magic, My Art is Power" and is scheduled to take place at Baha Mara's The Current gallery on February 20. She said guests can expect a poetry show unlike any other.
Her main focus for this project, Tamara told Tribune Woman, has always been to restore the true definition of what it truly means to be a lady in today's society. She feels this show will be beneficial to women because it will showcase how important it is to be self-empowered, confident, strong and courageous – all qualities that make women queens.
Poets participating in the upcoming show are Rogo and Island She Poet, with Roxxxie hosting.
"With a twist of music and contemporary art added to the ambiance it will be a refreshing take on art in all forms, showcasing fresh new talent as well as highlighting Bahamian art and culture. I am so excited that more than 50 percent of this year's show is dedicated to young new poets. Poets that have yet to share their magic with the world. There will be a host of phenomenal acts; one act in particular I am excited about is the featured artist, Rogo. With his charm, melodious voice and passion, he'll be sure to blow your socks off," said Tamara.
Since the inaugural "Woman Thou Art" show, Tamara said she has been through a whirlwind year of new experiences, all of which she is grateful for.
"I've had the opportunity to work with new Bahamian talent, host and perform at venues I never imagined I would, mentor at youth groups and seminars and travel. I even got the chance to participate in raising awareness in many different forums. One that has been particularly dear to me is the autism awareness," she said.
"Moreover, I feel one of the most interesting things about growth is it can neither be measured nor counted, but rather embraced. Since 'Woman Thou Art I' I've embraced a truth about myself that has helped me navigate through fully understanding my purpose as a poet and my calling as a feminist in today's society. I've learned that fear is a state of mind and the only obstacles that hinder me are the ones I allow," said Tamara.
"If anyone had told me two years ago that I'd be here, hosting this show for the second time, I would've been in disbelief. I simply cannot describe how overwhelming and magical it is to have the opportunity to not only expand on this project but also to be in demand for the second time. Truly the greatest feeling in the world."
Tamara admits that on her journey to becoming a poet she experienced moments of self-doubt and feeling inadequate, however, at the end of the day her passion and drive proved to be stronger.
"Growing up, I remember idolising Maya Angelo, saying I'll be just as phenomenal, just as powerful, just as impactful as her one day, and thousands of stanzas later, here I am, Miss Tamara B, the soulful poet hailing from the island of Eleuthera," she said.
She hopes her second show will be informative and entertaining, and leave a positive impact on people, women in particular. Like with her poetry, her wish for this event is that it touches hearts and souls.
"The feedback I'm most looking forward to will be persons asking for a third installation of the show. Other than that, I will pleased just knowing that I left an impact worth remembering," said Tamara.