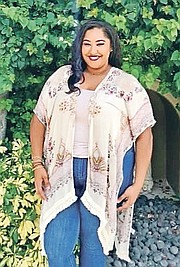 By ALESHA CADET
Tribune Features Reporter
acadet@tribunemedia.net
Brain-based therapy, according to experts, is the fastest growing area in the field of psychology. A fairly new type of therapy in this area is called "brainspotting", developed by Dr David Grand, a renowned psychotherapist who was trained in eye movement desensitisation and reprocessing (EMDR). This form of psychotherapy treatment, like brainspotting, was designed to alleviate the distress associated with traumatic memories.
It is a very niche field in the profession, but a local psychologist is offering to help Bahamians overcome their trauma through the use of this new method.
Jewel Taylor is a forensic psychologist, which means she focuses on the application of psychological theory and practice to the criminal, court and corrections systems. She told Tribune Health she is passionate about helping rehabilitate those who society has written off as "criminals" or "addicts". And although society tends to look down on these individuals, regarding them as less than, she believes in second chances for everyone.
"I think that everyone deserves another chance to create a healthy lifestyle for themselves and their families. Whether they abused drugs in the past or engaged in criminal acts, everyone has the ability to be the change they want. I am determined to help and provide mental health services to people in need, and I love the fact that I can be an agent of change in an individual's recovery, whether it's related to drugs, alcohol or behavioural changes. Second, I love helping people process their trauma," she said.
Ms Taylor also offers her services via phone calls, on WhatsApp, Zoom and FaceTime. She provides individual and brainspotting tele-therapy treatments. Her individual tele-therapy sessions are similar to talk therapy in the sense that an individual and counsellor are having a two-way interaction. In this form of therapy, clients talk about things that are bothering them with a therapist who helps them process the feelings and situations they are having trouble dealing with. Brainspotting, she said, is a different experience, as it is a more in depth way to identify, process and release trauma through intense focusing.
"In brainspotting we normally say, 'where you look affects how you feel'. Therefore, with finding a brain spot (window to process) through gazing or intense focusing, an individual can release and process trauma. Individuals can be a verbal or quiet processor. It's important for the counsellor to stay attuned and provide a safe space for the client to process," she explained.
Through her tele-therapy sessions Ms Taylor hopes to help people unlearn their unhealthy coping skills; assist those struggling with anger, prolonged isolation or depression, especially now following the long lockdown period due to the COVID-19 pandemic.
The coronavirus outbreak, she said, has created a lot of economic and financial uncertainty, with people being laid off, quarantined for weeks, and some families mourning the loss of loved ones. And she believes her tele-therapy are needed now more than ever.
"Mental health is that much more important. By creating a virtual platform like this, I am providing a non-judgmental, safe space for individuals to release their fears, emotions, and stress from the comfort of their own homes. Because of the flexibility of tele-therapy, persons can have impromptu and scheduled sessions with a therapist. Even though we may not meet physically, tele-therapy is still just as effective," she said.
"Clients only need to have a basic mobile device to take part...It eliminates the hassle of leaving home and going to meet your counsellor. Additionally, because the individual is at home they are much more relaxed. And, with a simple click of a button, they can connect to their counsellor. This means no more getting dressed, finding a babysitter, or sitting in traffic to attend a session."
In general, Ms Taylor said she would advise people to use this time to rethink and reflect on where they are and what they want their lives to be in the next two to three years, and give themselves some room for error. People should also use this time to catch up on self-care and create boundaries that protect their mental well-being.
"I would also tell them to find time to laugh and connect with friends and family. Persons can also complete DIY projects or find a hobby. Most importantly, they can find inner hope and faith through God that will continue to get them through tough times like these. Some additional coping skills can include: listening to music, seeking professional help, establishing a support system, making a conscious effort to focus on themselves, journalling or drawing as a way of self-expression, decluttering their minds through meditation or other relaxation techniques," she said.
Ms Taylor holds a Master of Arts degree in Forensic Psychology from the Chicago School of Professional Psychology. She has worked at the US' second largest sheriff department as a behavioural health specialist, and held the dual role of senior counsellor and DASA (Dignity for All Students Act) compliance officer at the Above and Beyond Family Recovery Centre in Chicago, Illinois.
She also interned as a behavioural health specialist with the Cook County Sheriff's Department, where she actively recruited detainees for enrolment into the Sheriff's Anti-Violence Efforts (SAVE) programme. This anti-violence initiative targets male, non-violent offenders between ages 20 and 26 from rural areas of Chicago.
More like this story