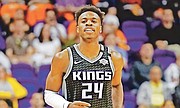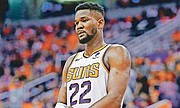 By RENALDO DORSETT
Tribune Sports Reporter
rdorsett@tribunemedia.net
THE NBA restart has gone through two of three scrimmages at Wide World of Sports Complex in Orlando, Florida, and both Bahamian players at the NBA "clean site" appear ready to perform at a high level once the games count toward the record books.
Buddy Hield has led the Sacramento Kings in scoring while Deandre Ayton has flashed a new aspect of his offensive game.
Hield led the Sacramento Kings in scoring for the second consecutive scrimmage - a 131-123 loss to the Milwaukee Bucks. He scored 19 points on 8-18 shooting from the field (3-10 from three-point range) and also added two rebounds, two assists and a blocked shot in just under 26 minutes.
In the opening scrimmage, Hield finished with a team high 19 points off the bench in the Kings' 104-98 loss to the Miami Heat. He shot 8-16 from the field, 3-10 from three-point range and also added five rebounds in just over 24 minutes. "It was different, but thank God for the opportunity to come and play basketball again, it was fun to get back out there and show what we can do. It wasn't perfect, hopefully we can watch film and build off that and sharpen all the things we need," Hield said to reporters following the Heat game.
Hield continues his adjustment from COVID-19 recovery, but said the entire league his willing to adjust to life under the new restrictions.
"Trying to get my legs under me. I was out the last three weeks but I've been putting in extra work in the gym back and forth, just trying to find my groove, get right and be comfortable out there," he said. "I'm just happy to be able to hoop. Yea, the fans might normally control the momentum of a game but in this environment I think you have to be more mentally tough, more mentally locked in. You can hear yourself on the court, so the more we talk, the more we communicate the better we can be closing out games and be better defensively, better offensively. We have to be locked in each and every play, every play matters and it's a different element out there playing but you have to adjust, these are new times we live in."
In two games he has shot 16-34 from the field and 6-20 from three point range.
"The shooting background is great," Hield said.
"I think this is a shooter's gym because the backgrounds are dark, it's not light, it's not bright. And as a shooter, you saw (Miami's) Duncan Robinson, he shot the ball really well today, he had some good looks.
"I think if you ask him, too, the background was really good. It felt great I just don't have my legs under me but it should be good."
The Kings return to the court for their final scrimmage on July 27 against the Los Angeles Clippers.
"Of course as a group we would like to be more together but we understand the NBA has its protocols and they are enforcing the social distancing," Hield said. "But I think the NBA did a really great job setting up the background and everything, it looks really great. It looks kind of like a FIBA basketball tournament."
For the Phoenix Suns, Deandre Ayton had not hit a three pointer through his 95-game NBA career but has made 2-2 from beyond the arc in the Orlando bubble. Ayton finished with 11 points, seven rebounds and two steals. He shot 5-8 from the field and for the second consecutive made his only three-point attempt in a 117-103 loss to the Boston Celtics.
Suns general manager James Jones joined Jim Rome's radio show on CBS Sports and discussed Ayton's extended range on his jumper.
"It was good for the team. If you're here in practices, you see how much time these guys put into their craft, you'll see these guys make threes," Jones said.
"Deandre's been able to shoot and make the three since the first day he stepped foot into our gym, but it's different in a game. It's different against NBA competition. So to see him hit that first one and now he can check that box, it was good."
Ayton finished with 13 points, eight rebounds and two assists in just over 20 minutes of the Suns' 101-88 win over the Utah Jazz in the opener. The second year centre shot 6-7 from the field and also made the first three pointer of his NBA career.
The Suns close out the scrimmages Tuesday July 28 against the reigning champions Toronto Raptors.