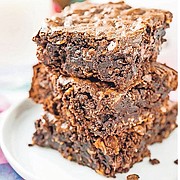 By ALESHA CADET
Tribune Features Reporter
acadet@tribunemedia.net
Breastfeeding can still be controversial topic. While the decision to breastfeed or not to breastfeed is a very personal one, it seems everyone is quick to judge and offer their opinion. And while there has been increased awareness in recent years about the considerable health benefits of babies having mother's milk, it's often not as easy as just deciding to breastfeed or not to breastfeed. Through no fault of their own, some new moms cannot feed their children because they simply have low milk supplies.
Tracey Smith, the woman behind the "Whimsical Mommy" brand, said one thing the recent lockdown offered her was sufficient time to address such controversial topics as low milk supplies and using donated breast milk to feed your newborn.
"The Whimsical Mommy was birthed by the fact that I myself was a low producer. After having my son and wanting to exclusively breastfeed because of the benefits, I found myself unable to supply sufficient to keep up with my son's demand. By doing research I found that certain foods can help to increase your supply. And using my culinary background I tested out recipes and a light bulb was lit. As I was unable to find these products locally, I figured there must be other mothers like myself and I wanted to be able to help them out," Mrs Smith told Tribune Health.
Her personal experience serves as the inspiration for her brand that caters to the needs of new mothers and offers everything from edible treats to boost lactation to nipple butter and handmade baby accessories. Mrs Smith said she also was motivated by the fact that the majority of the gifts at a baby shower are for the little bundle of joy, with little thought given to the mommy-to-be. With her business, she said, she wanted to be able to gift mothers things they need during both the pre-natal and post-natal phase.
"A lot of the things I have learned and want everyone else to know has been through research and asking a lot of questions. I want to share this information with all Bahamians to educate them on the importance of breastfeeding; the value for families and the health benefits associated with it. You would be surprised how many women in this country just have no idea or have been given the wrong information when it comes to this subject. My goal is to create a platform that is easily accessible and understandable for everyone," she said.
While in lockdown, Mrs Smith conducted several surveys with her clientele to find out what products new moms are most interested in.
"I posted a video to introduce the hands-free nipple butter with demonstrations on how to use it and how it is made. I also started a conversation to bring awareness to the use of donated breast milk and got feedback from women on whether or not they would use it if they had the access to it. Some women that used breastmilk donors also chimed in about their experience which opened eyes to that option," she said.
Mrs Smith has now set her sights on becoming a certified lactation counsellor and doula by the end of this year.
"COVID-19 has definitely put some of my plans on pause, but has given me the time to study, learn and be able to provide Bahamians with so much more detailed information and research. I hope to soon be able to provide virtual seminars on breastfeeding, pregnancy support and general information that will be beneficial to everyone," she said.