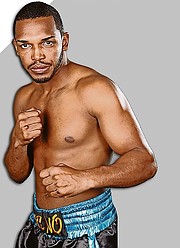 By BRENT STUBBS
Senior Sports Reporter
bstubbs@rribunemedia.net
FOR the past two weeks, Bahamian professional boxer Tureano 'Reno' Johnson has been in Hollywood, Florida, preparing for a proposed shot at the World Boxing Association's super middleweight world title or at least his next fight on September 12.
"I'm on my second leg of training where we have been doing a lot of strength training," said Johnson of the sessions that are held at the Hollywood Pound Boxing Gym.
"I will be heading to Atlanta on Tuesday with my head fitness coach from Cuba. I will be there for two weeks and then we head to New York to train with my head coach Andre Rozier where I will focus more on my technical, strength and fitness."
Now back in the world rankings in all three of the four professional boxing organisations, Johnson has been a member of the Golden Boys Promotional team, headed by Oscar de La Hoya and Bernard Hopkins, since 2016.
"It's all about business. They are looking for fighters who are marketable and can sell tickets for them," Johnson said. "So far, it's been a good relationship.
"The good thing with them is they don't mind trying to get me into the ring against whoever I request. It's just up to me to be able to go out there and deliver when the opportunity comes."
Golden Boys are planning on securing the deal for Johnson to fight for the WBA title against Mexico's champion Canelo Alvarez, considered the best pound-for-pound fighter in the world.
"We are not ruling that fight out, even though it could be considered a far fetch," Johnson stressed. "We are working on getting the deal sealed in the next few weeks."
Similar to 2015 when he was ranked in all organisations, including being the top contender in the WBA in 2016, Johnson suffered an injury during his loss to Sergiy Derevyanchenko at the Buffalo Rum Casino in Miami, Florida on August 25, 2017 that dropped him out of the landscape of the division. However, after he regained his momentum in two fights last year in a split decision over Fernando Castaneda on February 9 and earning the NABO title over Jason Quigley on July 18, both at the Fantasy Springs Casino in Indio, Johnson surged back into the rankings.
The 36-year-old, who has amassed a 21-2-1 win-loss-draw record since he turned pro in 2004, is now ranked at No.5 in the WBC, No.6 in the WBA and No.15 in the IBF, which affords him a golden opportunity to get a chance to fight any of the champions.
"I had a setback when I had a majority draw against the Mexican," Johnson said.
"I overcame those adversities and I beat Jason Quigley, a previously undefeated fighter in a ninth round stoppage to win the NABO title and to get back into the rankings once again."
For Johnson, who endured an impressive amateur career that included a trip to the 2000 Olympic Games, admitted the road wasn't an easy one for him.
"Rarely have I had a chance to display my skills in the Bahamas," said Johnson, whose only chance came on December 5, 2014 at the Kendal Isaacs Gymnasium when he pulled off a TKO win over Humberto Toledo. "But you know, it doesn't matter where you fight. If you go out there and you work hard, you will be successful.
"So while I would like to fight at home, I go out there and put in the work and I get the job done wherever I get to fight."
And while he waits for his next opportunity to get back into the ring, Johnson is battling a bigger fight and that is the coronavirus.
He said he's following all of the safety measures to avoid becoming a victim of the pandemic in the epicentre in Florida.
"This is something that I am not taking lightly because I definitely don't want to lose my opportunity to fight for a world title by getting sick," he said. "Extra precaution is being taken in my camp. You might say we are overdoing it.
"But it's a necessary process that we are going through. I don't have any sparring partners right now, but I will have one or two when I go to Atlanta. So my team is trying to come up with a plan for me to deal with that."
Right now during his training in Florida, Johnson said he's in isolation and in quarantine to make sure that he avoids contact with persons outside of his camp that includes his big brother, Ervin Johnson Jr, who resides in Florida.
If he doesn't fight Alvarez, who is 53-1-2 for the WBA world title on September 12, Johnson said he will take on Jaime Munguia from Mexico, who is also undefeated at 35-0.
It's all up in the air right now and will be decided by his management team in the next few weeks.
Johnson, who was scheduled to fight on April 4 in Moscow, Russia, against Magomed Madiev, but that was called off due to the pandemic, has been added to a list of fighters that include John Ryder, Sergiy Derevyanchenko, Callum Smith, Anthony Dirrell and Jason Quigley for the title fight. Alvarez is pegged to fight on September 12, but no opponent has been named as yet.