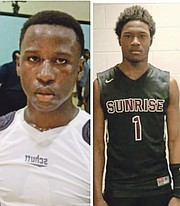 By BRENT STUBBS
Senior Sports Reporter
bstubbs@tribunemedia.net
IT seems as if there will always be a debate in their home on Shrimp Road, Carmichael Road, as to who will be the better basketball player between brothers Deyton and Michael Albury Jr.
While older brother Deyton was holding court at Sunrise Christian Academy in Bel Aire, Kansas, with both the Buffalos basketball and football teams, younger brother Michael Jr has been holding his own here at home for the Teleos Cherubim basketball team.
Deyton Jr, 18, was looking forward to his graduation from high school this year with his family in attendance.
But due to the spread of the coronavirus, he returned home and had to watch the virtual ceremony online. "The people who live in the states was able to go, but I wasn't able to go because I came home in March," said Deyton, who had to watch the ceremony last week with his family at home. They were originally scheduled to travel to Kansas for the ceremony.
"I really wanted to graduate at school with my friends and family, but there was nothing I could do about it. That is always a memory you want to have, graduating. I guess I will have to wait to do it at college."
Deyton, who stands at 6-feet, 2-inches, is now faced with the task of deciding where exactly he will be playing college basketball. He's still waiting on his final transcript as the offers continue to pour in from schools around the United States.
"I'm still waiting to play some more basketball in July so I can increase my options on where I will go," he said.
Before schools were closed and all sporting activities came to a halt as a result of the virus, Deyton was able to help his Buffalo's team earn a 17-3 win-loss record as he averaged about 25 points, five rebounds and five assists as they played in a number of tournaments,.
"I am glad to be home through this virus," Deyton said. "I've been watching a lot of film on basketball and trying to stay in shape as I can improve on my game."
After watching the success of his younger brother, Deyton said he just wants to continue to be the role model for him to emulate.
"This year, Mike had a better record than me when I last played here for Temple Christian," said Deyton, who left the Bahamas last year. "I was a junior at the time as well. We went 14-0 and won the BAISS junior title."
As for his transitional year in the United States, Deyton said it was all about learning the different cultures because of the many international students who attended Sunrise Christian Academy,
"I also had to learn how to dish out out the ball more and playing in front of a lot of coaches, who were there to evaluate your game," he said. "I learned a lot playing overseas."
Whenever sports resumes after the COVID-19 pandemic ceases, Deyton said he anticipates that there will be some changes around the game of basketball, but he's eager to see what the future holds.
"Once this is done, I just want to be able to get into a good school," he said. "But the first thing I want to do is get into a gym and get in some workout sessions, with or without my brother."
Michael Jr, who at 14 is 5-10, said it was great being a part of the perfect 28-0 season that Teleos enjoyed this year.
"We went to Long Island where I played on both the senior and junior teams and we won both titles," he said. "We also won the Small Schools championship, so it was a good season."
Yet, as he looks up at the performance of his older brother, Michael Jr admitted that Deyton set the pace.
"He has the potential to be very good. I want to be like him," Michael Jr said. "We don't argue yet about who is better. We just practice and train together whenever we get a chance so that we can get better."
Their proud father, Michael Sr, said he and his wife Geniece, say they couldn't ask for anything more from their two talented sons.