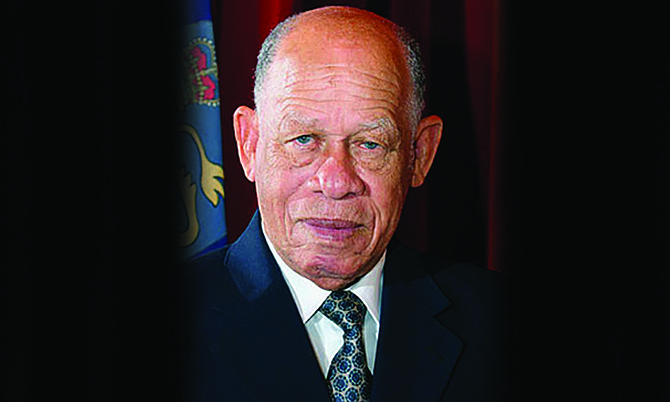 By RASHAD ROLLE
Tribune Senior Reporter
rrolle@tribunemedia.net
FORMER Governor General and Deputy Prime Minister Arthur Dion Hanna, the ardent progressive whose faith in Bahamians helped push The Bahamas toward independence and sparked the Bahamianization policy that defined an era, died at home yesterday at 93.
Mr Hanna was Deputy Prime Minister from 1967 to 1984 and held a variety of ministerial portfolios during his time in office, including the Ministry of Education, the Ministry of Finance with responsibility for public service, the Ministry of Trade and Industry and the Ministry of Home Affairs with responsibility for immigration.
He was Governor General from 2006 to 2010.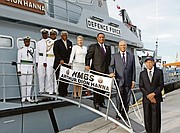 Mr Hanna, the father of longtime Englerston MP Glenys Hanna Martin, was a nationalist whose views were critical in pushing former Prime Minister Sir Lynden Pindling to seek independence for The Bahamas in the late 1960s, according to University of the Bahamas historian Dr Christopher Curry.
"He was a progressive thinker and he was one of the earliest to really galvanise the PLP to champion the cause of independence and when The Bahamas gained independence he was the person who promoted the Bahamianisation policy," Dr Curry said last night.
"In the realm of education, that policy came about because we had a system based on British values and British beliefs and he felt there needed to be an overhaul of that system. He encouraged more Bahamians to be hired as teachers and so the Bahamianisation concept was really his idea, especially as it relates to education."
Tributes to Mr Hanna poured in last night.
PLP Leader Philip "Brave" Davis described him as a lion.
"I am deeply moved on this occasion, saddened yet empowered because I know of the legacy which he left us," he said in a statement.
"He set the initial rules to help the poor as Minister of Finance, through the social safety net which is now incorporated in our social services department.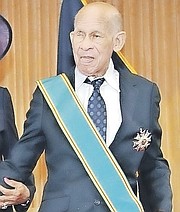 "That was Arthur Hanna, dedicated to wiping every tear from every eye, building our country with our own hands. He was a mentor to former Prime Minister Perry Christie and Hubert Ingraham when as young ministers they joined the cabinet. When others walked away from me at a challenging time in my political life, Arthur Hanna was my protector."
Prime Minister Dr Hubert Minnis said he remembers Mr Hanna "fighting for opportunities for Bahamians in every sector of society" when he was a boy and he noted that Mr Hanna "was a man of tremendous humility who loved boating, fishing and farming".
Former Prime Minister Hubert Ingraham said Mr Hanna was a "great Bahamian patriot" who committed his life to uplifting ordinary Bahamians and to national development.
"His fingerprints can be found on most significant polices that continue to be observed in government even today," Mr Ingraham said in a statement. "His name is synonymous with the Bahamiization policies that successive Bahamian governments have pursued since 1967. Small in nature, AD was a giant of a man."
Democratic National Alliance leader Arinthia Komolafe said "generations of Bahamians will continue to live under the shade of trees" he planted.
Mr Hanna was born in Pompey Bay, Acklins in 1928. He moved to New Providence and attended Government High School where he bonded with Sir Lynden Pindling. His wife, Beryl Hanna, predeceased him. He studied law in the United Kingdom and joined the Progressive Liberal party after returning home from his studies. He served as member of parliament for the Annes Town constituency - now St Annes - from 1960 to 1992.
"His ideology was grounded in the ideas of social justice," Dr Curry said.
"He would have been influenced by some of the ideas floating around the world as it relates to theories of liberalisation, including the decolonialisation movement in the Caribbean and Africa and the civil rights movement in the United States. Having learned from those ideologies, he had his unique flavour on Bahamian way of thinking about things. It is interesting that his death comes after the Emancipation Day holiday because he was all about freedom of justice for the oppressed and the idea that they should have rights. For so long education was a privilege not a right in this country and the Bahamianization policy he had brought an end to that."
Mr Hanna was known to have a keen sense of humour. During his public career, he could also display radical instincts and was on the vanguard of a generation that was not afraid to challenge power in bold ways. During a debate on boundary changes in 1965, he was ordered out of the House of Assembly and forcibly removed by the Sergeant-at-Arms, an event described as unprecedented at the time.
As a nationalist, he refused British honours and advocated for a Bahamian honours system. "He had a real issue with awards or titles being bestowed on him by the Queen," Dr Curry noted.
"He was a critic of the Queen and colonialists. He was a progressive thinker that wanted us to have our own national heroes park."
During the drugs scandal era of the 1980s, Mr Hanna resigned as Deputy Prime Minister, but never fled the PLP.
"The PLP in that era faced a lot of criticism of corruption and they had from what I understand had a conclave in the Berry Islands and he put questions to Pindling and was very openly critical of him and that's when he stepped down as deputy prime minister," Dr Curry said. "He still remained in the PLP while Hubert Ingraham and Perry Christie left and ran as independents in 87 and we all know what happened after that. He always remained faithful to the party he started with despite being openly critical of Pindling. He was able to stand on principle against what he saw as creeping corruption in his own party."