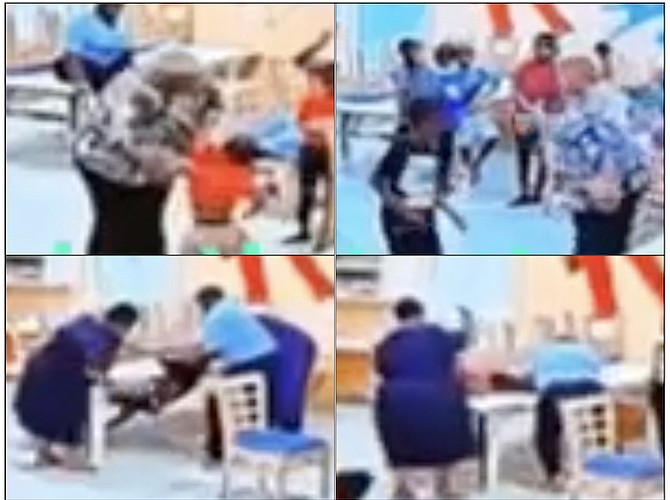 VIDEO SHOWS CHILDREN BEING BEATEN BY STAFF
IT'S supposed be a sanctuary for children desperate for help and protection, somewhere to feel safe and loved.
For precisely eight harrowing minutes and 14 seconds if you can stomach to watch it there is a glimpse of the hell these children have been abandoned to.
Thankfully the video is mute, hiding us from the screams of the children as they are whipped by the people who are supposed to be guarding them, women who we can see whooping with delight as the torture goes on.
It begins with children and adults sitting and standing together, a woman in the centre who is clearly in charge of proceedings.
The first child is told to come forward into the centre of the room, clearly knowing what is about to happen.
For a few seconds the woman is talking to him then suddenly she lashes out with a short cane, once, twice. The boy writhes in agony and tries to escape but is dragged back for another three lashes.
A second boy comes forward. Nine times he has to endure the searing pain of the woman's frenzied swipes.
A third boy. Three lashes. A fourth, three lashes and he falls to the floor. On and on it goes and horrifically the children are clearly getting younger. Some can be no more than five years old but.
In all 11 innocent children are brought forward to endure this savagery.
When you think it can't get any worse the women doing the beating is handed another seemingly longer and more flexible weapon. The first victim is called back and whipped five times to his legs and buttocks.
In the background one of the onlooking women starts skipping and dancing in delight at the new pain being inflicted.
Another boy is returned for a second, double lashing.
It's still not over as now other women join in.
A boy, perhaps seven or eight, is grabbed by two large women and as one pins him struggling to a table the other sets about him with her own lash. He's struggling throughout as she beats him, at least 20 times before he somehow manages to escape.
Another boy is grabbed, two women pinning him to the table as the third – now with a taste for the pain she is inflicting. The boy falls to the floor but still cannot escape as the woman pursues him as he crawls desperately across the room.
All the time the woman is lashing down on him until eventually he crawls to where the other children are sitting, all of them now being whipped by their frenzied attacker.
The women are now hugging and clapping, revelling in their brutality as if it's some sort of game.
Their euphoria even sees another wheelchair-bound adult enter the fray and land half a dozen lashes on a child being held by the first main assailant.
Throughout it all two adults sat watching just feet away from all that had gone on.
At no point did they intervene, try to bring their colleagues to their senses.
How can people behave like this?
By KHRISNA RUSSELL
Tribune Chief Reporter
krussell@tribunemedia.net
A SHOCKING video has emerged showing children being severely beaten and mocked by staff in an emergency care home.
In one particularly distressing moment in the video, a boy is forcibly restrained and pinned to a table by a caretaker as he tries to resist a frenzied whipping from a large woman holding what appeared to be a stick.
Social Services Minister Frankie Campbell yesterday warned "no stone will be left unturned" in a full, impartial investigation.
The incident is said to have taken place at the Children's Emergency Hostel.
Mr Campbell would not say whether any of the people involved had been put on leave pending the outcome of the investigation.
Yesterday, The Tribune contacted the children's home seeking a statement from its administrator Sabrina Smith, but was told by her secretary she would not be making a statement.
Instead, this newspaper was directed to the Department of Social Services.
"Last evening, I was alerted to a video that was circulating purporting to be children being abused at one of our children's homes," Mr Campbell said yesterday outside Cabinet. "As a matter of fact, it was suggested that it was the Children's Emergency Hostel.
"As a result of that I caused some preliminary inquiries to be done and those inquiries suggested to me that it is necessary to launch a full investigation and so that investigation commenced this morning.
"I want to make it clear that in no way, form or fashion do we support any form of abuse against children, adults, girls, boys, (or) women. No form of violence or abuse, we do not support it in any way form or fashion. As the minister responsible for the eight children's homes with approximately 150 children throughout the Commonwealth, including Grand Bahama and Cat Island, it is my job to ensure that those children enjoy the full safety and comfort and security that the state has to offer.
"So, I want to ensure the public who would have seen the videos, who out of concern would have shared them with me – I want to ensure those who are likely to start paging me that I am on the job as it relates to this matter. I want to thank all who have expressed genuine concern and to reassure the public that this matter would be properly investigated.
"It will be impartially investigated."
He continued: "I have spoken to the chairman of the board at the Children's Emergency Hostel and we are on the same page and so just want to ensure everybody that even prior to this we have been having regular meetings trying to put together management agreements because you may appreciate that all of these homes are not owned by the government. Many of them we are partnering with.
"That notwithstanding the welfare of the children is ours. The children are our children and so we want to ensure that in those management agreements that there is a protocol for discipline and there is a distinct difference between discipline and abuse and we draw the line there."
The alarming incident was captured on the home's surveillance camera. The video was posted to Facebook and went viral yesterday.
The video begins with a number of children and caretakers in a room. A woman caretaker in black pants calls a boy to the centre of the room and appears to admonish him before hitting him on the buttocks with what appears to be a stick. The child keels over in pain from the blows.
As he shuffles away, the caretaker follows him into a corner out of the camera's frame.
When she re-enters the frame, the caretaker is seen pulling the boy by his shirt and hits him again several more times before letting him go. Several more children, who all appeared to be boys, are called one by one to receive lashings. Some children even fall to the floor during the beatings.
While this is going on, another worker in blue is seen mocking the children and their cries of pain.
The incident climaxes about five minutes and thirty seconds into the video when a small boy begins to walk to the centre of the room for his beating, but then backs away in fear. At that point, a woman in blue lifts him up and attempts to subdue him.
The boy kicks and tries to free himself from her hold, but is thrown on top of a desk and pinned down while a large woman in a dress beats him about the body as another caretaker looks on. After a struggle, he is able to get away and runs out of frame. A second boy is also brought to the table before being pinned down and beaten in similar fashion. He frees himself from the table and falls to the ground several times while being beaten by one caretaker and held by another. The woman in the dress is then seen going around the room hitting seated children with her stick.
Towards the end of the eight-minute-long video, someone in a wheelchair also enters the room and hits another child as well.
Asked how many people were being investigated and whether they were placed on leave, Mr Campbell said: "Well the investigation will determine that and so I don't want to pre-preempt but I want to assure you that we will leave no stone unturned. We will let the chips fall where they may and at the end of the day as I came forward to you this morning, I will come back and update you as to what has transpired."
Regarding the investigation, Mr Campbell said it was being handled by the Child Protection Council initially, adding: "If it warrants anything more, we will go wherever we have to go to ensure it is clearly understood that we will not accept any kind of abuse towards our children."
However, he said, he did not want the matter to suggest the ministry was negligent in its handling of children's homes.
"I don't want this to suggest that the ministry is in any way, form or fashion negligent, that the ministry does not have a protocol in place. So, I don't want to even go there at this time.
"I want to say to you that a matter came to our attention and we are going to do everything we could to ensure that it is properly ventilated and if someone is culpable the chips will fall where they may."
The Children's Emergency Hostel is a quasi-government short term residential child care facility that houses minors between the ages of 12 months and 12 years old. It was created to provide temporary accommodation, food, clothing, medical care and other necessities to abandoned and neglected children, until more permanent arrangements could be made for their welfare.
The government supports the home, but it is managed by a board of directors, according to an online description.