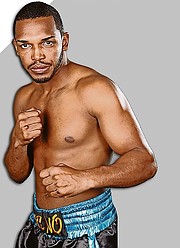 By BRENT STUBBS
Senor Sports Reporter
bstubbs@tribunemedia.net
AFTER taking time off to recuperate from his devastating loss last year to Jaime Munguia for the World Boxing Organization's Inter-Continental middleweight title, Bahamian professional fighter Taureano 'Reno' Johnson said he's getting ready for his return to the ring.
"I've been very busy since I lost a tough, but gruelling fight," Johnson said. "I suffered a cut above my right eye, which required six stitches. I suffered a more severe cut that needed 16 stitches to my upper lip.
"A lot of people asked what I was doing with my injury. I want them to do that. I'm doing well, I've recovered and healing in a timely manner. I'm ready to get back into the ring now and resume my boxing career."
With the win at the Fantasy Springs Resort Casino in Indio, California on October 30, 2020, Munguia has earned the number one spot to challenge Demetrius Andrade. Munguia is also the top contender for the World Boxing Council's title owned by Jermail Charlo.
The 37-year-old Johnson, who has been dropped out of the WBO, but is still ranked at number 10 in the WBCl, which gives him a lot more hope for his comeback, said since he returned home after the fight, he spent some time with the local boxers under the newly formed Taureano and Friends Big Brother Ministries.
"I'm better and I'm ready to fight," Johnson said. "My team and I have decided to give it another try at the world title. We are still in reach, being ranked at number ten in the WBC, so my main goal is to bring a major fight to the Bahamas."
Tight-lipped on the negotiations that's currently underway, all Jonson would disclose is that he's poised for something big in the future.
"It looks very promising and very possible,'' he said. "We just have to deal with the politics of boxing at home. We're looking at a television and cable network to air the show."
Although he's been home for the past few months, dealing with the Covid-19 pandemic, Johnson said he's had some difficulties getting to use the national boxing gymnasium at the Baillou Hills Sporting Complex.
But through the generosity of some of his sponsors, friends and family members, he was able to acquire a makeshift training facility where he was able to assist some of the local amateur boxers.
He thanked KS Moses for their continuous assistance; the Pinder family at Quality Home Fabric, who provided his boxing outfit, and Christian Knowles of Aquapure, who made sure that he stayed dehydrated.
"I'm forever grateful for all of the support that I've been getting from the public at large and the Bahamas," Johnson stated. "I will be back in the ring real soon. Before this year comes out, we will be back in the top five in the world as I prepare for another shot at the world title."
Looking back at the loss to Munguia, which was just his third against 21 victories, Johnson said it was an eye opener for him and a learning experience because he now knows that he can't take any of his opponents for granted.
"It has taught me a lot about preparing, even when you are at home." he pointed out. "We have definitely taken the necessary steps in preparing a facility for me to train when I'm home so that I can be equipped for the challenge ahead of me.
"I am even more hungry to go after another world title. To beat these guys out there in the top rankings, I have to be on top of my game, so I'm making sure that I'm not leaving any stones unturned."
As a contender to the title that slipped out of his hands, Johnson said he's looking at giving it one more try over the next two years to finally join the late Elisha Obed as a Bahamian world champion.
"These last two years are going to be my best two years," he proclaimed. "My latter years will be greater than my former years. I thank God for giving me the health and strength to secure the wisdom in boxing. I'm hungry now because I had it, but it got away from me.
"When I looked back at the fight, everything was going my way before the fight. Everything was going well. But that night., it was just Munguia's night. He got the better of me and he deserved to win the title. But I have learnt from the mistakes I made and I assure you that if and when I get another chance, it will be a different story."
Still under management by Golden Boys Promotions, Johnson will be leaving home in the next month to head to Atlanta, Georgia to begin his training camp before he heads to New York or Las Vegas for a possible fight, if he doesn't give all of the details sorted out to fight here.