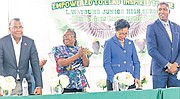 STUDENTS of the L W Young Boys and Girls Empowerment Club participated in a one-day seminar at the Fox Hill Community Centre on Friday.
During the opening ceremony, Ann Marie Davis, wife of Prime Minister Philip "Brave" Davis, delivered the keynote address. She encouraged the students to continue to be positive role models in their respective communities.
"Leadership is not limited to just a select few areas," she said. "You can be a leader in whatever you choose. You can make a positive change in your community, in your country or even in the world. And never give up on your dreams. Whenever your pursuits get challenging or too difficult, just remember this quote by Nelson Mandela who said: 'It seems impossible until it's done.'"
The seminar featured speakers who presented such topics as: character building, physical and mental awareness in a post-COVID environment, cyber technology do's and don'ts and social graces.