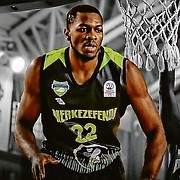 By RENALDO DORSETT
Tribune Sports Reporter
rdorsett@tribunemedia.net
DWIGHT Coleby is off to an impressive start with his new club - Heroes de Falcon - in the Venezuelan SuperLiga.
The veteran frontcourt player is averaging 9.4 points and a team high 7.8 rebounds per game. He also leads the team in blocks at 1.6 per game, while shooting 53 percent from the field in 25 minutes per game.
The Falcons are 5-4 thus far, third in the "West B" Division.
Coleby had his first double double of the season last night with 12 points, 10 rebounds and two blocked shots in a 97-86 loss to Centauros. He also had 11 points and seven rebounds in an 83-69 win over Toros, 14 points and eight rebounds in a 76-74 win over Centauros, 11 points and eight rebounds in a 77-71 win over Piratas, and nine points, eight rebounds and three blocks in an 88-74 loss to Gaiteros.
The SuperLiga is the top-tiered basketball league in the country. The winners and runners-up of each SuperLiga season qualify for the FIBA Americas League regular season.
The 6'10" veteran forward and senior national team player has been a member of three clubs during the 2021-22 season.
He most recently spent time with Al Sharjah of the United Arab Emirates National Basketball League. They finished with the league's second best record during the regular season and reached the league final.
Coleby previously spent time with Cholet Basket of the JEEP Elite Pro A League in France, the top-tiered basketball league in France. He originally intended to join Anwil Wloclawek of the Polish Basketball League (PLK) for this season but a failed medical led to the contract being voided.
Coleby spent last season with Merkezefendi Belediyesi Denizli of the Turkish Basketball First League (TBL), his second stint in the country.
In a history-making milestone season for the club, he averaged 12.8 points, 10.1 rebounds per game and was named Eurobasket. com all TBL Honourable Mention and Player of the Week twice. Denzeli was also granted promotion to the ING Turkish Basketball Super League, the top division in the country.