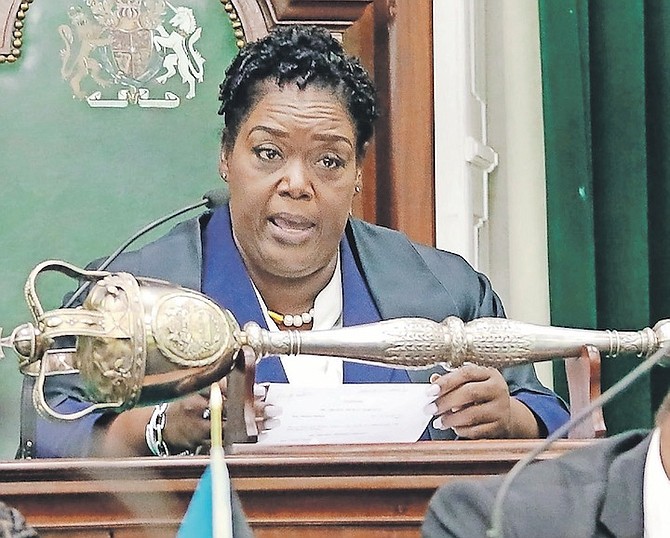 By LEANDRA ROLLE
Tribune Staff Reporter
lrolle@tribunemedia.net
HOUSE Speaker Patricia Deveaux yesterday maintained she sees nothing wrong with her criticism levelled at National Emergency Management Agency director Captain Stephen Russell and sees no need to apologise.
In an interview with The Tribune yesterday, the Bamboo Town MP explained that her rebuke of Captain Russell was out of concern for residents in her constituency and the Bahamian people and not for political reasons.
She also advised that people must learn to take constructive criticism to "become stronger and do better" when there is a need for improvement.
"My thing is this," she said, "and this was not political, and this was not personal for me.
"It was me acting in my capacity as the member for Parliament for Bamboo Town, okay. When I would have gotten into the Bamboo Town area, first and foremost that was a catastrophe."
 "This was not a mop and broom situation. What I was faced with and what I mean by that is we could sweep out the water and mop up the floor and clear up the whole situation. When I spoke to Mr Russell, it was after seven. My indication is this – catastrophe and disasters don't happen between 9 – 5," she added.
 "It could happen just in the night. If it was midnight, I would have gotten out of my bed and went down to whatever point in Bamboo Town (the) catastrophe would have happened to be, there with the constituents and call on services that are necessary to help bring relief to the citizens of this country. That is what I was hired to do."
 Ms Deveaux continued: "All he had to say to me was 'Ms Deveaux, I am on the ground but here is the name of somebody else – Jean Doe, John Doe from NEMA. This is their number and maybe they can come down and give you some assistance and if all else fails, here is an emergency response number which you can leave with your constituents where they can have some level of contact even if something happens that is untoward throughout the night'."
 Speaking from her chair in Parliament last Thursday, Speaker Deveaux delivered a scathing rebuke of Captain Russell after she claimed the NEMA official did not effectively respond to her calls for assistance following tornado damage in her constituency Wednesday.
 While she admitted various agencies responded to her calls for help, the Bamboo Town MP singled out NEMA and its director as being absent.
 Speaker Deveaux said when she did speak to Mr Russell, he directed her to the Ministry of Works.
 However, in a statement released hours after her speech, NEMA defended the agency's response to the event.
 The agency outlined the efforts they said were ongoing following the tornado and also assured the public that the director was engaged throughout the entire process.
 As a result, some - including the Opposition - have called for the House Speaker to issue an apology in view of the episode.
 During a press conference Friday, Opposition leader Michael Pintard told reporters that what transpired on Thursday in the House of Assembly was most "inappropriate" and unfortunate.
 He said: "Let me say up front that we believe every member of Parliament, including the Speaker, has a right to speak on behalf of their constituents and we all get emotional when we believe something has happened to our constituents that needs to be remedied.
 "But what we have to be careful of is that in speaking up for our constituents we don't do so at the expense of others and unfortunately, we thought that the manner in which NEMA, Captain Russell, was characterised was most inappropriate and unfortunate.
 He also said parliamentarians must be careful not to "negatively characterise" defenceless citizens and veteran public servants who are not in the House of Assembly to defend themselves.
 "The Speaker owes Captain Russell an apology," he added.
 However, Speaker Deveaux said she stood by her statements and that she didn't think that issuing an apology was necessary.
 "What am I apologising for?" she asked. "Because I'm asking someone to take action. What am I apolosing for? I am asking him to beef up and to fix it. Listen to my whole comments and I told him to fix it because you know in hurricane season, he has been there for many years."
"He has been there for so many years and he has been through so many other tunnels and catastrophes. When one such as an unforeseen tornado would've hit, let's spring into action. I'm calling for action. That's all I ask and I don't see nothing wrong in my comments by asking because if a hurricane was to hit and we have something of a larger magnitude? Is NEMA ready?"
 The Bamboo Town MP also noted that the backlash she received will not discourage her from being vocal and speaking on issues of concern in the future.
 "Listen, I took an oath," Speaker Deveaux told this newspaper. "My oath is to make sure that I bring help and hope to a group of people who have not hoped in the system and lost faith in it and as long as I have a voice and my voice is from my chair, I will utilise that chair for the benefits and benefactors of not just my constituents, but for the citizens of this country.
 "You as a national, national entity and a national agency that covers not just here, but the family of islands. Let's fix it now and we have to be able to take constructive criticism. Criticism is here to make us grow stronger and for us to do better," she added.