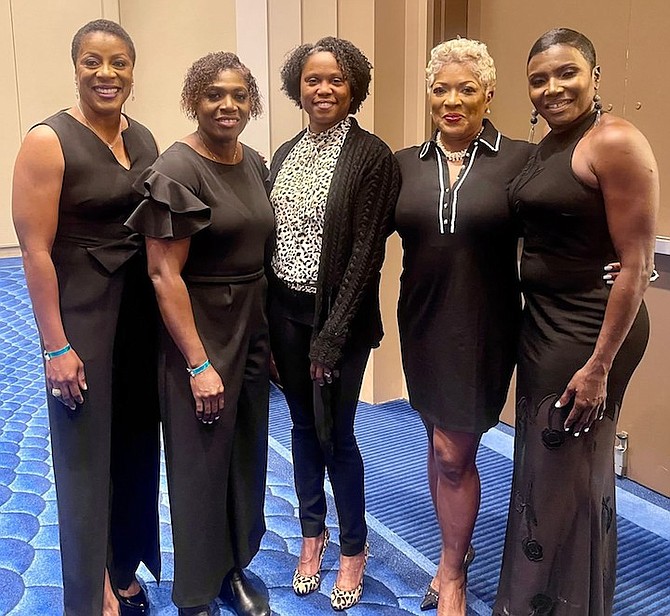 By BRENT STUBBS
Senior Sports Reporter
bstubbs@tribunemedia.net
It was a memorable night on Wednesday for the athletes, who shared centre stage with 'Golden Girls' Savatheda Fynes-Coke, Chandra Sturrup, Pauline Davis-Thompson, Debbie Ferguson-McKenzie and Eldece Clarke as they were inducted into the Ministry of Youth, Sports and Culture's 2022 National Sports Hall of Fame.
It was the 17th induction ceremony since the initial class was enshrined in 1989. After a break, the second induction took place in 2003 and have been held every consecutive year with this year's ceremony staged at Baha Mar. Governor General Cornelius Smith performed the act.
While the 'Golden Girls' went in as a group of five women who put the Bahamas on the map with back-to-back gold medals at the World Championships in Seville, Spain in 1999 and the Olympic Games in Sydney, Australia in 2000, they were joined by 14 individual athletes, two of whom are deceased.
Each of the inductees, including champion boxers Ray Minus Jr and Stevie 'the Heat' Larimore, boxer and executive extraordinaire Wellington Miller, squash player Ivern Davis, softballers Sydney 'Bobby Baylor' Fernander and Everette 'Abe' Johnson, martial artist Charles Franklyn Adderley, volleyballers Raymond 'Rhymes' Wilson and Dr Patricia 'Patti' Symonette, bodybuilder Maxine Darville, basketballers Perry Thompson, Fred 'Slab' Laing, the late John Terry Wildgoose and bowler Monique Leary, were introduced with an historic review of their past by Kendal Wright, the host of a sports talk show.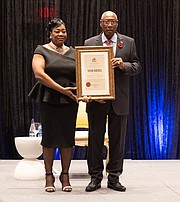 In his response on behalf of the entire group, Wilson took a spiritual perspective from Psalms chapter eight and verse which asked the question: What is man, that thou art mindful of him? and the son of man, that thou visitest him? "What is the Bahamas that thou art so mindful of us," Wilson countered, "and as sons and daughters of the Bahamians that thou visited us."
Wilson, a former outstanding basketball player who was honoured for his role as a volleyball player and as coach of the national men's and women's national teams that won medals at a number of international events, said their class is loaded with notable performances that included Minus Jr being crowned a champion and the 'Golden Girls' stopping the world with their gold medal performances. "We the class of 2022, we thank you, all of you who are here, the Ministry of Youth, Sports and Culture, Minister Mario Bowleg, our Governor General Cornelius Smith, we thank you so much for what you have done," he said. "We the class of 2022 leave this with you: 'the journey continues. March on Bahamaland.'"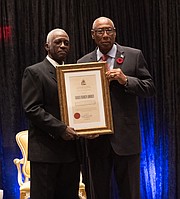 His fellow inductees were all thrilled to have been honoured.
While Symonette played just about every sport, like Wilson, she too went in for volleyball, but it didn't matter. She knew she has accomplished enough to get inducted in any sport.
"It's humbling because I always tell people, when I was competing in sports, there was no Hall of Famer. You didn't do it for that. You did it for the love of the game," she said. "But you really feel good when you have contributed to something that is nation-building and you are recognised for it."
She thanked the sports media for providing the coverage that enabled her performance and those of the other honourees to be highlighted to the world.
"It feels very good. I'm very honoured that the Minister of Youth, Sports and Culture recognised me," said Darville, one of the most prolific female bodybuilders who won numerous national and CAC Championship titles. "It was magical. Just to be recognised."
Darville, a personal trainer, said it made her want to get back on stage, but she dares not come out of retirement.
As a bowler, Leary went around the world dropping the pins to cart off various international titles.
"It's a beautiful, beautiful feeling right now. It's a humbling honour," said the Grand Bahamian native, who served as president of the Bahamas Bowling Federation. "Sitting there with all of these great people, was just a great feeling."
Miller, the long-time president of the Bahamas Boxing Federation after he retired as one of the top heavyweight boxers before he ventured into the Bahamas Olympic Committee as a vice president and president, said he's reached the pinnacle of sports in the country.
"This is the highest that I can go into sports in the National Hall of Fame," he said.
"I've been inducted for administration so it gives other persons to work just as hard when they get involved. You never know what will happen for you.
"It's just great to be in this class with the Golden Girls, but especially with Ray Minus Jr and Stevie Larimore. We came up together through boxing. Now look at us. We are all inducted in the same class."
Minus Jr, accompanied by his long-time former sparring partner and arch-rival Quincy 'Thrill-A-Minute' Pratt, was unable to talk about his triumph as the WBC Continental Americas lightweight, WBA Inter-Continental super lightweight and British Commonwealth bantamweight titles as he was too overwhelmed in his physical condition.
But Larimore, another boxer honoured, was thrilled. "It's great to be inducted into the Hall of Fame. I was praying for years that this was going to happen," said Larimore, who won a Commonwealth Games bronzes medal and held both the WBC Continental Americas lightweight and the British Commonwealth light welterweight titles. "It's great to be a Hall of Famer for all of my accomplishments in my boxing career. Boxing did well for me."
After almost 50 years when he starred as a basketball player, Laing said he never envisioned this day would come.
"It's great. I really appreciate this," he said. "I'm glad that they didn't overlook me. I'm done playing, but I'm still doing some things in the sport and I will continue to do so."
Thompson, a former basketball player who went on to become the head of the perennial kingpins Commonwealth Bank Giants, said he had an awesome experience as a member of the class of 2022.
"I'm just happy and elated to be here with my family and friends," he said. "I wish I could suit up again. But God has been good and I'm glad that I was able to make it as a player and as a coach in the sport."
Fernander, credited with helping to organise softball in Grand Bahama, also charted the course for both the men's and women's national teams, guiding the latter to a third place finish in the World Games in Seattle, Washington, in 1981.
"I waited a long time, but the one thing, I went down with the Golden Girls. I'm happy that I caught the Golden Girls," he said. "It was a nice ceremony and I enjoyed it."
Also retired from playing fastpitch where he made a name for himself as a power hitting pitcher, Aber Johnson said he's just glad that he's still alive to receive his roses and to do it in what he dubbed the "best class" with the 'Golden Girls.'
"I'm very happy that I didn't go in posthumously," he said. "I really appreciate the fact that I got it. I'm very happy. It's nothing like smelling your flowers and I'm glad that I got that opportunity. So I'm really happy."
For the 'Golden Girls', it was a reunion in person, although they stay in touch on social media. "It's always a pleasure to be appreciated by one's country, so I would like to thank the Ministry of Youth, Sports and Culture for this honour," said Clarke, considered the glamour girl of the crew.
"We can't wait to go back out to Fish Fry and hang out and do some of the things we did before and have a girls' time."
The veteran of the crew, Davis-Thompson, concurred with Clarke, but took it a bit further.
"It feels so great to share this honour with so many other distinguished Bahamians, who did so many great things for our country," she said. "It's hard to describe the feeling when you put on the Bahamian uniform to represent your country and that is what each of us did. It's the Bahamas that matters the most."
Sturrup, still the women's national 100m record holder at 10.84 seconds from 2005 in Lausanne, Switzerland, was limited in her reaction as she was remembered for her fast take off as the second leg runner on the relay team.
"It's great. My son, Shawn Jr, is here with me, so it's even more fabulous," said Sturrup, who now resides in North Carolina where she's coaching at the high school level. "It was lovely to be back here with the rest of the Golden Girls."
Ferguson-McKenzie, now an assistant coach at the University of Kentucky under Bahamian head coach Rolando 'Lonnie' Greene, said it's an honour for her because she remembers how most people got it posthumously. "It was special for us because Chandra and Savatheda and I got a chance to spend some time together reminiscing with your days travelling together to compete and then we got reunited with Eldece and Pauline," said Ferguson, who anchored the Olympic gold medal relay team.
"This was so special because we got to sit around with some great people who we watched on TV like Ray Minus Jr. It was just fantastic and give God all thanks for this opportunity and this moment to learn from a lot of them who came before us and hopefully we will have something to pass down to those who come after us."
And Fynes, the Abaco native known as one of the fastest starters in the world, said she's always excited to be home, even this time as she got to celebrate with her former team-mates.
"There's always memories. I will always have memories from the time I spent with the ladies and coming here for this event, it's kind of emotional because it's a while since we had something to celebrate together," said Fynes-Coke, who resides in New Jersey with her husband and family.
Bowleg, in thanking his staff at the Ministry and Governor General Smith for carrying out the induction, said it was a great night for sports in the country.
"This is one of the strongest representations of athletes we have seen in any of our classes inducted recently," Bowleg said.
"This is just my second induction, but when you look at the others, this one was very strong with international performances from the 'Golden Girls', bodybuilding, bowling, softball and volleyball."
He said he's just delighted to be the sitting minister to celebrate the performances of the Bahamian athletes.
Bahamas Olympic Committee president Rommel Knowles had some words of commendation, calling the inductees some of the finest sports icons in the history of the Bahamas as he noted that they all have a story that one would appreciate.
"Their journeys are all diverse but you would find a singular most prolific thing as an athlete, which is adorning our national uniform and the rising of our Bahamian flag and hearing our national anthem gives one a sense of pride comparable to nothing else in the world," he summed up.
Former football player Obie Wilchcombe, the Minister for Social Services, was also on hand to offer his own personal words of congratulations to the inductees, noting how he covered many of their historic performances when he was a reporter at ZNS.