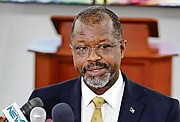 By LEANDRA ROLLE
Tribune Staff Reporter
lrolle@tribunemedia.net
A CARICOM delegation, consisting of representatives from The Bahamas and other countries in the region, left for Haiti yesterday to meet with politicians and other officials there to discuss security issues facing the crisis-torn nation.
 National Security Minister Wayne Munroe and Immigration Minister Keith Bell were reportedly among the delegation that left The Bahamas yesterday for Haiti.
 Their travel comes weeks after the Bahamas hosted the 44th CARICOM Heads of Government meeting where regional leaders gathered to discuss the crisis in Haiti.
 At the end of three-day high-level talks, member states of CARICOM agreed to provide direct support to the Haitian National Police (HNP) to help bolster security in the troubled country.
 Prime Minister and CARICOM Chairman Phillip Davis spoke to reporters yesterday about the purpose of the mission, which he said will prepare them for an upcoming meeting that will be held in Jamaica concerning issues in Haiti.
 He said Canadian officials also will be accompanying the group, adding that together, they will be developing a plan as to how they can support the HNP.
"The purposes of meeting with stakeholders in Haiti and the main purpose of that mission is to ensure that we have stakeholders prepared for another meeting that is to be held in Jamaica next week and to advise them of that meeting and at the same time, talk to them about security of Haiti and how best to secure Haiti so that we can create the space to allow for freedom of movement without fear or intimidation or violence," Mr Davis, who spoke to reporters on the sideline of an event in Abaco, added.
 "And in that regard, the principle role would be to empower and resource the Haitian National Police. The mission there, along with Canada, is a Canada-CARICOM commission that I put together during the course of CARICOM meetings.
 "The Canadian government is providing the security for all of our persons that have gone down there. They are leading it and we'll be crafting a measure whereby we could empower the Haitian National Police to ensure that they are able to compete with the gangs who seem to be better resourced, better organised than the police at the moment."
 When asked if The Bahamas was prepared to send security forces to Haiti, Prime Minister Davis repeated that putting boots on the ground was not an option at the moment but stressed that "we are prepared to do our part to ensure that we achieve the ultimate goal," which is Haiti's stabilisation.
 He noted that the country will continue to see increased levels of irregular migration from Haiti until the country is stabilised.
 Yesterday, Foreign Affairs Minister Fred Mitchell wished the delegation "well" in their mission.
 He also advised Bahamians to lower their expectations in terms of what CARICOM countries can do to solve the issues in Haiti, explaining that no one wants a foreign entity to come into their country telling them what to do.
"The best we can do is help facilitate, help to nurture or manage what is a very difficult situation. In the first place,no one wants someone else to come into their country to tell them what to do," Mr Mitchell said in a voice note sent to this newspaper yesterday.
 "Secondly, the public officials in Haiti are embarrassed and they've apologised about the fact that they have been described as a failed state or seen as a refugee country. These are very proud people with a legacy of being the first independent black republic in the modern era.
 "They defeated Napoleon's mighty army. Thirdly, there are some 200 political parties in Haiti. At one point, there were 136 candidates for president. The rivalries are intense, often personal, and we all know the history of violence and foreign interventions and foreign abuse. It is also the poorest country in the hemisphere. "
 He said the present administration in Haiti is seeking to move toward free and fair elections, but noted that "all sides are deeply suspicious."
 "Our facilitators have a tough job so let us pray for the safety of the party, for the success of the limited mission, and that the process today will lead toward the meeting with all stakeholders in Jamaica within several weeks," he added.
 Earlier this month, Canadian Prime Minister Justin Trudeau committed Canada to sending navy vessels to conduct surveillance, gather intelligence and maintain a maritime presence off the Haitian coast in the coming weeks.
 He said the vessels will not be used to intercept migrants trying to flee the troubled country.
  This follows reports of mass exits of Haitian officers from the police force there.
 Many of them have reportedly been left angered by the killings of their colleagues by armed gang members and even took to the streets in January to protest the Haitian government that they blamed for not taking action.
 But according to Prime Minister Davis, CARICOM remains hopeful that once officers are supported, they would remain in Haiti to enforce security.