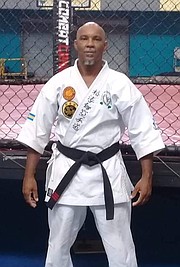 By TENAJH SWEETING
Tribune Sports Reporter
tsweeting@tribunemedia.net
THE Bassai Bahamas Karate-Do will host the second edition of the open karate tourney this weekend at the Kendal G L Isaacs Gymnasium.
The Bahamas Karate Championships is expected to begin at 10am as the competitors will look to compete for the lightweight and heavyweight championship belts.
The tourney will be open to various styles of martial arts, whether locally or internationally.
Also, the championships will include divisions such as Kumite point fighting, Kata, weapons, and the matchup for the Covenant Masters Cup.
Sensei Shawn Smith Sr, chief instructor for Bassai Bahamas Karate-Do International, talked about the purpose of this year's open karate tournament.
"The purpose of these tournaments that we hold every year is to provide the opportunity for competitors to compete and foster goodwill and sportsmanship with other karate schools in the Bahamas," Smith said.
He said they are about building a whole community of martial artists that would come from a number of different schools to compete at the highest level.
Other exciting elements to be seen at this year's championships will include the kickboxing segment, Masters Cup, and honoring of the martial arts Grandmasters.
For the Masters cup, the very best in martial arts starting from the 5th degree black belt level and above will put on a showcase of their different styles and disciplines.
The styles the public can expect to see on display this Saturday will include Karate, Kung fu, Jiu-jitsu, Taekwondo and many others.
One of the event's highlights aside from championship action will be the honoring of martial arts Grandmasters Alex Penn, Kenneth Lewis, Frankie Adderly, and the great late Basil Rolle.
"The grandmasters are those individuals who are Bahamians who have made it to the highest level of martial arts in the Bahamas it's amazing that we have four grandmasters one has deceased but we have three sitting grandmasters of various different styles Kung Fu, Goju-ryu, [and] Jiu-jitsu," Smith said.
The chief instructor added that between the grandmasters it is over 200 years of experience combined in The Bahamas and their goal is to honor them and give them their flowers while they are alive.
Smith said spectators are in for a treat.
"Spectators can expect to be thrilled, they can expect to see those great fancy kung fu moves, the fast moving feet by the Taekwondo people, the precision of the punching and stances of the karatekas this tournament is set to be awesome so come on out," he said.
Tickets will be on sale at the event for a cost of $5 for adults and $3 for kids 5 years and under.