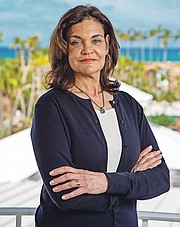 • Mega resort argues project's approval 'premature'
• 'Too many red flags' over environment, economy
• PM ended opposition on 'changed circumstances'
By NEIL HARTNELL
Tribune Business Editor
nhartnell@tribunemedia.net
Atlantis' top executive last night warned that approval of Royal Caribbean's $110m Paradise Island project is "premature" and urged Bahamians to call on the Government to "put the brakes on".
Audrey Oswell, the Paradise Island mega resort's president and managing director, argued in a column published in full today that there are "too many red flags" and unanswered questions relating to the cruise line's planned Royal Beach Club destination.
She said these concerns focused largely on its potential environmental and economic impact, adding that Atlantis had raised some 50 questions relating to the former issue when the project was first unveiled for public consultation by the Department of Environmental Planning and Protection (DEPP) but had not received a single answer.
As for economic concerns, Ms Oswell said Royal Caribbean's attraction will "privatise Paradise Island's last public beach" while also sucking away the cruise line's passengers and their much-needed spending power from Bay Street merchants, restaurants, straw vendors, taxi drivers, tour and excursion providers and other sectors that rely on the cruise industry for their livelihood.
Referring to the Government's announcement that Royal Caribbean's project has been approved, subject to obtaining all necessary environmental approvals, the Atlantis chief said: "I believe the green light is premature, with so many unanswered questions regarding the project's environmental and economic impact still to be addressed.......
"What is needed now, before it's too late, is a heightened level of scrutiny and discourse. Too much is at stake to stay silent. It has not been confirmed that the Royal Caribbean project does not pose serious threats to our beautiful beaches, marine life and their habitats. If this residential land is overdeveloped or the beaches and coastline altered in anyway, the Paradise Island coastline, Cable Beach, Saunders Beach and our economic livelihood stand to suffer."
Calling on all Bahamians and residents with concerns to act, Ms Oswell added: "We all must make our voices heard and insist that the Government put on the brakes and follow through on a serious examination of the impact this proposed project will have on our environment and businesses.
"Share your thoughts and insist on answers from the Ministry of The Environment, the Department of Environmental Planning and Protection and Royal Caribbean. And we at Atlantis will be taking a more active role in encouraging dialogue and transparency. Coastal development must be done with precision to avoid long-term adverse impact. A few months of true due diligence is critical to avoid decades of irreversible harm."
The intervention by Atlantis and Ms Oswell in the Royal Caribbean controversy is almost unprecedented given that it is extremely rare for one investor to be so forthright in publicly voicing concerns about another's project. However, the Paradise Island mega resort will be one of the Royal Beach Club's closest neighbours, and its reliance on a pristine marine environment to be enjoyed by its guests gives it a keen interest in what will occur to its west.
Their move also occurred on the same day that Clint Watson, the Prime Minister's press secretary, sought to explain why Philip Davis KC had performed a 100 percent u-turn on the Royal Caribbean proposal compared to the stance he took almost three years ago when Opposition leader.
Mr Watson argued that the now-prime minister's previous opposition was "based on the circumstances at the time" and, having taken office, his administration has been able to renegotiate a better deal with Royal Caribbean such that there are greater ownership and entrepreneurial opportunities available for Bahamians while the project's Crown Land footprint has been reduced from seven acres to four.
The Prime Minister's spokesperson also asserted that the Royal Beach Club is specifically targeted at those Royal Caribbean passengers who remain on their vessel once it has docked in Nassau, and will therefore not draw business away from Bay Street, downtown Nassau and the wider tourism industry, even though it is likely to be marketed to all the cruise lines guests and not just those 'stay on boards'.
"There was concern about local vendors and how they would be impacted," Mr Watson conceded. "That is expected to be minimal to none. The target visitors for this project will be the small percentage of visitors who don't leave the ship when it is in port. It's designed for them, and not designed for people who go and visit with local operators and vendors."
He argued that Royal Caribbean's revised proposal, and the purported greater benefits for Bahamians, justified Mr Davis and the Progressive Liberal Party (PLP) changing their position on the project and giving it the go-ahead to proceed. Mr Watson also pointed to the 43 percent reduction in Crown Land, and the fact that none of the four acres were involved in the recent Supreme Court battle launched by Bahamian Toby Smith over his rival Paradise Island project.
"The key point is what was presented and approved in principle is a revised proposal which is smaller in scale and [uses] an exceedingly minimal amount of government land," he added. "There's about four acres of Crown Land that is connected to the project, and that four acres was granted in 2021 prior to this administration taking office.
"It's also important to note that Royal Caribbean has committed to creating entrepreneurial opportunities for Bahamians, including a ferry service that is fully operated by Bahamians. These were additional asks that were specifically included. The Government wanted to ensure Bahamian and stakeholder ownership in this.
"Bahamians will also be able to invest up to 49 percent [in a collective equity ownership stake] in the project. When you look at what Prime Minister Davis said in Opposition, it was based on the circumstances at the time that were presented. That has changed," Mr Watson continued.
"This is not that same proposal; it is a different proposal. This does not include the disputed land. It is a completely different proposal; a scaled back proposal on land they would have purchased and the four acres of Crown Land that was granted by the prior administration. Based on that, the decision was made to move forward."
Mr Watson argued that the Royal Beach Club will be "the first project to allow the Government to have an equity stake in the investment" through converting the four Crown Land acres into an ownership interest, although the percentage has not been specified and Royal Caribbean will still have the majority interest. Through this, he said the Government "can ensure there's partnership, ownership and a return to the Bahamian people on this investment".
However, the Government will not be able to ignore the views of Atlantis and Ms Oswell given the mega resort's impact on the Bahamian economy. The Atlantis president said she had been "puzzled'" by the Government's statements on the approval for Royal Caribbean, especially that the ground breaking will take place "almost immediately" despite the environmental permits remaining outstanding.
Having been reassured by the Prime Minister that the necessary regulatory processes will be followed, Ms Oswell wrote: "It is not surprising that with few opportunities throughout the review process for the voices of citizens and businesses to be heard, public awareness of these impacts has not kept up with the severity of these threats.
"In response to the first presentation by Royal Caribbean to DEPP, Atlantis raised over 50 questions mostly related to potential environmental threats. To date, we have received no response." She raised concern about the potential impact to Paradise Island's coastline and beaches, plus the impact of increased harbour ferry traffic on potential marina traffic, the return of seaplane service to Paradise Island and waterfront development possibilities.
Atlantis has previously generated significant revenue streams by attracting cruise passengers on day passes to visit its water park, but has de-emphasised this segment as it focuses on the guest experience for its stopover visitors. The mega Paradise Island resort is also thought to be planning development of the former Club Med property that it owns, possibly using the site to develop upscale residential options.
Chester Cooper, deputy prime minister and minister of tourism, investments and aviation, in a statement last night responding to Atlantis' concerns pledged that "broad public consultation" will take place over Royal Caribbean's EIA and EMP.
"The Government of The Bahamas notes the concern of Atlantis regarding Royal Caribbean International's proposed beach club on Paradise Island," he said. "The Department of Environment and Physical Planning and Ministry of Works are aware of the questions raised by Atlantis and I am satisfied that these questions will be addressed as a part of the normal process.
"The Bahamas has one of the most stringent processes in the world for environmental protection regarding developments. That process will be followed for all developments in the Commonwealth of The Bahamas."