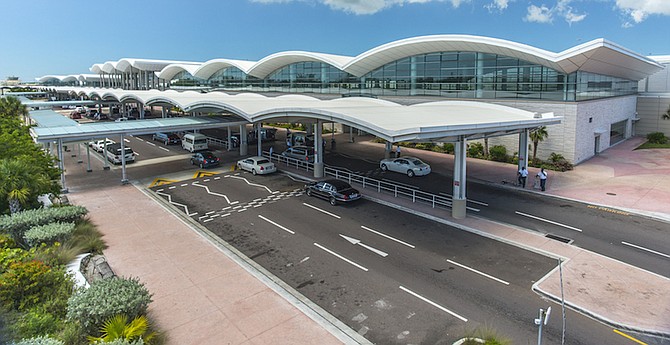 By NEIL HARTNELL
Tribune Business Editor
nhartnell@tribunemedia.net
A Bahamian aviation operator yesterday said "excessive traffic volume" was to blame for weekend delays at Lynden Pindling International Airport (LPIA) that resulted in some travellers missing flights or their connections.
Anthony Hamilton, Southern Air's director of administration, and president of the Bahamas Association of Air Transport Operators, told Tribune Business that Saturday's events had highlighted the need for further investment at The Bahamas' main aviation gateway including a new runway that the industry has been "advocating for for some time".
"That was an excessive volume of traffic between Nassau and Miami," he explained of the delays, which had stretched air traffic control at both locations. "It was heavily saturated, and it was a matter of managing through that on Saturday. What resulted on Saturday was an extreme situation, but is indicative of the volume of traffic coming to us. It was a combination of things, but the traffic volume was the main driving factor."
LPIA's operator, the Nassau Airport Development Company (NAD), did not respond to this newspaper's request for comment before press time last night. Besides passenger delays and missed flights, Mr Hamilton said airlines and aviation operator s also incurred increased costs due to burning extra fuel both on the ground as they waited to take-off and in the air as they queued to land.
"It was noticeable," he added of the hold-ups. "The physical presence of passengers in the terminal reflected that.... We need some work done at the airport in terms of aircraft parking and space, and being able to release aircraft. We need more space on the ground. The ramp situation is definitely going to need some injection."
Tribune Business was informed that one Bahamas resident suffered a two-hour delay and was unable to meet their connecting flight in Houston, resulting in them having to overnight there before they could make it home.
The situation arose after Dr Kenneth Romer, the Ministry of Tourism's deputy director-general and acting head of aviation, last week said  here have been discussions with the Nassau Airport Development Company (NAD), Lynden Pindling International Airport's (LPIA) operator, about developing a new runway parallel to the existing 1432 in a bid to ease air traffic congestion caused by the increase in private and commercial plans flying in and out of New Providence.
"There have been issues relating to the acquisition of land," Dr Romer said of the expansion plans. "As airline stakeholders will be aware, that is part of the wider national strategy. LPIA ranks very high on our radar, no pun intended. I can't commit to a timeline, but I know it's a priority they have been discussing with NAD, along with the air traffic controllers (BANSA), the Airport Authority and the Office of the Prime Minister.
"There have been active discussions, and that has become a priority again to bring about these incredible improvements to LPIA." Dr Romer also acknowledged there were land acquisition issues that impact plans to upgrade several Family Island airports that are part of the 14-location bidding process that has recently gone out to tender, particularly at North Eleuthera and Deadman's Cay in Long Island, plus to "some smaller extent" in Cat Island.
Jeffrey Simmons, a passenger due to be on a British Airways flight to London on Saturday afternoon, told this newspaper on Monday that his flight was unexpectedly cancelled. He understood that due to system challenges there were significant airline traffic congestion and flight delays.
"I spoke to a colleague of mine from Jamaica who's also travelling to where I was going, taking a different route and she was stuck in Miami," he said yesterday. "Then I spoke to someone else I know who is supposed to be doing the same thing and he was stuck in New York. And so, what I found out because you know I have some relationship with air traffic and all of that, is that apparently, they had some issues in Miami."
Mr Simmons said the malfunctions prohibited Miami's air traffic control to accommodate the large volume of traffic in the air space and, as a result, many flights locally were delayed on Saturday. "When British Airways arrived here yesterday (Saturday), they couldn't land, so they had to actually go to Cayman Island, and from there they went back onto London," he said.
"What I understood was there was some issue with the air traffic in Miami because see what happens is that here in Nassau we don't really … Our air traffic controllers are not responsible for flights, they don't control flights above 10,000 feet.
"So anything in The Bahamas above 10,000 feet Miami deals with, so our air traffic controllers don't deal with that. If their (Miami) radar is not properly functioning, then that means they have to cut down on the volume of traffic they allow into the air space and I think that's more their issue from yesterday (Saturday)."