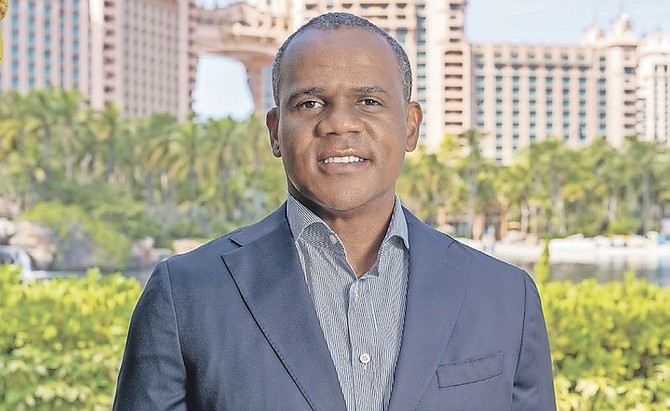 • Royal Beach Club could impact Club Med site plans
• Atlantis executive also warns on downtown fall-out
• Denies Royal Caribbean competition driving worry
By NEIL HARTNELL
Tribune Business Editor
nhartnell@tribunemedia.net
A senior Atlantis executive yesterday warned that concerns over Royal Caribbean's Paradise Island project could harm downtown Nassau's revival and "the most compelling real estate opportunity in The Bahamas" if not resolved.
Vaughn Roberts, senior vice-president of government affairs and special projects, said the mega resort and its owner, Brookfield Asset Management, would likely cease working on development plans for the 50-acre former Club Med property if environmental (see other article HERE) and other issues surrounding the cruise line's recently-approved Royal Beach Club are not addressed to the mutual satisfaction of all.
The beach break destination, located opposite Nassau Cruise Port, would be in close proximity to a site that Atlantis/Brookfield are thought to be eyeing for high-end residential and other real estate options. Several hundred partying cruise passengers may not be a good fit for such plans, while Atlantis also has multiple environmental misgivings it wants addressed via the environmental approvals process for Royal Caribbean's project.
Mr Roberts, meanwhile, told this newspaper that the Government will also likely have to address the additional congestion in an already-crowded Nassau Harbour caused by the ferries and other vessels transporting passengers, staff, supplies and other commodities to a Royal Beach Club that will be inaccessible overland by road.
There is also the likelihood that solid, and potentially other forms of waste, will have to be removed from the site be boat on a daily basis. The increased vessel traffic, Mr Roberts argued, could impact marina development plans on both the Nassau and Paradise Island side, plus opportunities to redevelop downtown and Bay Street by creating waterfront access to properties on the harbour.
"Our environmental concerns are around a couple of key things," he told this newspaper. "We think any expansion of the shoreline, the beach, putting any structures or jetties there, has the potential to change the beaches of Paradise Island. To the extent the coastline of Paradise Island is changed, there's economic implications for Atlantis, Four Seasons (the Ocean Club), and everyone else who benefits from the beautiful natural beaches."
Mr Roberts said further congestion in an an already-crowded harbour threatens "to restrict the amount of growth that's happening with marina development opportunities in Nassau that are already underway". Pointing also to efforts to revive downtown Nassau, he added: "As those properties get developed in future, part of the draw will be to add marinas to those areas.
"Congesting the harbour even further will restrict the development opportunities for vacant land we own but also on the Nassau harbourside. There's a real opportunity on the Nassau side to cause an improvement to downtown". This opportunity, Mr Roberts argued, centred on the waterfront and access via boat to Bay Street properties on the harbour.
"Part of the revitalisation of downtown Nassau is harnessing those properties, and a big part of that is the waterfront," he said. The prospect of an overcrowded Nassau harbour will have to be addressed by policymakers, Mr Roberts added, not Atlantis, but he said any assessment of the potential impact from Royal Caribbean's project must not just focus on "what exists on Paradise Island today but what could be developed in downtown Nassau in the future".
The Atlantis executive said the timing of any development activity on the former Club Med site is "still uncertain", but he added that this could depend on the final nature of the Royal Beach Club and whether Atlantis' environmental and other concerns have been fully addressed.
"It really depends on the scale," Mr Roberts said. "The earlier version of the Environmental Impact Assessment (EIA) and project envisioned 3,500 cruise passengers experiencing this on a daily basis. That's a whole lot of people on 17 acres and a very narrow beach. That's a whole lot of people."
Chester Cooper, deputy prime minister, was reported as saying the Royal Beach Club will only accommodate 1,000 passengers per day. This represents a more than 71 percent reduction to the originally-proposed 3,500 and, given that Riyal Caribbean is still maintaining a $100m investment, it is difficult to see how it will generate a profit from such a reduction in capacity.
Mr Roberts, meanwhile, said there was also "the potential for noise" to impact plans for the former Club Med site, while there were issues with "odor control" if Royal Caribbean constructs a waste water treatment plant in close proximity. And hundreds of cruise passengers close to a high-end residential development may not be the best fit.
Asked what would happen to plans for the former Club Med property if the Atlantis/Brookfield concerns were not addressed, Mr Roberts replied: "I think they're concerned enough that they would stop working on that and analysing development opportunities if the project goes ahead and concerns are not addressed satisfactorily.
"That property [the former Club Med] has sat vacant for a while. I do think it's perhaps the most compelling real estate development opportunity in Nassau/Paradise Island." Mr Roberts based this assertion on the current success of the destination, as well as properties such as Atlantis, Baha Mar and Albany, plus the site's close proximity to the harbour and Nassau Cruise Port. "It's probably the most attractive development site in The Bahamas," he reiterated.
Pristine beaches, water and marine life, as well as the overall environment, represent the main draw that Atlantis and other resorts use to attract guests to The Bahamas. Hence their concern should anything emerge to potentially threaten this, such as the uncertainty surrounding Royal Caribbean's plans for western Paradise Island and the Colonial Beach area.
"The potential changes to the coastline and expanded beach could be a huge threat to our beaches, which is the future," Mr Roberts told Tribune Business. "It's huge. If you just look at our marketing materials, what we feature is the beach, the water and the marine life. It's a huge part of the ethos of Atlantis; the marine life, environment and habitat. We do a lot of work to recover and rehabilitate marine life.
"It could change the character of the shoreline for all of Paradise Island, and potentially the beaches along the north shore of New Providence. If there's change that causes risk to marine habitats we have, or the beaches we have... that's part of what creates economic risk for us."
Mr Roberts refuted suggestions that Atlantis was opposing Royal Caribbean's because of the competition it presents for cruise passengers. He pointed out that the mega resort now accepts fewer cruise passengers on day passes to its water park because it is focused on the experience provided to resort guests and does not want to overcrowd its facilities.
Atlantis is also focused on yield management, and using data to determine which cruise ships and lines "provide passengers that yield better for us". Mr Roberts added: "There's a way for us to have the business perform better with less people" by reallocating tickets and passes to the better-yielding cruise lines.