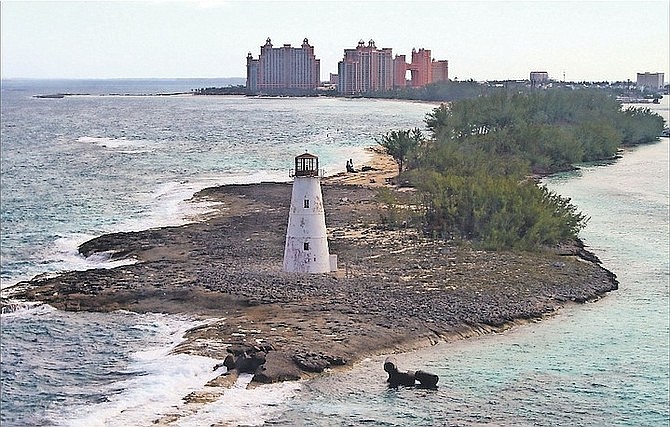 • Both say revival of 'iconic' landmark 'desperately needed'
• And that project can co-exist alongside Royal Caribbean's
• Atlantis: Toby's proposal 'lower impact, more sustainable'
By NEIL HARTNELL
Tribune Business Editor
nhartnell@tribunemedia.net
Atlantis and the Nassau Cruise Port both say there is "room" for a restored Paradise Island lighthouse to provide an "iconic" visitor experience and boost New Providence's status as a tourism destination.
Michael Maura, the cruise port's chief executive and director, told Tribune Business that "improvement is desperately needed" to what he described as a "fixture" that greets all cruise ships and passengers as they enter Nassau's harbour.
Besides enhancing Nassau's product offering, and adding to the menu of tours, excursions and attractions available to guests, he added that there was sufficient room for the lighthouse's revival to co-exist alongside Royal Caribbean's $100m Royal Beach Club that is also targeted at western Paradise Island's Colonial Beach area.
The cruise port chief's thoughts were echoed by Vaughn Roberts, Atlantis' senior vice-president of government affairs and special projects, who revealed that the mega resort would "definitely like to see the lighthouse restored" and had even considered taking on the challenge itself.
Both men were careful not to wade into the ongoing dispute between Toby Smith, the Bahamian entrepreneur who has been asked by the Prime Minister to reapply for approval of his $2m lighthouse restoration proposal, and the Government and Royal Caribbean on the other side. However, they each separately said its restoration will be an asset to Nassau harbour's appearance and the quality of this nation's tourism offering.
"I absolutely remain very firm in the need that Nassau develop experiences that are both exciting, adventurous but also serve to introduce our culture or heritage to our visitors," Mr Maura said. "I'm on record as saying the Royal Caribbean beach club serves to support and expand the experiences that are so desperately needed in New Providence, and there's also room for a lighthouse development experience as well.
"The Paradise Island lighthouse is an iconic fixture in our history which is in tremendous disrepair. There was a plan to improve that area, and it would be a shame if something is not done with that area to improve it because that improvement is desperately needed.
"I think that area as well, subject to government review and approval, does offer potential and I do feel areas around New Providence that offer similar opportunities include the Clifton Heritage Park, Fort Charlotte, Fort Fincastle, the Queen's Staircase and the water tower."
Mr Roberts, voicing similar sentiments on Atlantis' behalf, told Tribune Business: "We would love to see the lighthouse restored. We've had some internal discussions at Atlantis about taking on that initiative as a community initiative. Its very historic and should have been restored.
"Toby [Smith] came to the Government with a proposal to do it. Toby's proposal was definitely lower impact, more sustainable in what he proposed to do. We don't have a view on Toby versus Royal Caribbean, but we would definitely like to see the lighthouse restored."
Asked whether the Paradise Island lighthouse and Royal Caribbean projects could co-exist side-by-side as neighbours, Mr Roberts replied: "It seems so. From what we can tell based on what's been put in the public domain, Toby is only focused on the lighthouse, the lighthouse quarters and a beach attraction to generate some revenue to support ongoing maintenance of the lighthouse.
"There's some Crown Land outside what the Government agreed to give up to Royal Caribbean." Chester Cooper, deputy prime minister and minister of tourism, investments and aviation, has repeatedly said that Royal Caribbean's reduced Crown Land footprint - which has shrunk from seven to four acres - does not include the disputed portion that was involved in Mr Smith's Supreme Court action where he sought a declaration he had a valid, binding lease.
That action was unsuccessful, but the fact a two-acre parcel sought by Mr Smith will now seemingly no longer be included in Royal Caribbean's Crown Land footprint potentially paves the way for a resolution and the two projects to co-exist as western Paradise Island neighbours if the Government is so minded.
Mr Davis, though, on Tuesday said the Government has invited Mr Smith to reapply for the necessary permits and approvals - something that might cut across, and undermine, a potential appeal of the Supreme Court verdict if he takes up the offer.
Tribune Business has also seen a December 23, 2022, letter from Mr Maura to Mr Cooper in which he confirms Nassau Cruise Port's support for Mr Smith's proposed Paradise Island lighthouse restoration. This newspaper understands that the letter was written at Mr Smith's request, and was intended to support the development of further visitor attractions rather than as any effort to advocate for the entrepreneur in his fight with the Government and Royal Caribbean.
With Nassau Cruise Port promoting the city as "the place to be in 2023", Mr Maura wrote: "Deputy prime minister, you have repeatedly encouraged our Bahamas to be creative, be innovative, to develop quality experiences for both our seven million international visitors and our Bahamas residents to enjoy.
"We note there are several heritage and beach-based shore excursion projects under consideration and we respectfully encourage the Government to act swiftly in its review so that these tourism-oriented investments may materialise in the months ahead.
"We wish to extend our support to the Paradise Island Lighthouse and Beach Club Company, which we believe will make necessary improvements to the entrance of our iconic Nassau harbour and offer a wonderful historic venue and beach experience for both visitors and Bahamians to enjoy," Mr Maura continued.
"Not only will this investment address the unsightly look of our west end of Paradise Island, but it will bring confidence to others considering tourism-related investments in and around Nassau. Our current 2023 and 2024 confirmed passenger forecasts describe passenger arrivals at 4.1m and 4.5m respectively. We urgently need quality venues and experiences for these guests to enjoy.
"As you know, Nassau Cruise Port has invested over $20m in new marine ferry infrastructure to support the safe transport of millions of guests to venues in and around the Nassau harbour. In addition to other authorised operators, Paradise Island Lighthouse and Beach Club will be able to utilise these facilities to collect guests."