By BRENT STUBBS
Senior Sports Reporter
bstubbs@tribunemedia.net
It was a big outdoor season opener for World and Olympic champion Steven Gardiner at the 17th Annual Spring Break Classic in Carolina, Puerto Rico.
In his continued comeback this year from injury, Gardiner won the men's 300 metres on Friday at the 2023 World Athletic Continental Tour – Challenger meeting in a quick time of 31.59 seconds, which was just shy of his Bahamian national record of 31.52.
The 27-year-old native of Abaco is now ranked at number eight on the world's 300m all-time list outdoors as he prepares to regain his 400m title at the World Athletics' 2023 World Championships in Athletics in July in Budapest, Hungary.
Gardiner, who missed the defence of his title at the 2019 World Championships in Eugene, Oregon due to tendon inflammation last summer, came off a pair of victories in the 300m indoors with a season's best of 33.03.
Trailing Gardiner in Puerto Rico was British Virgin Islands Olympic 500m hurdles fourth-place finisher Kyron McMaster, who ran 32.96 for second place, while Ian Gutiérrez Almedina completed the top three spots in 33.10.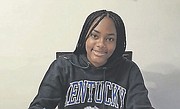 Charlton leads way in Orlando
Fresh off her first National Collegiate Athletic Association's Indoor Championships, Anthaya Charlton opened her outdoor campaign for the University of Kentucky at the Black & Gold Invite at the University of South Florida with a double dose of victory.
On Friday, she leapt a personal best of 21-feet, 81/4-inches or 6.61 metres on her third attempt to break Sha'Keela Saunders' UK freshman outdoor long jump record of 21-1 ¼ (6.43m) that she had previously established in 2014.
Charlton came back on Saturday and had another spectacular showing in the women's 100m where she ran a lifetime best of 11.38 for her second victory in a time that has placed her at number seven in the NCAA rankings so far this year.
Paige Archer, a freshman at the University of Central Florida, ended up 10th in 11.88. On Friday, Archer, a graduate of Queen's College, came through in 6th place in the women's 200m in 24.52.
Megan Moss, now in her junior year, picked up a fifth place in the women's 400m in 54.35 right behind her team-mate Karimah Davis, who ran 53.74.
Moss also ran the third leg on her Kentucky team of Karimah Davis, Dajour Miles and Tamila Fuller for the win in 3:36.37 for the fourth fastest NCAA time.
Charlton also competed on the third leg of the other Kentucky team, including Mahogany Mobley, Reynei Wallace and Colleen Branch for fourth place in 3:44.32 for 12th in the rankings.
Also at the meet, Stephan Farquharson, competing for Albany, was seventh in the men's long jump on Friday with a leap of 23-10 (7.26m). Farquharson also anchored Albany men's 4x100m relay team to fourth place in 40.85.
And in the men's 200m, Joel Johnson, representing SPIA Athletics, was 19th in 21.55.