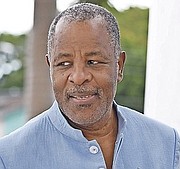 By NEIL HARTNELL
Tribune Business Editor
nhartnell@tribunemedia.net
FOCOL's chairman says he is "surprised" that Bahamian petroleum retailers indicated negotiations over a margin increase had ended because talks were ongoing at the Prime Minister's Office yesterday.
Sir Franklyn Wilson, head of the BISX-listed petroleum products supplier that trades under the Shell brand, told Tribune Business he was taken aback by what he interpreted as suggestions from Raymond Jones, the Bahamas Petroleum Retailers Association (BPRA) president, that discussions with the three oil majors and the Government were over.
Confirming that executives from FOCOL, as well as Sol Petroleum Bahamas (Esso) and Rubis, were meeting with the Prime Minister's Office late yesterday afternoon, he said: "They're meeting all the time. Discussions are going on. They had a meeting this afternoon. I haven't had a briefing yet. To me, it just indicates that everybody is working hard and working in good faith.
"The Government is not ignoring the private sector, and it's good that the political people show that they're taking this seriously. The process is important. I noticed the statements that the president of the Association made a couple of days ago, which surprised me, because it spoke in terms as though the discussions and effort had ended.
"That was a surprise to me because I don't think the effort has ended. It's a messy process. Sometimes it's possible to reconcile the interests of a particular group with the expectations of the majority, and sometimes it's not. I think the retailers are to be commended for the fact they were measured and tempered in making their demands, and not saying they are going to break up the country, which sometimes those seeking certain outcomes intend to do."
Valentino Hanna, Sol Petroleum Bahamas general manager, also confirmed to Tribune Business he was attending the meeting at the Prime Minister's Office yesterday afternoon. It came after Mr Jones, speaking to Tribune Business earlier this week, said gas station operators are seeking a margin increase equal to 7 percent of the landed cost of fuel as their equivalent of a livable wage.
He added that such an adjustment was critical "to allow us to survive as retailers" given that existing price-controlled fixed margins simply cannot cover a multitude of ever-increasing costs. Believing that "the Bahamian public will be OK to absorb a few cents more" on the per gallon cost of gasoline, he provided several insights into the increasing hardship faced by many gas station operators due to an inflexible business model that has left many unable to break even.
Mr Jones said turnover-based Business Licence fees have almost doubled year-over-year due to last year's spike in global oil prices following Russia's invasion of Ukraine, which saw gas prices peak at around $7.20 per gallon during the 2022 first half. Noting that his fee has increased to almost $25,000, he estimated that "99 percent" of the Association's members will be unable to make payment by this Friday's March 31 deadline and will be seeking to agree payment plans.
Speaking after the Association's executive committee met on Monday to discuss their next move, after receiving no firm proposal or request for a further meeting with the Government following their first encounter two weeks ago, Mr Jones said he had informed the Prime Minister then of how one gas station operator was using his pension money to cover operating costs and maintain staffing levels due to insufficient margins.
The last margin increase enjoyed by gas station operators occurred in 2011, some 12 years ago, under the last Ingraham administration, and operating costs and inflationary pressures have increased substantially then. That took gasoline margins from 44 cents per gallon to 54 cents, where it has remained ever since, while diesel stands at 34 cents per gallon.
Mr Jones contrasted the industry's inflexible, price-controlled fixed margins with the food distribution sector. While much of the latter's produce is price controlled, retailers and wholesalers have percentage-based - rather than fixed - margins and mark-ups that allow them to apply for cost increases as the landed costs change.
Listing the ever-rising costs that fixed gasoline and diesel margins must absorb, Mr Jones pointed to the 2-3 percent "commission" or fees charged on every debit and credit card payment. On a $6 gallon of gasoline, the 3 percent charge amounts to 18 cents or one-third of the 54 cent margin, although this might be slightly less depending on the issuing bank.
With The Bahamas still largely a cash-based economy, he added that some gas station operators are being charged between $4,000 to $10,000 a month to deposit cash. With banks unwilling to accept such deposits over the counter, the industry is now incurring fees for doing this via the night deposit box.
And, with many of the petroleum industry's 1,000-plus employees earning the minimum wage, Mr Jones said their has increased by 24 percent or $50 per week due to the increase. While not opposed to the rise, he added that this has increased payroll costs for gas stations while also raising associated National Insurance Board (NIB) contributions.
To maintain the "spread" between minimum wage employees and others, gas stations have been forced to raise pay for cashiers as an example. Security costs have also increased, as third-party contractors pass the minimum wage's impact on to gas stations and their other clients.
"It's a domino effect in all these rising costs," Mr Jones said. "We only have 54 cents per gallon to play with. All these things take a bite out of the 54 cents. Energy costs are going up, and insurance costs have increased by 15 percent. That's a hard cost we have to cover. You have insurance, energy costs, credit card fees, bank deposit fees, salaries and wages and operating and maintenance costs. The 54 cents has been the same for the last 12 years.
"All we're asking the Government to do is change the margin so we can have a liveable wage. We're asking for nothing less than an adjustment that reflects a reasonable margin that allows us to continue to invest in the business... We have to do something in the interim to reduce costs.
"Come the end of March we have to pay the Business Licence fee, and 99 percent of them said they are not in a position to do that. Some of them are going to write in and ask the Department of Inland Revenue (DIR) for a plan to pay this off. The Business Licence fee has almost doubled because of last year's oil prices and the fact it's based on turnover."