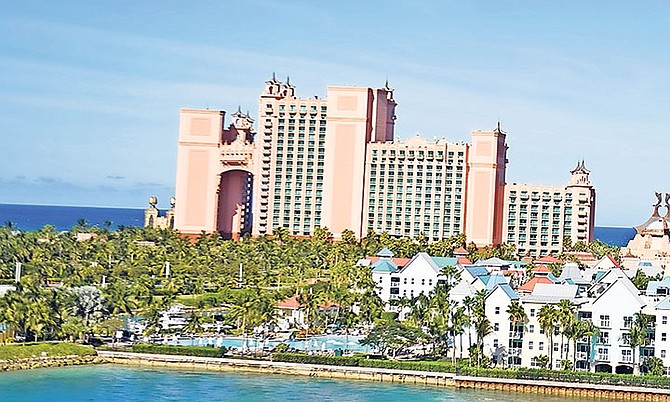 By NEIL HARTNELL
Tribune Business Editor
nhartnell@tribunemedia.net
Atlantis is at odds with the Wendy's franchise holder over whether restrictive covenants exist to block the latter's plans to convert Paradise Island's former Scotiabank branch into a fast food restaurant destination.
Vaughn Roberts, the mega resort's senior vice-president of government affairs and special projects, told Tribune Business that the Town Planning Committee's approval for changing the site's use was incompatible with restrictions on the purposes for which it can be used.
"There are two properties that make up that parcel," he explained. "There are some covenants on the vacant property around it that have covenants as to use." Filings by Atlantis, which has teamed with other Paradise Island hotels and developers to thwart plans by Aetos Holdings to convert the site into a fast food restaurant destination for its Wendy's and Marco's Pizza brands, also refer to the restrictive covenant obstacles.
Chris Tsavoussis, who with his brother, Terry, is the principal and owner of Aetos Holdings, was yesterday said to be travelling outside The Bahamas and could not be reached for comment before press time last night. However, sources familiar with the group's position disputed Atlantis's position on the restrictive covenants.
They alleged that attorneys acting for the fast food franchise operator had conducted extensive research into the existence of any restrictive covenants, which govern how a specific property or piece of land can be used and developed, and found it would not be in violation. "Town Planning determined they were within their rights to do what they wanted to do, and reached a decision that they were good to proceed with the change of use," one source said.
Atlantis, though, in documents filed with the Subdivision and Development Appeal Board, alleged it had informed the Town Planning Committee at its March 15, 2022, hearing that restrictive covenants did exist over the former Scotiabank property that prevent "any trade, business or profession, including a restaurant, being carried on without the approval in writing" of the mega resort and its subsidiaries.
Further asserting that there were restrictive covenants also governing the maximum building height and minimum setbacks at the former bank branch, Atlantis argued that Town Planning failed to check if the site's redevelopment into a fast food location would conform with these stipulations.
"Moreover, the property on which [Aetos Holdings and its affiliate] wishes to install a Marco's Pizza and Wendy's restaurant contains a restrictive covenant against doing anything which may be or become an annoyance or nuisance to the owners or occupiers of any adjoining or neighbouring lot," Atlantis alleged.
"A change of use which results in increased vehicular or pedestrian traffic congestion, increased noise, unpleasant odours and visible waste would be a clear annoyance or nuisance not only to neighbours on the adjoining lot, but also to the entire Paradise Island community. In that vein, [Atlantis] also submits that the Town Planning Committee did not give sufficient consideration to the views of the neighbours on the adjoining lot, the Paradise Island community or public at large."
Comfort Suites, the Ocean Club and Hurricane Hole's developer, Sterling Global, have also joined Atlantis in the appeal seeking to overturn the "change of use" approval. However, Aetos Holdings view is that their actions are primarily motivated by a desire to eliminate, or mitigate, the potential competitive threat the Wendy's and Marco's Pizza brands pose to their own restaurant operations.
One source, speaking on condition of anonymity, said it seemed that Atlantis and its fellow Paradise Island resorts and developers were seeking to "stall or delay" Aetos Holdings using the planning appeals process so that their own restaurant interests could gain a head start on it.
Suggesting that opponents were seeking to wear down the fast food franchise holder in an attritional battle that will cost it time and money, they also alleged there was an element of hypocrisy to the situation as other brands are already operating on Paradise Island.
"They said they don't want any more fast food on Paradise Island, yet they allowed Dunkin' Donuts to expand its location. Everything just flies in the face of what they are saying. Dunkin' Donuts has expanded to twice its previous size," they alleged.
Atlantis, in its legal filings, admitted that there was a Dunkin' Donuts location in "the adjoining plaza", but argued: "While Dunkin' Donuts may be described as a quick service restaurant, the similarity ends there. Dunkin' Donuts is primarily a donut and coffee shop and does not attract levels of business which cause pedestrian or vehicular traffic congestion to the area."
Meanwhile, another contact suggested Atlantis only had itself to blame for the battle it is now fighting. When Scotiabank closed its Paradise Island branch, and was seeking a buyer, they said Atlantis was given first shot at acquiring the site but elected not to do so.
Another of Aetos Holdings' opponents was said to have made an offer that proved unacceptable, allowing the Wendy's and Marco's Pizza operator to swoop in after ensuring the restrictive covenants were not an issue and it saw off other bids. The group is also bitterly disputing Atlantis' assertion that its project will not be in keeping with Paradise Island's character, pointing as an example to its "world class" Mackey Street property.
"Bahamians can't do business in The Bahamas according to Atlantis," one source, speaking on condition of anonymity, said of the situation. "Atlantis thinks they can tell Bahamians when, where and how to do business in The Bahamas. They're going down a very slippery slope.
"It's just them saying that they don't want any competition over there. If they didn't want any competition over there, they should have purchased the property themselves, changed the restrictive covenants and put it back on the market for sale. They feel they have the right to stop Bahamians developing in The Bahamas."
However, Atlantis is also alleging that the Town Planning Committee's "change of use" approval breached the Planning and Subdivision Act's requirement that a public hearing and consultation be held. It argued that it only became aware of Wendy's plans after the Department of Physical Planning informed it of the application, and then it notified other Paradise Island stakeholders.
Mr Roberts told Tribune Business: "There was a Town Planning hearing on it, not a public hearing, although we were present as Atlantis. The Town Planning Committee, we think, erred and made a decision to support the application although it was never taken to a public hearing, and we objected.
"It's effectively a site plan development approval they were seeking but tried to get it through without a public hearing. There are some very important stakeholders who object to it. It was an opportunistic attempt to move forward without a public hearing."
Mr Roberts said the situation was the first such planning appeal to the newly-constituted Appeal Board, and he added that Aetos Holdings had to-date provided few specifics and details about its plans.