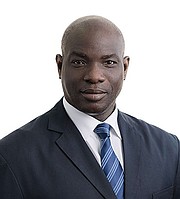 • Union chief hails 'four pay rise' structure
• Fast-food operator doubles lump sum offer
• Call for productivity to match scale of rise
By NEIL HARTNELL
Tribune Business Editor
nhartnell@tribunemedia.net
Industrial action by Kentucky Fried Chicken (KFC) staff has ceased, it was confirmed last night, after the franchise agreed to an "historic" deal that will more than double the lump sum payment initially offered.
Darrin Woods, the Bahamas Hotel, Catering and Allied Workers Union's (BHCAWU) president, told Tribune Business that the proposed industrial agreement - which is now being scrutinised by both sides' legal teams - will give line workers "around" a 40 percent pay rise over the five-year term with increases in four of those years.
Voicing optimism that the deal could be signed as early as the week of November 15, and "definitely" before month's end, he added that the fast-food operator had also significantly improved the lump sum payment offer that had provoked last week's 'go slow' and 'work to rule'.
Mr Woods, though, told this newspaper that the union called on its members to cease industrial action late last week after KFC and its operating parent, Restaurants (Bahamas), which is part of the Myers Group, accepted the BHCAWU's counter-proposal.
The union had previously vehemently objected to what it said was an $800 lump sum offer, representing $100 for each of the eight years since the last KFC industrial agreement expired in 2015. However, Mr Woods said the terms have improved such that union members will now receive 60 percent of this lump payment, which has been guaranteed, "upfront" with the 40 percent balance to paid in years three and four.
Declining to provide a figure for the revised lump sum payment, the BHCAWU president said: "We had given them a counter-proposal and told them what we were looking for for persons. They called me at the end of last week, Thursday, to say they accepted it and asked us to cease industrial action.
"I got them to agree to a 60 percent payment upfront, and 40 percent in years three and four, as well as to guarantee payment to persons once we sign the industrial agreement. The first payment, the 60 percent, will be made and come into effect ten days after the signing."
Mr Woods said KFC has the flexibility, and choice, as to whether it pays the 40 percent lump sum balance in either the third or fourth year of what is intended to be a five-year deal. "The point is that it is guaranteed to persons who are in the system at the signing," he added. "We're hoping to have it signed in the next 14 days.
"We are pulling together the text right now in terms of everything that has been agreed. It has to be looked at by legal and we will know, hopefully by next week, as to when this will be signed. I'd like to have it signed hopefully somewhere around the week of the 15th if we get all the legal work done. Definitely, definitely by the end of this month."
Mr Woods hailed the proposed KFC industrial agreement as "historic" because it provides for pay increases in four of the five years and, in return, he urged staff to deliver productivity and customer service to match.
"I would have had the meeting with staff to ratify it," the union chief said of his Monday meeting with KFC workers, "and they are very pleased with what was offered. They have accepted it. Industrial action ceased last week Thursday. I said to them: 'This is what the company's offering. We can live with it, and believe they can live with it'....
"What we have been able to get for workers in KFC has been historic. Out of the five years we have four increases, which is historic. The last agreement had one increase. The overall increase is around 40 percent over five years separate and apart from the lump sum."
In return, Mr Woods said the union had told KFC line staff: "We said to them we expect the level of service to be elevated commensurate with what you're being paid. These negotiations have been protracted, going on for a long time, and they now need to take care of customers who have been frequenting this company for many years and show they appreciate their patronage."
With KFC negotiations seemingly progressing towards a resolution, the BHCAWU president added that the union will soon turn its focus to other outstanding industrial deals with Best Western, Graycliff and Harbourside, as well as the major one with the Bahamas Hotel and Restaurant Employers Association that represents Atlantis.
Mr Woods previously said all remaining negotiations "seem to be stuck in this place" of trying to agree worker compensation and benefits, and he added of the KFC talks' wrap-up: "That puts the ball in motion for everything else.
"We can focus our attention on the others that are outstanding. Harborside, that's the next one, and that's pretty much in the same place. We've said we will do what is necessary to bring closure by the end of the year. Graycliff is the one we're having most challenges with, and we've said we'll do what is necessary to bring some relief to those persons also.
"We're really excited to be able to close this particular chapter [KFC] with a view closing others in a matter of days hopefully. That's all we have left in the year, days."
The hotel union and its members have been without an industrial agreement with the Bahamas Hotel and Restaurant Employers Association since the last one expired in January 2013, more than one decade ago. A former union administration failed to supply its proposal for a new agreement within the time stipulated before the last deal ended.
As a result, Atlantis and other resorts in the Association have operated as if the previous agreement's terms and conditions are still in effect and, as a result, BHCAWU union members have not enjoyed any wage or benefit improvements for the past ten years other than those provided at their employer's goodwill.