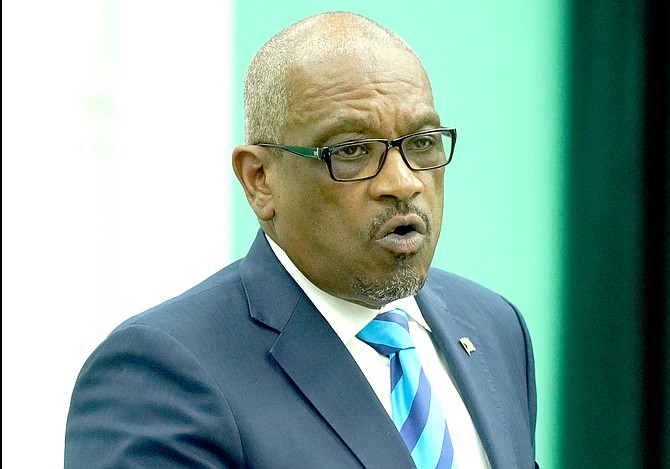 PRIME Minister Dr Hubert Minnis.
Stories this photo appears in:

GOVERNMENT officials on Friday extended condolences to the family of Environment Minister Romauld Ferreira after his teenage son was found dead at their home Thursday afternoon.

RENOVATIONS and upgrades of clinics in New Providence and the Family Islands combined with programme strengthening initiatives will provide improved healthcare delivery, efficiency and effectiveness. Prime Minister Dr Hubert Minnis recently informed

PRIME Minister Dr Hubert Minnis apologised yesterday for the distress people experienced when they arrived in New Providence from Grand Bahama on Tuesday and were unexpectedly quarantined at a government designated facility.

PRIME Minister Dr Hubert Minnis yesterday stressed civil servants will only lose vacation time or face unpaid leave if they are required to quarantine upon their return home from abroad without a negative COVID-19 test result. He was clarifying earl

Prime Minister Dr Hubert Minnis has announced a two-week lockdown for Grand Bahama from Thursday including a shutdown of all flights and sea vessels (except for essential goods) following the surge of COVID-19 cases there.

PRIME Minister Dr Hubert Minnis announced Monday that beaches and parks in New Providence, Paradise Island and Grand Bahama will be closed throughout the Independence Day holiday weekend, beginning 10pm on Thursday and ending 5am on Monday.

PRIME Minister Dr Hubert Minnis tabled Governor General CA Smith's new proclamation of emergency orders in the House of Assembly yesterday and stressed there has been no discontinuity in the enforcement of his COVID-19 emergency regulations. "Many i