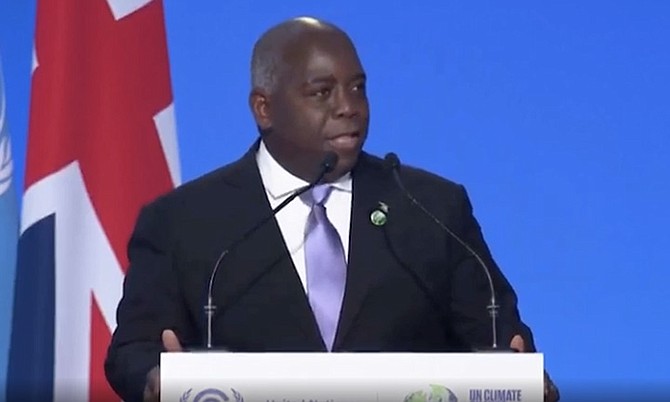 PRIME Minister Philip "Brave" Davis speaks at COP26.
Stories this photo appears in:

WE may tout our advanced technology, our award-winning cloud data saving capability, our internationally acclaimed Family Island beaches, but when it comes to knowing how to make a difference in something that could save our very country, we turn our backs on today's tools and dig out yesterday's toys.

IT IS said journalists and diplomats have a great affinity. Both are scribes. Journalists tell the public what is happening by the moment and comment on it and diplomats report back regularly to their governments. The reporting by journalists is sometimes over dramatised and opinionated because that sells newspapers, while diplomats must stick strictly to the issue at hand and be objective without frills or exaggeration.
PRIME Minister Philip "Brave" Davis has urged world leaders to show courage in the fight against climate change, warning that the world is running out of time to prevent disaster.