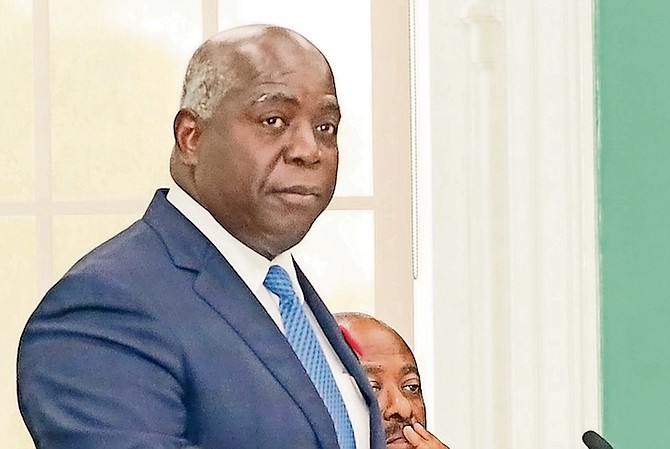 Prime Minister Philip 'Brave' Davis.
Stories this photo appears in:

PRIME Minister Philip "Brave" Davis says his government does not want to put any further tax burdens on the Bahamian people to achieve its fiscal projections. While in Grand Bahama on Monday, Mr Davis indicated he is optimistic about his administration's fiscal plans and said any new taxes would be a "last resort" for his administration.

PRIME Minister Philip "Brave" Davis on Thursday announced stricter measures in response to rising cases of COVID-19, including a shorter testing window for inbound travellers.

PRIME Minister Philip "Brave" Davis has announced 16 new Queen's Counsel appointments, which include Attorney General Ryan Pinder and former Senate President Sharon Wilson.

PRESS Secretary Clint Watson said the Davis administration will not let Royal Caribbean International lease seven acres of Crown Land on Paradise Island for 150 years.

PRIME Minister Philip "Brave" Davis will decide whether "damning" findings from an audit of the National Sports Authority should be turned over to the Attorney General's Office for further investigation.

PEOPLE living near the major subdivision apartment where four-year-old Bella Walker lived with relatives alleged she was living in a volatile environment, marked by constant fighting between adults in the home.

PRIME Minister Philip Davis said he is "not minded" to allow oil drilling in The Bahamas and is completely opposed to oil exploitation in the country.

PRIME Minister Phillip "Brave" Davis yesterday responded to assertions made by his predecessor regarding his administration's findings on the government's fiscal position, insisting that a $1bn discrepancy in government liabilities that was uncovered is exactly "what it is".

The Prime Minister's assertion of "a $1bn difference" between the pre-election fiscal report and "the truth" was yesterday branded "reckless and dangerous" by his predecessor.