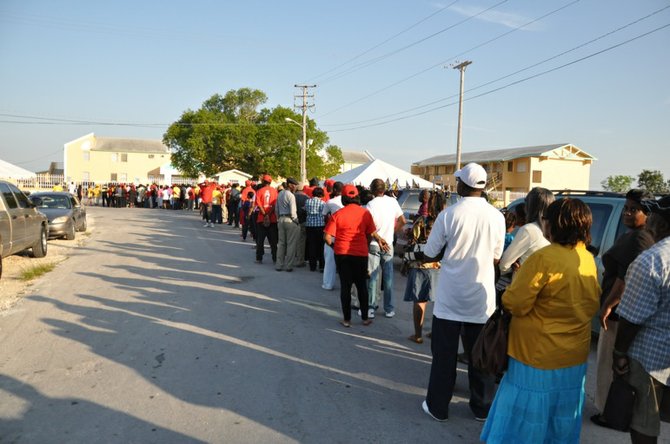 By LAMECH JOHNSON
and DANA SMITH
ljohnson@tribunemedia.net
dsmith@tribunemedia.net
DISTRAUGHT FNM supporters branded the Bahamas "ungrateful" and claimed the country would head to a recession under the new PLP government.
Following the Prime Minister's heartfelt concession speech at FNM Headquarters, in Mackey Street, supporters took to the streets, one woman shouting: "This is going to be the recession under Perry!"
FNM supporter, Ava Brown, said the country could expect a "nosedive" under the PLP.
"I'm very upset," she said. "Mr Ingraham has done a lot for this country. These people are ungrateful. You're going to see a nosedive now. We are not in a recession (yet). This is the height of ungratefulness. Our Prime Minister has done a lot. The PLP they won - well, we'll see."
Dr Duane Sands who ran for Elizabeth, said the FNM would rise again.
"The FNM will rise again no doubt about it.
"The entire Free National Movement feels the loss right now and we're deeply disappointed.
"I'm sure as we sit back and reflect on this election and election results, we will obviously have to set the mandate that was not given to us by the people of the Bahamas."
He said the FNM would go back to the drawing board, see where they went wrong and what could have been done better.
"And when we do this, the FNM will rise again."
Supporter Shonell Russell said: "I feel hurt! You know why I feel hurt? Because the Bahamian people are stupid. Instead of going forward, they want to go backwards. And I don't mean five years, I mean 10 years backward. And when Perry them mess this country up, I want Mr Hubert Alexander Ingraham to stay out and not help them and let them suffer!"
Supporter Perry Lockhart said: "Honestly, I don't think Bahamians took a really good look at what the Prime Minister was trying to accomplish. The PLP had a slogan that they believe in the Bahamas but under the FNM, they have the single largest investment record that has and will benefit Bahamians."
He said Bahamians should "hang their heads in shame."
FNM supporter Rodney Brown said: "All I could say right now is the PLP made a mistake and this country is going to fail because of the PLP. The roads are never going to get done."
He also sent out a message to PLP Leader Perry Christie's constituency: "The people who live in Centreville I want them to hear this now - whoever lives in Centreville and Englerston you're going to stay in that condition because you made the wrong choice picking the PLP. You should have picked the FNM.
"We're coming into hurricane season and when the storm comes, I hope the PLP have a plan."
Erma Williams was one of the more reserved FNM supporters who said: "I love my Papa. He did his best and I'm happy. I'm still an FNM and I'll be an FNM. He did his best, he really did. We wish him and his family the best. He can hold his head up high to say he did well for this country."