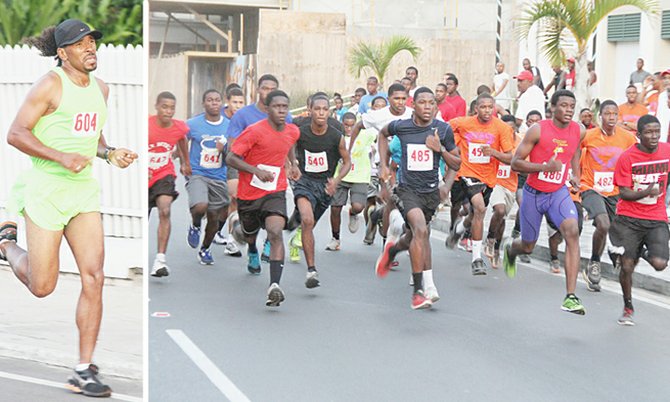 By BRENT STUBBS
Senior Sports Reporter
bstubbs@tribunemedia.net
David Ferguson had a little extra to do, but that didn't take away from his ability to hold off the field to win the open men's division of the once popular Bay Street Mile that was returned to the Bahamas Association of Athletic Association's calendar on Saturday.
Ferguson, the meet director, surged from behind to complete the early morning riser sponsored by Virgo Car Rentals from in front of the Straw Market on Bay Street to the Bahamas Air Sea Rescue Association (BASRA) in four minutes and 46 seconds.
"Leslie (Dorcelin) went out front and it kind of made me a little worried at first," Ferguson said. "But after seeing the pace he was carrying, I knew he couldn't maintain it. I knew I had another advantage because I've been training with my athletes."
Ferguson, a physical education teacher at Anatol Rodgers Secondary High, said he was using the race to help him prepare for the half marathon of Marathon Bahamas in January.
But he admitted that the preparation for Saturday's race organised by the Bahamas Track and Field Coaches Association took its toll on his performance. He had to hold off Trevino Thompson, who came in second in 4:55, just ahead of Olympian Ramon Miller, who was third in 4:56. "It was a good race, very competitive," he said. "I just wanted to get out and finish under five minutes. It's the first time that I am back home running, so I just wanted to give a donation to the BAAA. But it was rough. We had David in there, so when he went, I just decided to go with him."
The best time for the event was turned in by Daron Young in the boys' under-20 division. He clocked 4:40 as he held off Dericko Hinsey and Adlet Elyse in 4:42 and 4:43 respectively in a battle across the line.
"I felt good because I actually ran my PR (personal best) for the mile," Young said. "During the race, I knew my competitors were going to give me a push, so I had to go for it at the right time. The competition was very good. I just listened to what my coach told me and it worked."
Under-17 boys' winner Justin Pinder clocked 5:02, but he wasn't sure of where to go.
"It was my first road race and I wasn't sure where to go," said the 400/800m runner. "So I just tried to stay with the crowd until I saw the finish or any marker. But it was good overall. The competition was stiff."
Carlisa Russell, the under-20 female champion, said the race was shorter than anticipated.
"It didn't feel like it was a mile, so I could have pushed harder. But it was good for me not being a distance runner," said Russell, a 400m hurdler. "The competition wasn't that good, so I didn't get to run faster."
Kimona Wilson, the under-15 champion, also noted that she could have done better.
"It was easy. There was no competition. It was pretty easy for me," admitted the 400, 800 and 1,500 metre specialist. "To end I had to sprint to get a good time. But I wasn't pushed at all."
With only two competitors in her division, she didn't have to exert too much energy to win the under 30 title. "I just had to pace myself. I went out there, got out and just took my time," she said.
Eve Dorsette, winner of the under-50 category, said it was a good warm up for her for the Bahamas Marathon.
"It was good. My training has been coming along very well," she said. "The course was a breezer because I'm used to running 16 miles in the morning."
Coaches association president Curtis Pride said the event was a tremendous one. "Success is the first word that comes to mind," he said. "We had a number of persons who came out and we estimated about 200 participants and we saw some wonderful performances. The athletes look like they are fit for this time of the year, so we should have a good season next year."
BAAA president Mike Sands commended the Coaches Association for the resurgence of the Bay Street Mile. "The distance is not too long for anybody to participate in. As you would have noticed, it's a good family environment and it's a good foundation for the athletes and coaches going into the track season," he said. "I enjoyed it and I am encouraged by what I saw and I want to commend the coaches to keep it up."
Sands said he was pleasantly surprised that Miller was participating and he also assisted with the presentations, which was only an inspiration to the aspiring athletes who want to follow in his footsteps.
THE RESULTS
Name           Time
Under-15 females
Kimona Wilson         6:36.82
Gabrielle Gibson      6:39.00
Britiny Fountain         6:39.66
Under-17 Female
Amber Ford
Doneisha Anderson
Under-20 Females
Carlisa Russell
Jerinique Brooks
Cherish McPhee
Under-30 Females
Shonte Miller
Deltricka Smith
Under-40 females
Michela Barnett
Georgianne Hepburn
Under-50 Females
Eve Dorsette
Nathalie Swann
Philippa Willie
Over-50
Penelope Nottage
Under-15 males
Chad Russell               5:22
Glen Knowles              5:26
Mookie Rolle               5:27
Under-17 males
Justin Pinder               5:03
Edward Thurston        5:05
Carl Thompson           5:09
Under-20 males
Daron Young               4:40
Dericko Hinsey            4:42
Adlet Elyse                  4:43
Under-30 Males
Trevino Thompson       4:55
Ramon Miller                4:56
Renaldo Morris            5:11
Under-40 males
David Ferguson           4:46
Under-50 males
Godfrey Dugay             5.53
Simon Clarke                5:56
Dwight Thurston           5:57