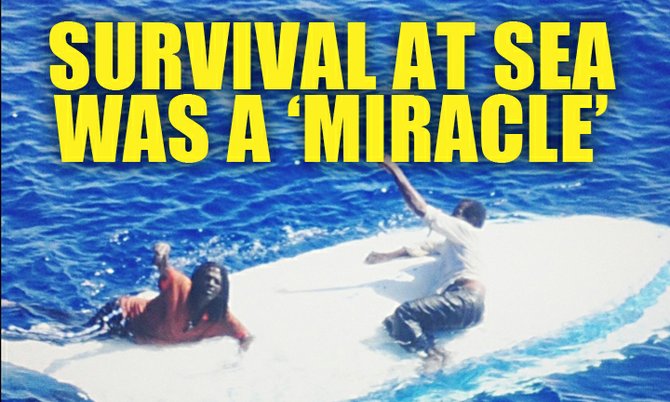 By SANCHESKA BROWN
Tribune Staff Reporter
sbrown@tribunemedia.net
AFTER spending eight days drifting at sea, contemplating suicide, starving and hungry, Anthony Douglas said it was "truly a miracle" that he and his friend Big Mike are still alive today.
In an exclusive interview with The Tribune, from his hospital room in Florida, Mr Douglas, also known as Bubba, said the best day of his life was last Saturday, when he and his friend were finally rescued after spending over a week clinging to life and giving up hope of ever being found.
The two men had spent days atop the hull of their 20-foot boat, which had capsized during a fishing trip.
At one point things became so bad Big Mike jumped into the water and said to Mr Douglas, "I'm holding you back, you can survive without me."
Mr Douglas jumped in and told him he wasn't leaving him.
Mr Douglas, 56, who has been a fisherman for more than 30 years, said he and Mike Russell, 57, also known as Big Mike, left Freeport for Bimini around 9am last Monday to go fishing.
He said the ride was easy until "out of nowhere bad weather appeared from all sides."
"The weather came from all four parts of the sky. I could see Bimini from where we were, but I could not beat the weather. Water started coming into the boat and then a wave came and threw us out. I had a searchlight in the pants and it didn't fall out so I grabbed and tried to look for Big Mike, because we got thrown in two different directions. When I saw him, he was going under and so I swam to him, grabbed him and put him on top of the boat," he said.
"That is where we stayed for eight days straight. We drank salt water and I told Big Mike to keep the saliva in his mouth to wash away the salt, but we didn't do that a lot, you have to imagine we were out there for a long time, starving and thirsty."
Mr Douglas said after drifting further and further out to sea, after a few days they had given up on ever being rescued.
"We gave up after a few days. Everything was cramping on us, we started talking out of our heads," he said.
"We were having conversations with people that were not there, pretending to eat food, we knew we didn't have, we were just losing it. It got so bad that around day six Big Mike jumped in the water and said to me 'I'm holding you back, you can survive without me.' I jumped in behind him and told him he wasn't leaving me by myself. There was no way I was about to continue by myself. I pushed him back on the boat and tied his shirt to mine. We took turns trying to fall asleep also, but we couldn't.
"The boat wasn't balanced, we had to stay straight or the boat would have turned over. We saw so many boats pass us. I almost got run over from a tanker and nobody still saw us. The best day of our lives was when we saw that chopper."
Mr Douglas said he knew they could not have survived another night on the open water. In fact, he said they were only 10 miles from drifting into the Gulf Stream and possibly being lost forever.
The average person can only survive three days without water.
Authorities in the Bahamas said they had no clue the men were even missing until they saw the report in The Tribune on Monday, however, Mr Douglas said his friends and family in Abaco were looking for them for days.
Apart from a few scars and bruises, Mr Douglas said both men are doing well and are expected to return to the Bahamas today.
The freighter that spotted the two stranded men on Saturday contacted the US Coast Guard, which authorised the launch of an MH-65 rescue helicopter from Air Station Miami.
The men were hoisted from their vessel about 30 miles off shore, east of Riviera Beach, Florida, and taken to Delray Medical Centre for treatment.
Mr Douglas said he was discharged and able to go home yesterday, but he didn't leave Big Mike on the open water and he would not leave him in the hospital.