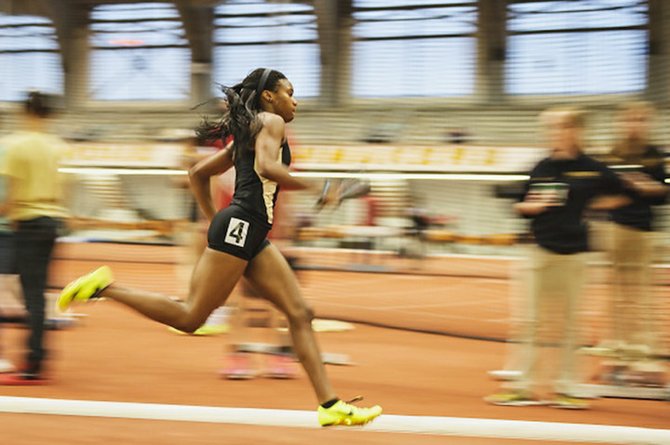 By BRENT STUBBS
Senior Sports Reporter
bstubbs@tribunemedia.net
Sprinter/hurdler Devynne Charlton continues to turn heads as she competes in her freshmen year at Purdue University.
In their post-collegiate era at Clemson and Auburn Universities respectively, sprinters Warren Fraser and Sheniqua 'Q' Ferguson are still making headlines.
The athletes were among the list of top performances over the weekend as the indoor collegiate and international track and field season continued at various meets throughout the United States.
In West Lafeyette, Indiana on Saturday, Charlton suited up for the Boilermakers at the Purdue & Indiana Dual Meet.
In her second consecutive meet for the year, Charlton picked up a victory in her specialty in the women's 60 metres hurdles.
She posted a time of 8.50 seconds to edge out Ciana Tabb by 0.09 of a second. That time is also good for the fifth-fastest in Purdue history. In the 60 metres, Charlton trailed team-mate Twyla Winfrey by 0.05 seconds.
Sophomore Winfrey won the race in 7.62, compared to Charlton's 7.67. Carmiesha Cox, another Bahamian freshman, didn't compete for the Boilermakers. The Boilermakers, coached by Bahamian duo Rolando Greene and Norbert Elliott, are expected to be back in action this weekend when they travel to Indiana for the Gladstein Invite.
Meanwhile in Auburn, Alabama, at the Birmingham CrossPlex on Saturday as well, former Clemson Tigers' great Warren Fraser was winning the second section of the men's 60 dash with a personal best 6.54.
In the preliminaries, Fraser turned in the fastest qualifying time of 6.61 to get into the final. But Grand Bahamian Teray Smith, a freshman at Auburn University, was just short of getting in with his ninth place time of 6.85. Smith, however, won the 200m final in 21.42.
Auburn's alumni Sheniqua Ferguson got a fourth place finish in 7.35 seconds in the women's 60m B section after qualifying with the fourth best time of 7.42.
Lanece Clarke, however, had a good showing finishing in the top three in a pair of events. She won the 200m in 23.86, followed by Grand Bahamian Rashan Brown, a sophomore at the University of Georgia, in 24.10. Clarke was third in the 400m in 54.12 with her training team-mates and fellow IAAF World Championship 4 x 400 metre relay team members, Cotrell Martin fifth in 55.63 and Amara Jones sixth in 56.39.
Another victory came from Olympian Bianca Stuart, who popped 6.46m to take the top spot. And in the men's high jump, Ryan Ingraham got his first taste of international competition this year and he was beaten out by Rickey Robertson on the count back after they both cleared 2.24m.