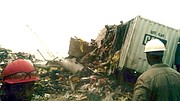 Audio clip
PLANE CRASH EYE WITNESS (GRAPHIC CONTENT)
THE leader of Bahamas Faith Ministries, Dr Myles Munroe, and his wife Ruth have been killed in a plane crash in Grand Bahama.
The crash took place this afternoon and killed all nine people on board the private jet. The plane reportedly struck a crane at the Grand Bahama Ship Yard, exploding on impact and crashing into the ground near a junkyard area.
The Department of Civil Aviation reported that the plane was a Lear 36 executive jet which departed the Lynden Pindling International Airport (LPIA) for the Grand Bahama International Airport.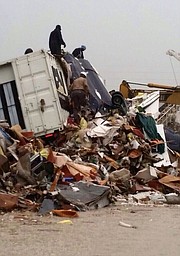 The plane left LPIA at 4.07pm with nine people on board and crashed while making an approach for landing at Grand Bahama International Airport at 5.10pm, the Department of Civil Aviation said.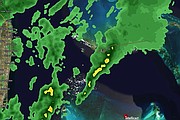 A police on source on the island previously said two were feared dead. However, police sources later confirmed that all those on board had been killed.
The police source also said it was believed the group was heading to a conference hosted by Pastor Munroe.
The identities of the other people on board have not yet been confirmed.
The statement said while the department was advised of fatalities, it was awaiting confirmation from police on if there were any survivors.
The Grand Bahama Airport Company Crash Fire Rescue Department responded to the incident, and the Police and Bahamas Air Sea Rescue (BASRA) are presently on the scene.
The department said a full scale investigation will start tomorrow morning at daylight, which will include the Department of Civil Aviation Aircraft Accident Investigation Prevention Unit.