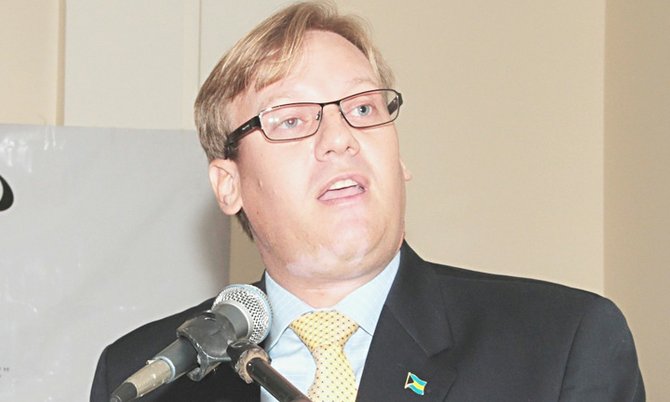 By RICARDO WELLS
FINANCIAL Services Minister Ryan Pinder said yesterday his ministry is ready to police the expanded gaming industry and ensure financial compliance once the Gaming Bill is passed in the Senate.
Mr Pinder told The Tribune that his ministry has the "adequate backstops" in place to ensure transparency and compliance is maintained in the "$600m industry".
The Gaming Bill was passed in the House of Assembly. The legislation will lead to the regulation of web shops and expand the offerings of hotel-based casinos.
The Elizabeth MP, speaking on the sidelines of a career symposium at the College of the Bahamas, claimed that his ministry is not only prepared to police the new industry, but, with the assistance of what he termed "the best compliance officers in the world" prevent corruption and money laundering activities.
Before the Gaming Bill was passed, some observers had questioned how the government would prevent the country from being "blacklisted" by international financial watchdogs over concerns from possible money laundering from webshops.
Mr Pinder said that his ministry has been readying itself from a compliance standpoint for the numbers industry to be regularised.
"There are a lot of details that go into doing something of this nature," Mr Pinder said. "The laws have to be in place that clarify the way they operate within their operations and the way those operations affect the country's financial services industry as a whole."
Last week, Central Bank Governor Wendy Craigg told Tribune Business that the institution was "still evaluating" the Gaming Bill and accompanying regulations/legislation to determine whether they conform with international anti-money laundering standards.
Ms Craigg said the regulator had only "recently" obtained a copy of the legislation and was still reviewing it.
However, in an email sent to The Tribune earlier this year, Ms Craig worried about the effect that legitimising webshops would have on the financial services industry in the Bahamas.
"To say that the Bahamas is in danger of being 'blacklisted' on the issue of web shop gaming alone, does not take account of measures which the jurisdiction has in place to mitigate the potential money laundering risk posed by webshop activities," she wrote earlier this year.
"However, it remains for the policy makers to address this outstanding issue in a manner that reduces the jurisdiction's vulnerability to the continuance of unregulated economic activities in the jurisdiction."
Prime Minister Perry Christie said in the House on Monday prior to the passing of the Bill that the numbers industry could produce "some $25m" in penalties, back business licence fees and application fees payable during the transition period when operators will be required to disclose the revenues generated by their past operations while paying a variety of fees.
Mr Christie added that web shop gaming could generate roughly $30m annually in taxes and other fees. The Gaming Bill has been forwarded to the Senate for debate and vote before it is passed and enacted.