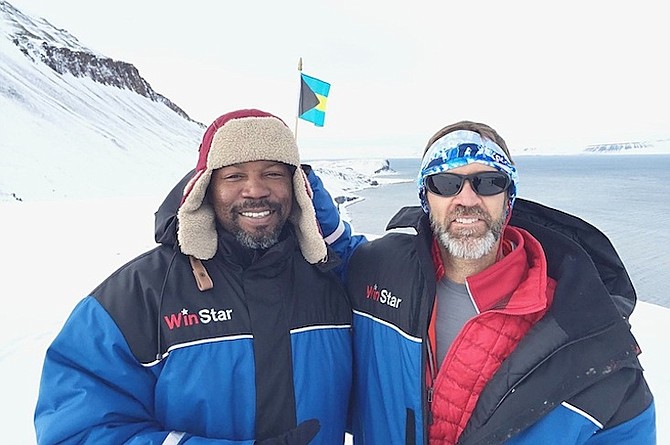 THE TWO Bahamian explorers who reached the North Pole last week are suffering further ordeals as they attempt to come home from the Arctic Circle.
On Sunday Mark Roberts and Shaune Adderley had to be rescued from the ice cap and yesterday severe blizzards prevented any air traffic at the Barneo Russian polar base. The pair say they are homesick and "desperate" to get back to the Bahamas.
A post on the Bahamas North Pole Explorers Facebook page today reads: "Missing family, friends and country. We were rescued yesterday from ice patch we were on. Thank goodness ... Today we r in blizzard conditions no planes can get us from Barneo. It is looking grim.
"The Russian base is friendly and we have barrack style tents but still no showers. We really need the prayers and positive vibes of our nation to send us a clear bit of weather so we can return home safely. We have accomplished an unbelievable challenge and took the flag to the top of the world. Our entire team of explorers, the New Zealanders, guides and dogs need local media to spread the word to pray for a safe return."
Roberts, 48, and Adderley, 40, colleagues at FYP/Builders Mall, were part of a six-member team which ski-trekked 100 miles across moving ice sheets last week to the North Pole.
"We are desperate to get home and are half dead from the Herculean effort to attain the goal. It was scary as I have ever been scared and so thankful we have made it this far" the post read.