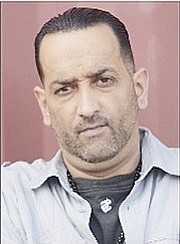 By NAUGHTY
naughty@tribunemedia.net
ALRIGHT, down the home stretch we come.
What should be a good week for me, after going 10-6 while distancing myself from some, and gaining rapidly on others, has sadly become a bitter reality check for me.
My eight-year-old son Santxol (pronounced Sancho) appeared on "The Press Box" on KISS96FM last Sunday during our NFL picks segment, and using whatever device these 'millennials' use to unlock information, he sat down like a veteran broadcaster (Kirk Smith had nothing on him), slid coolly to the mic and proceeded to recite 'pigskin prognostication' gold.
Using family ties, school friends, favourite colours and foods as references, he went a robust 11-4 out of 15 picks.
The Thursday night game had already been played, but seeing how he loves cheese on everything I'm sure he would have taken the Packers in that one, so let's give him the benefit of the doubt. Let's say he went 12-4.
Maybe that whole 'Pick like Sannie' theory has its flaws after all?
Anyway it's Father v Son again this week. Can 'Naughty 2.0' do it again or was it a fluke? We shall soon find out.
'NAUGHTY 2.0's'
PICKS
CARDINALS
SEAHAWKS
PANTHERS
BEARS
BENGALS
BROWNS
COLTS
CHIEFS
TITANS
EAGLES
LIONS
BUCS
BRONCOS
COWBOYS
PATRIOTS
GIANTS
NAUGHTY'S
PICKS
CARDINALS 27
VIKINGS 17
SEAHAWKS 31
RAVENS 17
PANTHERS 31
FALCONS 24
BEARS 24
REDSKINS 20
STEELERS 31
BENGALS 30
NINERS 23
BROWNS 17
JAGS 24 COLTS 23
CHIEFS 34
CHARGERS 31
JETS 27 TITANS 20
BILLS 27 EAGLES 24
RAMS 24 LIONS 23
BUCS 27 SAINTS 24
BRONCOS 30
RAIDERS 17
COWBOYS 24
PACKERS 23
PATRIOTS 27
TEXANS 20
DOLPHINS 27
GIANTS 23
There you have it, until next week when I will either have a voice or be hidden under some rock in shame! I am hoping for the former!
• Naughty presents 'Mischief and Mayhem in da AM' from 6am to 10am, Monday to Friday and 'The Press Box' sports talk show on Sunday from 10am to 1pm, on KISS FM 96.1.
Comments and questions to naughty@tribunemedia.net